Two weeks ago, at Fast Company's Innovation by Design conference, Burberry CEO Angela Ahrendts spent time on stage praising her company's recent collaboration with Apple for a fashion show. What Ahrendts neglected to mention, however, was that her partnership with Apple would soon extend beyond the runway.
Today, Apple announced that Ahrendts would be joining the company as senior vice president of retail and online stores, a newly created position, reporting to CEO Tim Cook. In her role, Ahrendts will "have oversight of the strategic direction, expansion and operation" of the Apple "consumer experience on and offline," according to a statement Apple released late Monday evening. Most significantly, she brings a reverence for design and customer experience that's consistent with Apple's DNA–unlike her predecessor, John Browett–which will be crucial in rejuvenating Cupertino's retail experience.
During her long tenure as the head of Burberry, Ahrendts managed to roughly triple revenue, while launching novel digital initiatives with the luxury brand. In a separate statement, Burberry sought to ease shareholder concern over the move, announcing that revenue had shot up 14% for the half-year through September. "Burberry is in brilliant shape," said Ahrendts, who will step down as CEO by mid-2014. She will be succeeded at Burberry by Christopher Bailey, the company's chief creative officer.
In a recent joint interview with Fast Company, Ahrendts and Bailey described their approach to retail and design. "We've never been finance first. We've always been instincts first," Ahrendts said. "My dad used to always say he can teach you anything but he couldn't teach you to feel. And so that's the hardest part."
Echoed Bailey of their philosophy, "We like people to come into our stores and actually feel welcome and not feel like they're inferior and they shouldn't be there. We have always said actually this isn't about money, it's not about price. This can be an experience. It doesn't have to be about buying something. And hopefully one day we would love it if you might buy something but it's okay if you go onto Burberry.com and you just want to listen to Burberry Acoustic, you know? Because you start to feel the soul of the brand, you feel it."
"Soul is the word," Ahrendts added.
It's an experiential approach that meshes well with Apple's thinking, a sentiment Apple's Tim Cook tried to play up in a statement the company released today. "She shares our values and our focus on innovation, and she places the same strong emphasis as we do on the customer experience," he said. Cook's comments are especially important considering the company's hiccup in hiring–and then canning–former Dixon CEO John Browett to head up Apple retail. Browett, who focused more on cost-cutting measures, has since acknowledged that he was a bad fit for the company, which has long taken a finance-is-secondary approach to retail, as revealed in Fast Company's oral history of Apple.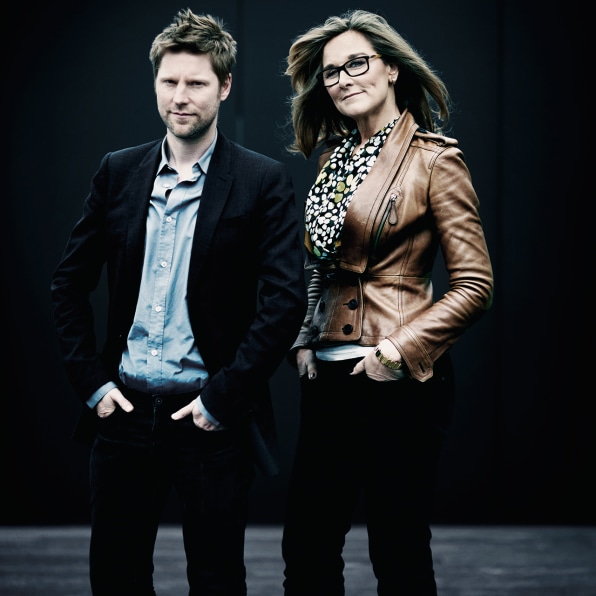 At our recent design conference, Ahrendts expanded on her approach to retail, discussing the importance of infusing design at all levels of the company, as well as creating an environment safe for pie-in-the-sky thinking, where "ideas won't get laughed at." (We're in the process of getting the video uploaded for you guys.)
The announcement marks the second big-name hire in the fashion space for Apple in recent months. In July, Apple said it hired former Yves Saint Laurent CEO Paul Deneve to develop "special projects," a move that many interpreted as a sign that Apple was ramping up its efforts to develop fashion-forward wearable devices, such as the rumored iWatch.
While Ahrendts could certainly contribute to this effort, her expertise in retail will likely be more valuable and relevant to Apple, given the company's needs. In recent years, some critics have knocked the company for being seen as out-of-reach and too high-priced for average consumers (partly the reason why so many expected Apple to launch a cheaper alternative to the iPhone 5S). Shareholders have also faulted Apple for its stale product line, which has relied on incremental upgrades to the iPhone and iPad for some years, instead of paradigm-shifting devices and services. And the company's retail experience in long overdue for a refresh.
These challenges seem uniquely appropriate for Ahrendts, who has worked to reinvent the Burberry retail experience; sought to make its products more accessible, in part through digital initiatives; and managed to keep its age-old products like the trench coat in fashion while not letting the 158-year-old brand go out of style.