Welcome to another installment of Fast Company's Leadership Album of the Week, in which we make a pathetic (but inspired!) attempt at misinterpreting famous song lyrics for the benefit of your productivity.
So far, our journey has taken us from glam-rock to grunge (with a few funky stops along the way). It's been a great time, but with one critical flaw: We've stayed in the 20th century.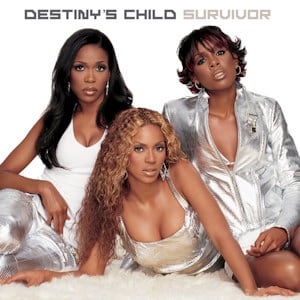 That said, we're going as modern this week. How modern, you ask? 2001, baby!
Strap yourself in for the experience of a lifetime: productivity, in the form of Destiny's Child's quadruple Platinum albumSurvivor.
Before we get started, a few things to remember:
1. Play the video.
2. Understand that we take lyrics completely out of context the value of our insights.
3. Repeat.
Question: Tell me how you feel about this
Try to control me boy you get dismissed
Pay my own fun, oh and I pay my own bills
Always 50-50 in relationships
In life and business the best relationships are 50-50.
Some, like mentorships, aren't. Sure, they can be beneficial, but we're looking for something more symbiotic, like a sponsorship.
Protégés attract sponsors by delivering in exceptional ways and secure sponsorship by remaining utterly devoted, even as they distinguish themselves as stars in their own right. In return, sponsors invest in their protégés, not because they feel compelled to pay it forward but because they recognize the incredible benefit to their own careers of building a loyal cadre of outstanding performers who can extend their reach, build their legacy, and burnish their reputation. Over time, both parties win. Indeed, the win-win aspect of sponsorship is what accounts for its extraordinary leverage and durability.
Boom. Take a little, get a little. It all works out.
I'm wishin' you the best
Pray that you are blessed
Bring much success, no stress, and lots of happiness
(I'm better than that)
I'm not gon' blast you on the radio
(I'm better than that)
I'm not gon' lie on you and your family
(I'm better than that)
I'm not gon' hate on you in the magazines
('m better than that)
If you've cut your ties with a person, or company, bad-mouthing them won't do any good. In fact, it'll probably just make things worse.
We don't have to tell this to Destiny's Child: They already know that empathy and humility make us better, more successful people. And they're not the first. Some guy named Benjamin Franklin and some other guy named George Washington both learned to put their egos to rest and look to the future. And look how that worked out.
Greatness of soul spurs people to soar above the rest. Humility issues a warning against flying too high. For Benjamin Franklin, humility, however elusive, proved worth the effort. It made him, he reported late in life–long after his quest for "perfection" had failed–less quick with a harsh word and more ready to listen.
No matter how much I give to you, you wanna use me for what I got
You take my kindness for weakness, you take advantage of people
One day you shall reap what you sew; girl get your head up out the clouds
With the advent of the Internet, gone are the days of companies screwing over customers and getting away with it.
Hear that? When trust is the only lasting competitive advantage left, the nice guy finishes first.
If you try to take cheap shots, it won't work. Be nice and build trust.
There's plenty of people who don't like me
But since there are more who love me and I love myself
Sometimes, it gets tough, it gets tough
But I can't give up, can't give up
Just take a deep breath, close my eyes
Feel the love and give a smile
When people don't like you and it feels like it's just you against the world, things can get lonely. Really lonely.
So how do you pick yourself up? Simple: Take a deep breath and close your eyes. (Hey, even desks are doing it these days.)
We've been pretty hot for meditation here at Fast Company lately, but it's for good reason. Really, it can help you relax, get more focused, and, ultimately, put you on the path to the pinnacle of productivity. So try it. It helps with everything.
Life isn't all ups–there are downs, too. And you've got to learn to ride the wave without getting knocked on your booty.