When Donna Waida saw the floodwaters coming towards her front porch in Boulder County, Colorado, she tied her two German Shepherds to her waist and swam to safety at her local golf course's clubhouse.
Two days later, she returned to find her home badly damaged by the foot of water that rushed down her driveway. But when Waida's husband told her that a team of former Army, Navy, and special operations soldiers had showed up and offered to do the mucking and gutting work for free, at first Waida didn't believe it was true.
"I cried just about every time I hugged one of the volunteers (they were always covered in muck)," Waida later wrote for Team Rubicon, the disaster relief organization that sent the veterans to her waterlogged home. "These men and women took vacation to do this, day after day, without pay."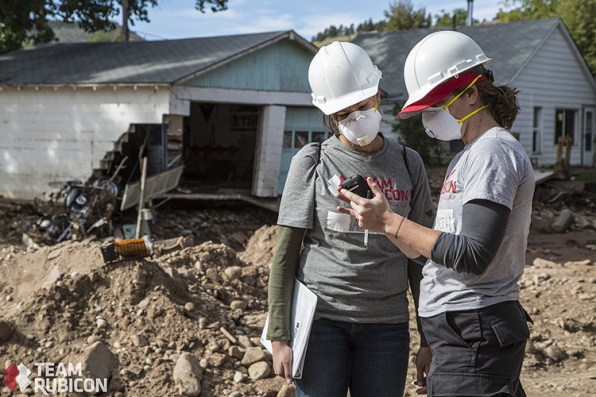 In the wake of the floods that devastated northern and eastern Colorado last month, Team Rubicon organized some 200 volunteers to start fixing the damage in the city of Longmont. Today, 50 are still on the ground, using the local Home Depot as a base of operations.
"You saw the juxtaposition between the normal everyday cul de sac and if you looked the other way you saw incredible damage," Team Rubicon co-founder William McNulty, a former marine and intelligence contractor in Iraq, says. "You saw a train track that had buckled and warped. You saw driveways that had caved in. You saw this amazing destruction, but you also saw that life goes on."
After the disaster first hit, Team Rubicon deployed a planning team to go door to door and ask who needed help, especially those without flood insurance. Overnight, the volunteers would draft up work plans from the damage assessments, and in the morning, they'd send the "strike team" to get the job done.
This isn't Team Rubicon's first disaster. For the past three years, the NGO has "deployed" to flood zones in Marseilles, Illinois, hurricane-hit neighborhoods in New York City, and the flattened homes of Moore, Oklahoma. Veterans have served in Sudan and Burma, and Team Rubicon now has 10 regional groups devoted to different sections of the United States. But according to McNulty's co-founder and former marine sergeant Jacob Wood, Team Rubicon happened by accident.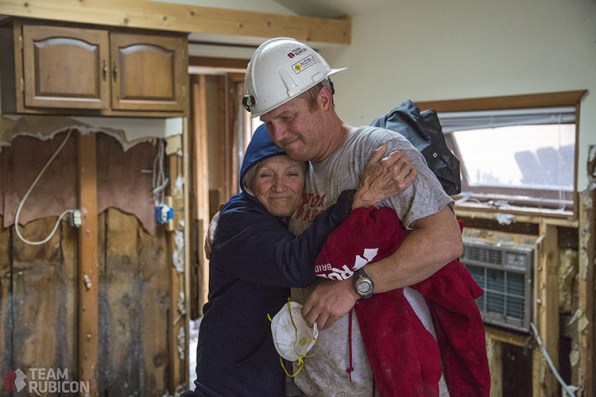 "[There was] no anticipation it would become what it is today," Wood told me. After two combat tours in Iraq and Afghanistan, Wood came back from the Marine Corps in 2009 and applied to business school. A few months later, he received a rejection notice from Stanford University. Three days later, the earthquake struck Haiti.
"When the earthquake happened I was just watching the news, and I tried to get down there with an organization, [but] no organization was allowing spontaneous volunteers to go down there, no matter how relevant their experience," Wood said. "Seeing the images coming across CNN, I was like, I could do that. And I at least had a decent level of medical training."
At that point, Wood and McNulty, who had met through Wood's blog documenting his experience in Iraq, took matters into their own hands. McNulty secured permission from the Haitian embassy, and both flew into the disaster zone, not knowing what to expect. On the way, they picked up six more volunteers, including a special forces medic McNulty met at the airport. In 20 days, their volunteer group had grown into a group of 60 as they tried to provide rescue efforts in isolated parts of Port-au-Prince.
Back in the States, Wood and McNulty decided to give the effort a name, and Team Rubicon began to expand. But where the co-founders originally envisioned Team Rubicon as an exclusive, elite group of former soldiers sent to far-off locales, their thinking changed when Wood's sniper partner, Clay Hunt, who had been suffering from post-traumatic stress disorder, committed suicide in March of 2011.
"Over the first year, we saw that the veterans that were getting involved with Team Rubicon were saying how cathartic or how powerful it was for them," Wood said. "For the last two-and-a-half years now, that's really been the focus."
Wood shifts in his seat when I ask him about common misconceptions about America's vets, and especially about those with PTSD. For many cases, he says, he prefers to think about the physiological symptoms as the result of "moral injury"–the idea that post-traumatic stress actually arises out of a sense of guilt or wrongdoing in a combat scenario. Plus, he adds, many vets come out of wars without post-traumatic stress, and some, he says, experience post-traumatic growth. A vet's combat, rescue, and medical training also come in handy in situations that depend on quick decision-making and experience.
But despite skills gained in the military, labor statistics show that veterans of the wars in Iraq and Afghanistan have struggled with an unemployment rate far higher than the rest of the population (though that appears to be changing). And while vets make up only 7% of the population, they represent some 13% of the nation's homeless. Vets also experience twice the suicide rate as the rest of the country; a recent Veterans Affairs study found that a veteran commits suicide every 65 minutes.
The VA is currently monitoring Team Rubicon volunteers to see if service has any impact on mental health. And now that McNulty and Wood's venture has grown to some 12,000 members, they're focusing on domestic missions, like the floods in Colorado.
Judging from Team Rubicon's experience there, it's hard to argue with the idea that disaster relief after combat gives good vibes: Two Rubicon volunteers, in fact, decided to get married right in the Home Depot parking lot after having dated for four years.
"We're around people that we want to be around, and we're around people that know what we've gone through, know the kind of situations that we've been in, and know why we're here," newlywed veteran Ryan Creel told the local Fox affiliate.
Photos: Kirk Jackson and Madison Kotack, Team Rubicon.