"Do what you love and the money will follow."
Perhaps no one better exemplifies this adage than multibillionaire Richard Branson, who has earned his fortune simply by pursuing his personal interests. His has seamlessly transitioned from journalist to record executive to space-travel pioneer–all begun out of his natural curiosity and passion, coupled with a well-honed instinct for turning anything into a business.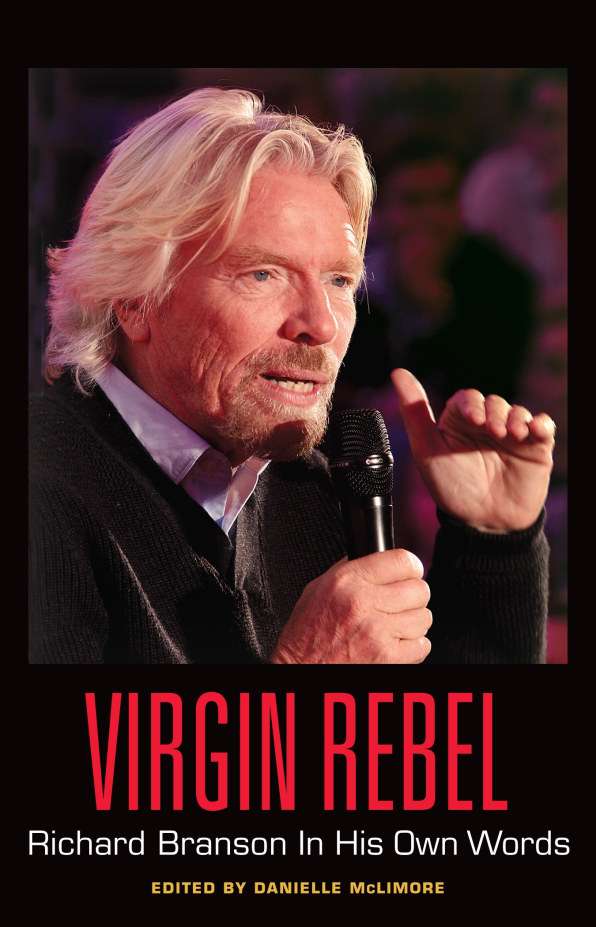 As you look through the Virgin Group's widely varied list of companies, you'll be struck by the diversity of businesses. It would seem that they all began with Branson, probably in the bath (he speaks frequently about taking baths), simply pondering what he likes to do and how he can make money doing it. Virgin Galactic is a perfect example: Branson wanted to travel to space and figured he wasn't the only one. Rather than fund the research for consumer space travel entirely out of his own pocket, he created Virgin Galactic; and now, for $200,000 dollars, anyone can purchase a trip into suborbital space (whenever the technology is ready).
So it makes sense that someone would want to capture Branson's unique style of business in a book. That book is Virgin Rebel: Richard Branson in his Own Words, which collects more than 200 quotes from the legendary entrepreneur on subjects ranging from business and innovation to pop culture. It's an enlightening collection of quotes directly from the man himself and his books. Have fun with it–he certainly would want it that way.
Playfulness
I think entrepreneurship is our natural state–a big adult word that probably boils down to something much more obvious like playfulness.
—Business Stripped Bare, page 39
Personalities
Entrepreneurs have the dynamism to get something started . . . Yet an entrepreneur is not necessarily good at the nuts and bolts of running a business.
—Business Stripped Bare, page 259
Entrepreneurs versus managers
As a small-business person, you must immerse yourself 100 percent in everything and learn about the ins and outs of every single department. . . . And as the business gets bigger, you will have to decide if you're a manager or an entrepreneur. If you're a manager, you can stay with that business and help it grow. If you're an entrepreneur, you need to find a manager. Then you should move on, enjoy yourself and then set up your next enterprise.
—Business Stripped Bare, pages 260–261
It's not about money.
It's rare for me or the team to consider only the money that can be made. I feel it's pointless to approach investing wth the question, "How can I make lots of money?"
—Like a Virgin, page 45
Community
The beauty of business is that it does not just have one single community. . . . The businesses that are most successful connect with everyone as an individual, not just as an order number or a transaction.
—Screw Business As Usual, page 299
Customers are humans, too.
Regarding the phrase, The customer is always
right:
It has endured because it sounds wonderful to marketers, but most established companies have learned from experience that it is way too all-encompassing to apply in everyday business. In truth, the customer is only right most of the time–after all, they're only human.
—Like a Virgin, page 63
Unprofessional professional
When I was 21, someone described Virgin as an "unprofessional professional organization," which for my money is just about the best backhanded compliment anyone in business could ever receive.
—Business Stripped Bare, page 28
Throwing parties
Parties are a way of galvanizing teams and allowing people to let their hair down. They have to be inclusive and encouraging, and then they are an excellent way of bringing everyone together and forging a great business culture.
—Business Stripped Bare, page 257
Listening and asking questions
The ability to listen and the willingness to stick your neck out and ask the obvious question are criminally underrated business essentials.
—Business Stripped Bare, page 267
"We" versus "they"
I have always found that an instant barometer to the state of any company's employee relations is the way their people use the words we and they. Managers and business leaders should watch for this tendency. A company where the staff overuse the word they is a company with problems. If employees aren't associating themselves with their company by using we, it is a sign that people up and down the chain of command aren't communicating–and if that turns out to be the case, you'll usually find secondary problems throughout the company affecting everything from development to customer service.
—Like a Virgin, page 52
Flexibility
Companies need to have a lot more flexibility with their people. . . . If somebody wants to golf around the world for two months, okay, well, maybe on an unpaid basis, let them do it. That sort of flexibility I think is incredibly important because most of our time, we spend at work.
–"Richard Branson: Talking Management," February 16, 2010
Advice