"What if our everyday life was a little less grey?" asks Coca-Cola in its new "Roll Out Happiness" campaign. Launched October 1, the latest installment of the brand's "Where Will Happiness Strike Next?" effort is a whimsical film about what happened when agency Wieden+Kennedy Amsterdam brought a little grass to a grey urban park.
In the film, shot in the Lithuanian city of Vilnius in August, a Coke-branded turf-laying machine grasses the pavement and trees are installed to encourage city residents to take time out to enjoy the moment.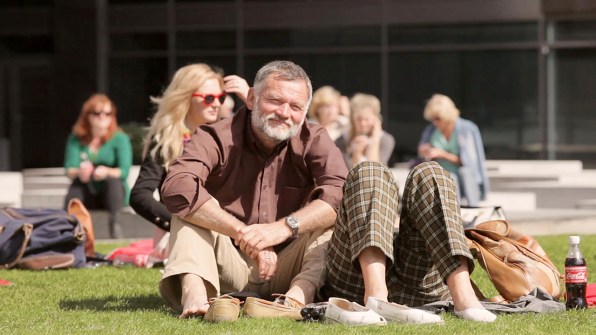 The idea is true to both the theme of Coca-Cola's Open Happiness global marketing platform introduced in early 2009 and the brand itself which is all about providing an opportunity to pause and refresh, according to Guy Duncan, global group content director at The Coca-Cola Company.
"It's an evolution and an extension of 'Where Will Happiness Strike?' which began life as a tactic and has since evolved into a philosophy in its own right," he explains.
The strategy behind "Where Will Happiness Strike?" is to "provoke happiness." Memorable earlier executions included the St John's University New York campus "Happiness Machine" dispensing flowers and pizza and the Hug Machine in Singapore where giving someone a squeeze prompted a vending machine to dispense a drink.
In "Roll Out Happiness," two vending machines placed in the pop-up park instruct visitors: "Take Off Your Shoes to Open Happiness."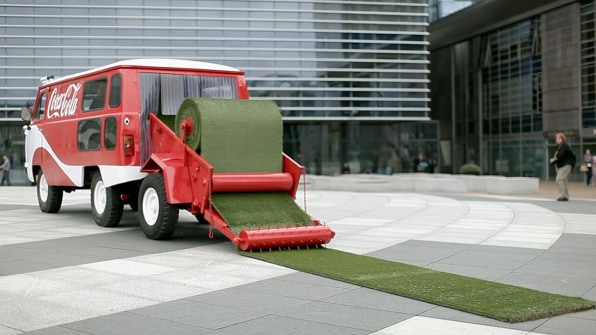 "When we decided to go into the territory of 'owning' happiness we entered a competitive area so worked with scientists and economists to understand happiness in greater depth to identify Coke drivers of happiness, namely: being together, being active, being in the moment, being curious, and giving," Duncan adds.
"Each brief is defined around one of these distinctive Coke levers about happiness. Taking time out to pause, refresh, and appreciate was not one 'Where Will Happiness Strike?' had yet addressed."

Initially, W+K Amsterdam proposed turning a stark modern environment on its head. Initial suggestions of just how to do so included one idea to have real grass in suitcases left on pavements and steps–though according to Coca-Cola global digital brand strategist Christy Amador: "This posed obvious concerns!"
So the agency came back with a bigger and more whimsical notion: to have a Coke-branded machine create an instant park where a vending machine would be activated to dispense drinks when people slipped off their shoes to enjoy it. A selection of other items to help them enjoy the moment–picnic baskets and blankets, even kites and guitars hanging from trees–were also thrown in for good measure.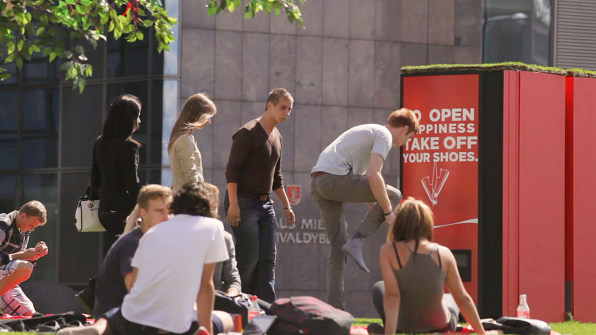 "We wanted to bring color to our cities, to show how a simple tweak in our environment can unfold a tide of positive emotions," W+K Amsterdam Creative Director Edu Pou explains. "Turning a square of concrete into a park set the scene. Exchanging Cokes for shoes so people would actively join the experience brought it to life."
Another important aspect of the idea was that the reactions of those featured in the film was authentic.
"The idea dictated that we had to shoot in one day with a very small crew. It was about a real experience and capturing candid and spontaneous reactions from real people and spontaneity requires a lot of planning," says Pou. "We designed the experience to the maximum detail and had a clear idea of what we wanted to accomplish. Only then could we let the story unfold itself and make the most of everything that was unplanned."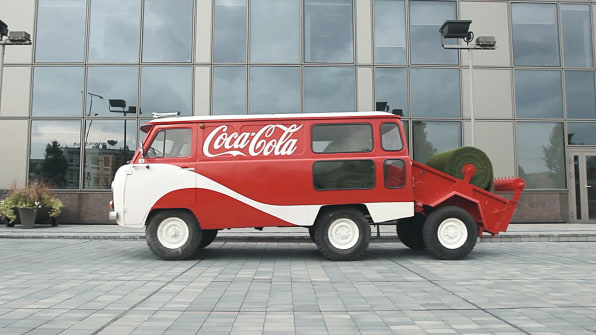 The key, Duncan agrees, was participants' genuine surprise: "Because if you try something like this without being authentic you get spotted miles off."
As with previous "Where Will Happiness Strike Next?" executions, the stunt was conceived for an online film as part of a strategy that's very much social, Amador explains. "We drive content onto the platforms we own to fans we know then, if that content goes viral and becomes popular enough, it might be adapted for paid for media on a territory by territory basis," she says.
The mechanics of this release strategy involve Facebook status updates, global Tweets, and local community managers who promote each film in their local market, as well as PR, Amador adds.