The Hyperloop made a splash when Elon Musk dreamed up the designs for his 800-mile-per-hour mass transit system in August. But he didn't have much intention to pursue the $6 billion idea any further.
Now the Hyperloop is taking on legs of its own–and maybe going all according to Musk's plan after all.
A team led by Patricia Galloway, a top civil engineer, and Marco Villa, a former SpaceX executive, announced that it would start raising funds to form a company around the goal of developing the Hyperloop. The group will use input from the crowd, through the platform JumpStartFund, and award an ownership stake in the project for useful ideas.
And at the 3-D design software company Autodesk, staff have already been working to see how they could improve on the Hyperloop designs–mostly just for fun, says Jordan Brandt, the company's technology futurist, but he says they'd like to keep seeing where it'll go.
"Elon Musk put a lot of this energy into designing the pod capsule, and the power requirements, and things like that," says Brandt. "But not so much into the infrastructure, which by the way is the most expensive aspect of the project."
Using 3-D visualization and collaboration software, Brandt re-aligned the tubes of the Hyperloop–in a horizontal configuration in Musk's plan–into a vertical, figure-eight style design. That would reduce the land requirements for the project if it were to run along California's Interstate 5, and more importantly, reduce the number of expensive pylons needed to support the tubes.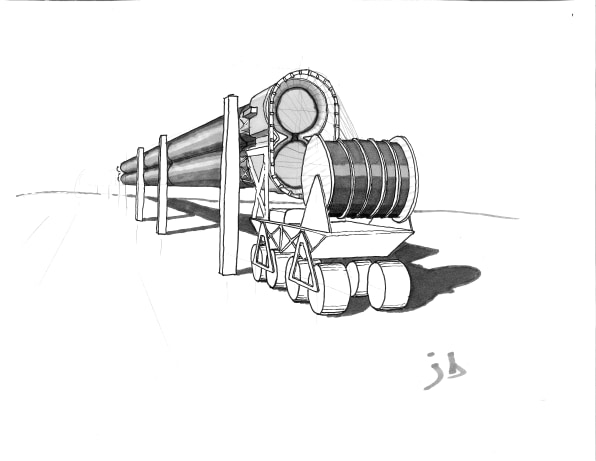 Getting input from engineers and scientists internally at Autodesk, he also devised a potentially cheaper way to manufacture the tubes.
In Musk's designs the tubes are steel, but carbon fiber–a much stronger, lighter material–could also be a lot cheaper by the time any of this gets built. Right now, carbon fiber costs more than $10 a pound, says Brandt, but scientists at Oak Ridge National Laboratory are developing a process that would cut the cost of the material possibly in half–making it competitive with steel.
Using carbon fiber, Brandt envisions that a mobile "braiding machine" could actually take reels of carbon fiber threads and braid the tubes together at the point where they are being built–rather than having to transport enormous steel tubes down the Interstate.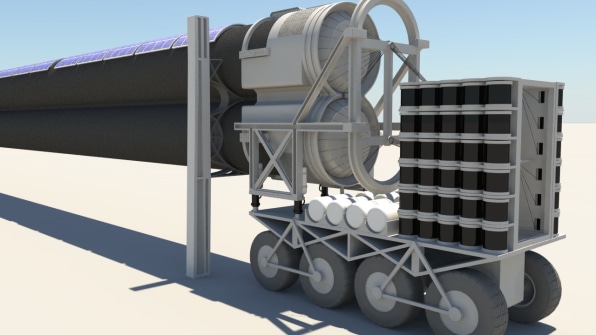 He envisions the design idea and "factory on wheels" could shave billions from such a project, whatever the final costs would wind up being.
The final step of Brandt's ideas was to visualize his designs, both by 3-D printing prototypes and visualizing what it would look like to travel on the Hyperloop. These kinds of visualizations, Brandt says, are helping with existing transportation projects today in communities where there is opposition or controversy.
You can see the visualization, put together in partnership with the startup WhiteClouds, in the video above.