While growing up in a rough L.A. neighborhood in the 1980s, one of six kids in a single-parent home, D'Wayne Edwards's refuge was his No. 2 pencil.
In those days, the Lakers played at the Forum in Inglewood. Lacking a practice space of their own, they happened to practice at the gym of the large public school where Edwards was a student. "On any given week, we'd see Magic, Kareem, or James Worthy," he recalls. Edwards took to drawing them.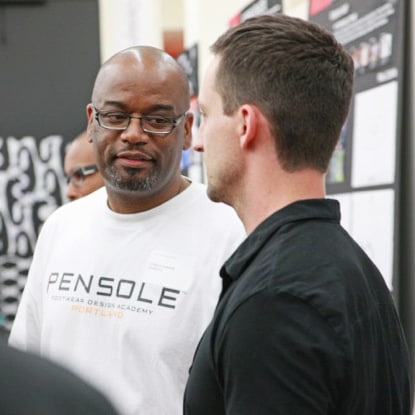 Edwards and others began to notice that in his drawings, the shoes looked better than the rest of the athlete. "I spent more time on footwear than on muscle tone or uniform," Edwards says. Soon, he was drawing the shoes without the athlete, and designing sneakers of his own. He'd draw shoes on 3×5 index cards through Mrs. Weathers's math class. She'd take them away and gently scold him. But the young Edwards noticed something funny: Mrs. Weathers might have easily thrown them into the trash–yet she didn't. After studying them for a while, she tucked them carefully away in her desk drawer.
Edwards worked at a McDonald's; the manager told him if he kept his head down, he could climb the ranks and make $40,000 a year some day. But by then, of course, Edwards had dreams of becoming a footwear designer. At 17, Edwards entered a Reebok design competition and won. The prize was supposed to be a job–but Edwards was too young. If Mrs. Weathers's interest in his work suggested he had talent, the Reebok win clinched it: "That gave me at least the push to know that I could do it."
Design school was out of the question; he couldn't afford it. So Edwards signed up with a temp accounting firm, and as luck would have it, was assigned to be a file clerk for the shoe company LA Gear. An investment group had recently taken a larger stake in the company and was looking for suggestions from employees on how to improve it. Edwards's suggestion was the same thing every day for six months: an original shoe design, signed with his name. Finally, the CEO called Edwards into his office. "Are you the guy putting sketches in boxes?" he asked, and Edwards confessed. The CEO hired him as a designer.
From there, Edwards's trajectory was like that of a basketball player going in for a dunk: up, up, up. Soon enough, Edwards was working at Nike, and after a while, he was handed the prize dreamed of by athletic footwear designers everywhere: the chance to design an Air Jordan. Only eight people have designed Air Jordans in the franchise's history, Edwards says. He was the sixth.
He still remembers the first time he met Michael Jordan himself: in 2001, at the pitch meeting revealing Edwards's design. Jordan walked into the conference room–one of only two people Edwards has met who had a glow about him (the other was Hank Aaron). Edwards began speaking, and Jordan, noticing his nervousness, cracked a few jokes at Edwards's expense. But then Edwards started going into the details of the shoe's design, modeled after Jordan's favorite car, the Aston Martin. "Once he found out I knew what I was talking about, it became more about the shoe. It was just a normal conversation between two people about some sneakers. And the dude was just as big a sneakerhead as all the other sneakerheads out there," Edwards recalls.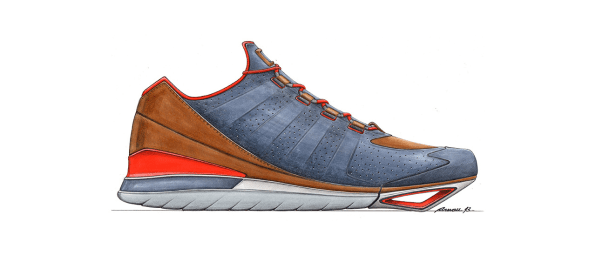 Then, a few years ago, Edwards did something remarkable. He walked away from it all.
Edwards loved his career in footwear, but something had come to bother him. When he joined LA Gear in 1989, Edwards was one of the first black designers in the industry. "I didn't see anybody else who looked like me," he recalls. As he moved on to Nike, the ratio changed–but just barely. Footwear is a $50 billion industry in the U.S. alone. Since its products–particularly products like the Air Jordan–are marketed aggressively to inner-city kids, Edwards estimates that people of color constitute about a $10 billion to $15 billion slice of that market–almost a quarter. Yet less than 5% of footwear design jobs are occupied by people of color, Edwards says. "That's insane to me."
In the summer of 2010, Edwards took a sabbatical. He partnered with the University of Oregon in Portland, bringing students out on his own dime for an intensive course in footwear design. He made sure to accept students of color; he also welcomed white students and international students, because he wanted the class to mirror some of the realities of a footwear design workplace. Edwards–and the students–loved it. "I realized I got more fun out of watching 40 kids' eyes light up than what I had experienced in 23 years of my career. It felt better to me to change lives than to design a new product."
In 2011, Edwards officially left Nike and founded Pensole, a footwear design academy headquartered in Portland. Pensole has run 12 programs so far, each one lasting a month and touching on all the same material you'd get in a standard 16-week semester. Hundreds of students apply for just a handful of spots, and admissions are wholly based on merit. Edwards himself or corporate sponsors from the footwear industry cover tuition; Nike is among its corporate partners. Pensole also has struck up educational partnerships with the likes of MIT, Art Center College of Design, and Parsons The New School for Design. More than 50 graduates of the program have gone on to work in the footwear industry.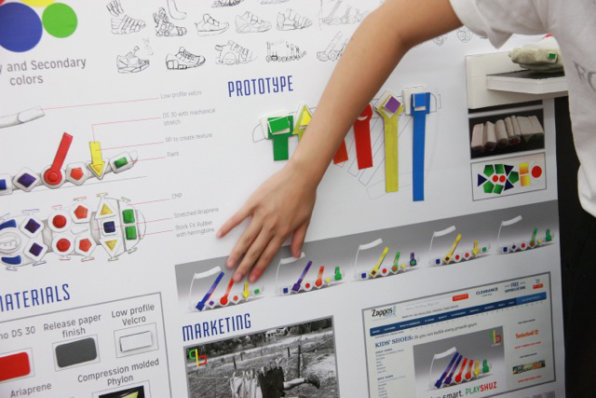 "I reached the pinnacle, I reached the top, and I walked away from it," muses Edwards. "I wanted to design lives instead of designing shoes."
In this, he's something like Mrs. Weathers, the math teacher who confiscated those early drawings. After Edwards first got work in the industry, he went back to visit her. He asked her if she remembered those drawings that she used to confiscate.
Mrs. Weathers opened her desk drawer, revealing the drawings were still there, carefully preserved after all the years. She asked him to sign them. Edwards realized that she took away those drawings not to scold him, but to encourage him. "Now that I'm a teacher," says Edwards, "I think that was her way of motivating me, of giving me the encouragement to keep pursuing my goals."