Programming is an abstract and often private pursuit. But wearable computing projects–made with purpose-built microcontrollers like the Adafruit FLORA–have the potential to change all that, catapulting coding into a vastly more mainstream hobby. But before we're all wearing "smart" jackets and carrying "context aware" bags, a new generation of coders has to emerge and take the reins on a new and foreign paradigm.
This is a series about those people and the hardware they're hacking on. It will touch the worlds of fashion, programming, retail, homebrew computing, meetups, and big commercial players like Apple and Samsung. Most of all, it seeks to find out what it means to wear smart things, where the movement came from, and where it's going.
Like the homebrew computer clubs that led to the founding of Apple, communities tend to pop up around popular hardware projects, and since it's hardware, they tend to be in-person meetups–the kind where show and tell is the most fun part. But since the late 1990s, as hardware has gotten cheaper and more integrated, hardware hacking largely fell off.
"Wouldn't it be cool if the motivation to make your prom dress or your tuxedo shine is part of what helps you become literate in any programming language?" says Becky Stern, director of wearable technology at Adafruit Industries. She and her colleagues at Adafruit believe that donning your computing project as a garment is an even better way to get people interested in how computers work, because you're literally wearing your project on your sleeve (and chances are, it's probably full of flashing LEDs). It's a more personal, more attention-worthy spin on the homebrew boxes of Wozniak vintage.
With wearable projects, Stern says, we can now feel, wear, and touch programming in ways we couldn't before. "Part of our mission is to get young people and beginners to develop this technological skill set," she says. "Instead of getting into electronics through plugging wires in, people can get interested from a textile point of view," she says, opening up the hobby to "a broad range of people who wouldn't even discover electronics otherwise."
That's why FastCo.Labs is kicking off this series of wearable computing stories, and why we're hacking on the FLORA in-house to teach ourselves this new paradigm. The Nike FuelBand may be the first thing that comes to mind when people talk wearable computing, but the most impressive technical gear you can wear is the kind you custom-designed and built for yourself.
However, there are problems, says Stern. "We hear things like: 'I love this Arduino, but it doesn't fit in my jacket,' or 'I love this Arduino but the battery doesn't last long enough.' If you take all my past experiences with Arduino, with chips, and all the kinds of quirky-but-beginner-friendly things I do to get people into electronics, you'd find that I am out to abolish all the 'buts'."
Arduinos are open-source microcontrollers that can sense the environment by receiving input from a variety of sensors, and because it's open source, a lot of compatible boards with specific capabilities have been made that stretch top electronic design. Adafruit has the most code libraries available online for Arduino–and they also build a broad range of compatible boards and parts. Adafruit's wearable Arduino, the FLORA, is spec'd to be installed in a garment or bag.
"We made it smaller, and we used extended power," says Stern. "Coming to electronics from a textile and craft point of view comes with a lot of caveats–we're taking care of all the issues with electronics that I had when first learning them. It makes it more fun to build with it."
FLORA has niceties like onboard for USB, allowing it to act like a keyboard or controller when connected to another computer. It has a family of sensors which are meant to be wired together with conductive thread, no soldering required; you can buy special sensors that are circular shaped like the board itself, making them easy to sew, and add features like GPS, color sensing, ambient light sensing, motion sensing, and addressable, chainable LED lights. But it's biggest innovation is its circular shape. The holes around the periphery make it easy to sew, and double as terminals for sensors connected with steel thread.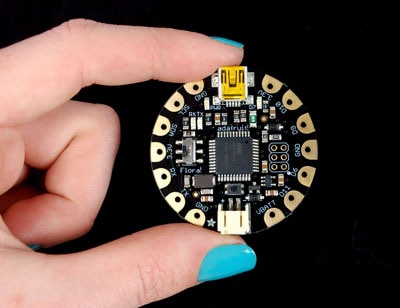 "All kinds of trends that are happening, but most importantly, I make projects I want to wear," says Stern. "I ask myself, what new hardware is coming through the door and how can I merge it?"
Wearable Arduinos have been around for less than a decade, but only recently have they become cheap and specialized enough to approach practical use. "The real story is that the LilyPad Arduino had existed for a long time," says Stern. "It came out in 2007 and then it kind of stagnated." Adafruit was developing hardware with the capability of serving as a USB keyboard, but then the team had a bright idea: "We wanted it in a wearable form, like the new chip we were already working on–another standard shape." Thus the circular Arduino was born.
The next four stories in this series will track the hackers who are changing today's quantified-self movement using hardware, software, or both. We'll talk to the most influential people in wearables today.
We'll also get back to the roots of wearable devices–how were they initially conceived? What were the barriers? Who were the early visionaries?
Finally, we'll showcase our own wearable project, complete with diagrams and prototype schematics. As the project advances, we'll validate it with our friends and coworkers and see whether it's possible to build a proven, useful prototype with the low-cost parts available today.
If you have a wearable project you'd like to show us, or questions that we can explore with our own project you want answered, tweet us @fastcolabs on Twitter.