This weekend, the three floors and VW dome of MoMA PS1 in Long Island City were converted into a labyrinthine convention of nearly 300 booksellers, artists, graphic designers, gallerists, and zinesters peddling their wares. The eighth annual New York Art Book Fair, presented by Printed Matter, attracted a crowd of thousands. With a grizzly bear mask, a basket hat, and a hybrid bookshelf-backpack in the mix, it was a parade of art stars and exhibitionists–and a welcome reminder that there's still a lot of creativity and originality in publishing.
Here are some of the highlights from this year's array of art books:
Peter Sutherland and Maia Ruth Lee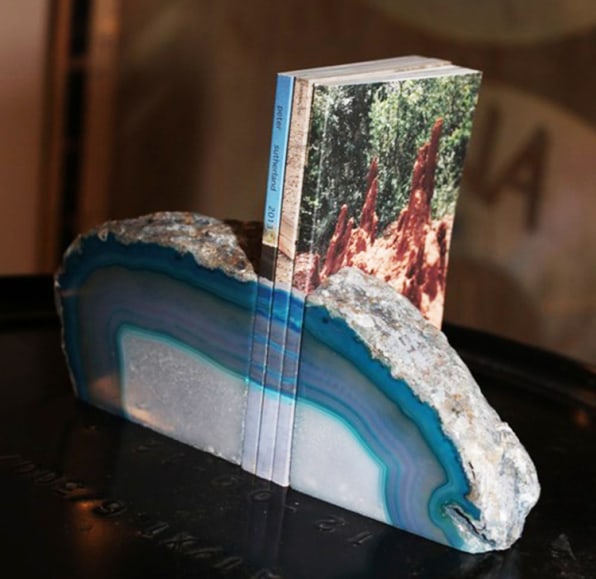 Two woven carpets hung behind Lee and Sutherland's booth: one that said "SEXT" in large black letters and another that advertised Sutherland's cell phone number. Gorgeous bookends made of geodes sliced in half displayed Sutherland's collections of photography booklets, with spines hand-painted to camouflage with the rock's vivid colors. The most special geode of all was plastered with a hot pink Metallica logo.
The Thing Quarterly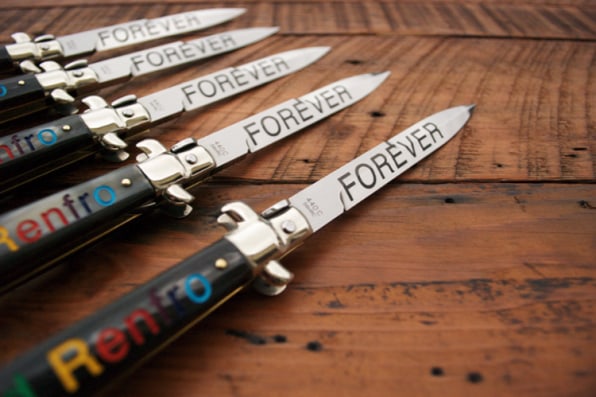 Every year, The Thing Quarterly invites four artists, writers, musicians, or filmmakers to create a useful object that incorporates text, which is then reproduced and shipped out to subscribers. The object of the current quarter is an elegant white clock with gold roman numerals by Tauba Auerbach. Also on display at The Thing's booth was a limited-edition switchblade engraved with BRAD RENFRO FOREVER in rainbow letters, designed by James Franco in homage to his late actor friend. Past Things include glasses by Jonathan Lethem; a shower curtain by Dave Eggers; and a vinyl window shade by Miranda July.
Knust and Extrapool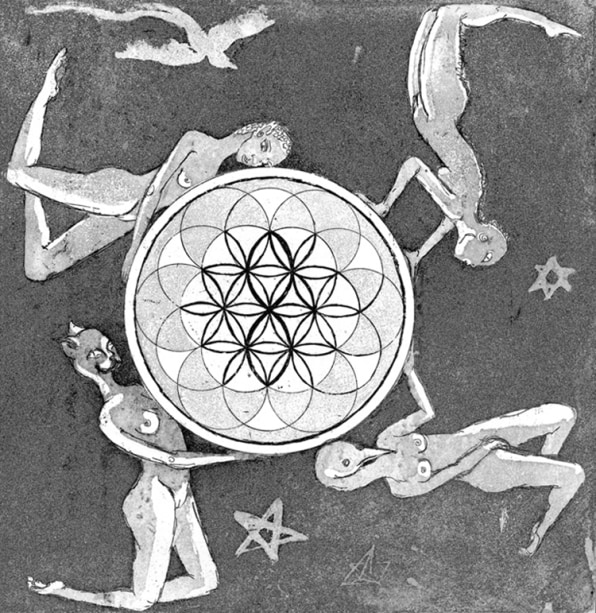 Netherlands-based graphic workshop Knust and Extrapool regularly commissions artists to create designs for their vibrant Slimtarra wallpaper collection. These psychedelic mimeograph prints include Masha Shabaeva's monkeys and headless children; Eekhoom X's mandala of cartoon pizzas, cupcakes, and fried eggs; and Red Bol's Edward Scissorhands design. Sheets sold for $2 each at the fair and can be ordered here. Beware of The Yellow Wallpaper effect, though–staring at these trippy patterns for too long could be dangerous.
The Center for Book Arts
Here, ordinary pages were turned into wild sculptures. Doug Beube's "Re-breaking the Codex," a monograph about his work intricately collaged and carved with a scalpel, was on sale for $10,000. A flipbook revealed the word "depressed" fading in and out; Beatrice Coron's stunning silhouetted lasercut city paid homage to poet Leo Ferre; accordion and pop-up books celebrated the book as art object. "It was wonderful to talk to Book Fair visitors about all the forms a book can take and what a book can be," said Myongyee Jin, development manager at The Center for Book Arts. One artist, Angie Waller, likened working with physical books versus computers to the difference between running outside in nature versus running on a treadmill in a smelly, fluorescent-lit gym.
Redfoxpress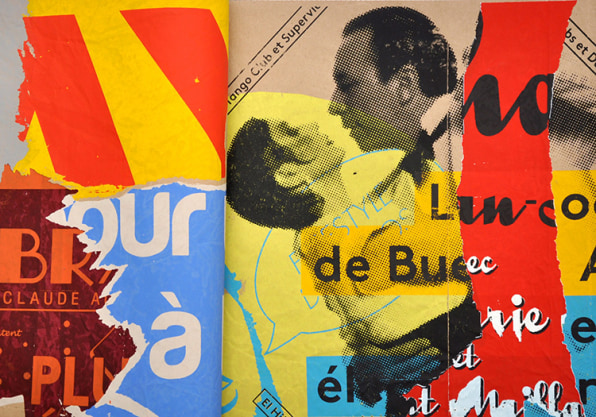 Hailing from the emerald Achill Island in County Mayo, Ireland, Redfoxpress is run by Francis Van Maele and Antic Ham. This silkscreen studio prints and publishes art books using collage, photography, laserprinting, solvent transfer, mono prints, stencils, rubber stamping, drawing, frottages, found objects, and various ephemera. Favorites included an accordion book about bright purple octopi, Antic Ham's "Frantic Ham" zine, and a book of childlike portraits of Max the Dog, a canine fixture on the island of Achill.
Mast Books
A gem at the booth of East Village bookstore Mast Books was Gordon Matta-Clarks' "Walls Paper," a gorgeous collection of 144 color-tinted black-and-white photographs of ruined wallpaper in 1970s Bronx tenement buildings. First exhibited at 112 Greene Street in 1973, these photographs of derelict architecture manage to resemble Mark Rothko paintings or delicate watercolors.