This idea of planting trees and vegetation (and drains) on New York City's streets and rooftops to absorb and divert storm water slid past much of the media. Perhaps it seemed too "frilly" for adversaries the likes of Hurricane Sandy. But we think we should push the concept even further.

It's a little known fact that some 5.3 million square feet of "leftover" space courses through Manhattan, largely wasted. It's street-related filler space–the concrete medians in the middle of streets, the odd-shaped traffic medians–that few people think about, but it totals up to be the equivalent square footage of about 92 football fields. (We arrived at that number by first determining there is some 12 million square feet of vacant land in Manhattan, of which 44% is filler space of all types. We then used maps to isolate the traffic medians/street-related filler space.) Nor does anyone imagine that this street-related filler space could be reclaimed and redesigned as part of a hard-core resilience strategy that doubles as a community amenity.
What if some of the more generous central medians throughout New York's street system were turned into green infrastructure: parklets that have been keenly designed to absorb and funnel storm water; generate solar electricity; and recycle food waste, which is another matter that Mayor Bloomberg is championing these days in the spirit of saving roughly $100 million a year by diverting organic residential waste from landfills.
It's an idea that the New York office of Gensler, the global design firm where we work, has been developing (and fantasizing about) as part of a conceptual project on town squares: how these public spaces might be squeezed out of the shrinking open space in cities around the world and somehow used to reinvent the city itself.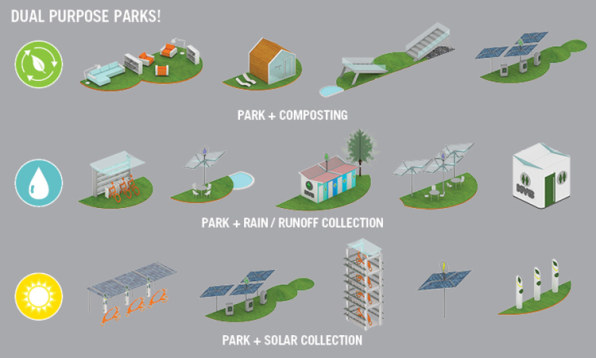 The beauty of these NYC Street Squares (as we call them) is that they intertwine the humanity of this city of 8 million people–its sense of community–with its resilience and its sustainability. We've taken all those good things down to the neighborhood level and bundled them into something that feels like a pause amid the hubbub and looks like an island of green space. New Yorkers could kick back in a lounge chair in one of these squares or park their bicycle or recycle their kitchen waste or take a (methane-powered, community) sauna. The possibilities are many.
But when a big storm strikes, the net-zero street squares would shift into resilience mode. Their pervious surfaces (a mix of bioswales, basins, grass, pebble beds, a special porous concrete) would filter and "drink" water, keeping runoff from overwhelming the municipal system, which is a big deal. Heavy rainfall in New York often results in sewage overflow, which puts an estimated 27 billion gallons of pollutants into the city's water system annually.
Other park amenities would likewise double as storm water management. Canopies over lounge areas would not only provide shelter, but collect rain water to feed small ponds. Bike racks would collect rain water, as well, and serve as hydroponic planters, adding to the green-ness of these squares. Public restrooms would use rain water to flush toilets and even wash the space.
Similarly, the street squares could be used to test sustainability strategies that might be rolled out later–over the course of decades–and contribute to a more resilient city.
Among those strategies: food/organic waste recycling. Not only collection bins, but small methane processers could be located in the street squares with the end product being compost and energy instead of landfill costs.
Also: solar collection. Although limitations in current PV technology make large-scale solar power an impractical solution for powering the entire city, experts believe it needs to be in the mix of renewables as the city tries to decrease its consumption of fossil fuels. And a new report from the Department of Energy furthers the notion that the status quo is in trouble. The report found the entire (existing) energy infrastructure in this country to be vulnerable to increasingly severe storms driven by climate change.
And so, what if New York got serious about harvesting its most reliable energy source, the sun? What if "architecture" within these street squares was used in combination with surfaces throughout the cityscape (rooftops, walls of buildings) as a means to collect and distribute solar power? We shaded the bike racks and lounge areas of the street squares with solar PV canopies. The energy collected here (and then stored in batteries) initially could be used to power cell phone charging stations (something that was desperately needed in the aftermath of Sandy) and LED lights throughout the squares. In the years/decades to come, hospitals and emergency pumps (and later, homes and businesses in the neighborhood) could be tied to these microgrids as a back-up to the utility grid infrastructure.
Can these street squares make the leap from concept and imaginary prototype (like the one we designed for Allen Street on Manhattan's Lower East Side, where the medians are especially generous) to reality? We think so.
One of the most powerful features of these squares is the modularity of their parts, which makes the build-out very doable. We designed the squares as a "kit of parts" that can be shipped to the site, set up on demand–and even crowd sourced. Our vision has the neighborhood voting via social media for the modules (bike racks, a community garden, children's garden, bee farm, public shower, public sauna, lounge areas, electric car charging station, among them) that they want to see in their local street square.
Financing could be "participatory" too. We see distinct possibilities (and lots of capital funding) coming from the modern day money machine known as corporate sponsorships. Sponsors for the phone recharging stations, the public sauna, you name it, you "buy" it.
When it comes to building more resilient cities, the only thing more threatening than the next storm is pervasive inaction. Let the debate begin over the flood walls and bulkheads and all the other hardened artillery. And in the meantime, let's start "planting" some grassroots resilience.
Eric Tan is a designer at Gensler New York, and was recently named one of Curbed NY's Young Guns. He will present this project, a finalist in the Place by Design competition, at SxSW Eco in Austin, Texas on October 7. Tom Vecchione is a principal and design director at Gensler New York.