With so many distractions in our daily lives, from Breaking Bad binges to Twitter tweetathons, it's increasingly difficult to get things done.
While advances in technology are often to blame for always-on TV and never-ending news, there are also many digital tools that can help us work smarter. After all, we wrestle day in and day out with the greatest equalizer in the world: time. With 24 precise hours in a day, we're often left falling behind on work and home tasks. To amp up productivity, here is a short (quick!) list of apps that will help you do things faster, and in many cases, better.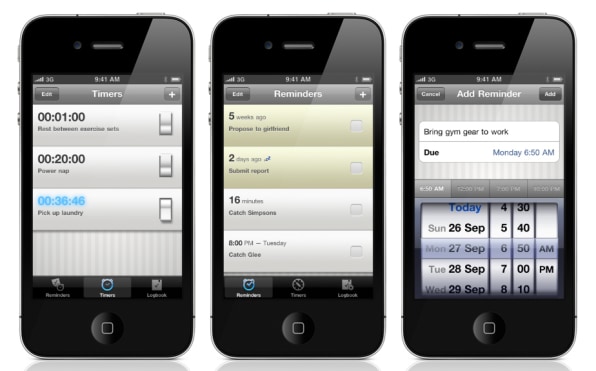 1. Due: The superfast reminder app
(iOS–$4.99)
Whether you have a report to write or need to pick up milk on the way home from work, Due is the "Superfast" reminder app that makes it easy for you to stay on top of your daily tasks. If you need to defer a to-do, you can quickly tap snooze to reschedule it to a later time. When you have recurring deadlines, such as monthly bills, the app will help you stay on track (and you can sync all deadlines to your calendar). Thanks to a timer feature, you can also manage pesky little tasks, such as refilling a parking meter, so you're always on top of your time.
2. ReadQuick: The quickest way to speed read
(iOS–$4.99)
If you're having a tough time staying up-to-date on your favorite blogs, speed reading is the answer. With ReadQuick, surf and find an article that you want to read (or select one from your Instapaper or Pocket account), and use the Words Per Minute slider within the app to keep track of your progress. "We wanted to create an app that let users read faster than ever before but also increase comprehension at the same time," says Clayton Morris, creator of ReadQuick and an anchor on Fox & Friends. "So people can read more and retain more than reading the old-fashioned way."
3. Walk Me Up! Alarm Clock: The walking way to rise and shine
(Android–Free)
For a lot of working adults, there is nothing quick about waking up in the morning. However, thanks to this Android app, you're forced to get out of bed–and walk around–before the alarm will stop. When you're about to hit the hay, input how many steps you will have to take the next a.m. before the morning ringing stops. You can also change the alarm volume and ringtone, and if you're prone to falling back to sleep, you can put the app into "Evil" mode so the snooze button is disabled.
4. EvoMail: The swipe-friendly inbox
(iOS & Android–Free)
When you first log in to EvoMail with your Gmail or Yahoo! mail account, you'll have the option to walk through a quick demo. However, chances are, you won't need any help to jump right into using this beautiful app. Not only is it easy to access your folders to quickly sort through your messages, thanks to a number of gestures, you can also efficiently swipe to delete or archive messages–and shake for additional options. The compose button is always readily available, so you always have easy access to basic–and well-designed–functionality at your fingertips. If you want to delay dealing with an email, just triage that message to bounce back at a later time.
5. Mindnode: The easiest mind-mapping app for bright ideas
(iOS–$9.99)
If a paper napkin isn't cutting it as the ideal blank slate for your brave new idea, this app can help. MindNode makes it a cinch to lay out your thoughts, a.k.a. nodes, on an expanding canvas that can grow as your brainstorming does. Aside from nodes, there are also branches that can connect your thoughts and a number of formatting tools to keep your project plan neat and tidy. There are simple ways to share your document, such as Dropbox, so you can always access and expand on your work in progress. If you're not the best visual designer, this simple tool is the next best thing.
6. Quip: The mobile-first word processing and collaboration app
(iOS–Free)
Creating business documents on your smartphone or tablet can be clumsy, but Quip is working hard to change that experience. This download is a cross between a word processing tool and a messaging tool, making for easy collaboration with others in real time. Since the app also works offline, whenever you do go back online, your changes are synced so you never lose your work. When you sign in with your Google account, you can immediately start connecting with other contacts so you can work together to build your documents to include text, photos, and links.
7. Sunrise: The smartest social calendar
(iOS–Free)
For iPhone users who use Google Calendar, this app can help to make you more productive when it comes to managing your time. Not only does this download pull in all of your events, it will also give you timely information about the weather (to inform you that it might be breezy in the morning and rainy in the afternoon, so you can dress accordingly). When it comes to meetings, you'll get fast access to maps and social media links for attendees. There is (thank goodness!) time zone support, so you can travel without worrying about joining conference calls at the wrong time. If Facebook events are an important part of your schedule, you can also pull in these events.