On Wednesday, the Bubble Wrap officially comes off of iOS 7, and with it Tunes Radio.
For consumers, iTunes Radio might feel like little more than a Pandora clone with different guts and a polished interface. For Apple, that's all it needs to succeed.
Apple's entry into the Internet radio space makes good business sense for the company, especially as the mere concept of selling digital music files is challenged by the rise of all-you-can-stream subscription upstarts like Spotify. Make no mistake about it: iTunes Radio isn't about dethroning Pandora as much as it's about getting you to buy more music.
Another Doorway Into The World's Biggest Music Store
When most of us think of iTunes, we picture that clunky desktop application we begrudgingly use to manage our music and mobile devices. But in reality, that software is just one gateway into Apple's expansive e-commerce empire for digital content, which is what iTunes really is: a very lucrative store. Across 119 countries, the iTunes Store has 500 million users, who are collectively spending more and more money on digital content ($2.4 billion in Q2 of this year, for example). As GigaOm's Erica Ogg pointed out in May, Apple's content business could one day outpace Mac sales to become the company's third biggest source of revenue.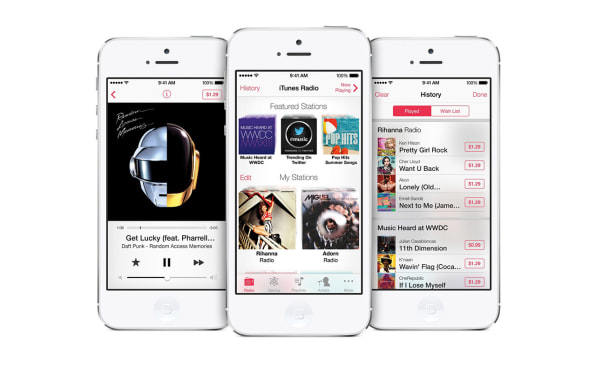 But the model of music distribution that made iTunes the biggest music retailer on the planet isn't future-proof. Its most potent threat comes from the all-you-can-stream music subscription model championed by Spotify, Rdio, and even Apple's arch rival, Google. For about $10 per month, users can access a library of many millions of songs, stream them at high-quality bit rates and even store them locally on just about any device. For voracious music consumers, this new model is far more economical, even if it does create a fuzzy redefinition of what it means to "own" music–it feels like ownership until you stop subscribing and everything stored locally disappears.
In launching iTunes Radio, Apple isn't going the all-you-can stream route, but rather is layering a Pandora-style Internet radio product atop its digital music store. It's a smart move, considering the popularity of services like Pandora, whose 72.1 million active listers collectively listened to 1.35 billion hours of music in August 2013 alone. But unlike Pandora, iTunes Radio doesn't have to be profitable in and of itself, since it's a mere piece of the iTunes puzzle and its revenue generation is threefold: advertising, new iTunes Match sign-ups (the equivalent of a "pro" account for iTunes Radio users) and, of course, digital album and song sales. It's likely most valuable to Apple as a promotional vehicle for said sales, at least for now.
This could also be Apple's way of dipping its toes into the on-demand streaming music market and conditioning iOS users to turn to the "Music" app on their devices to stream music. After all, Apple did buy an on-demand service called Lala in 2009 and shut it down. Pieces of Lala's infrastructure went into building iTunes Match, but the code would be even better suited for a Spotify clone, not unlike the one Google just launched in May. Apple's chief rival now has its own digital music store, music-matching cloud service, Internet radio stations, and on-demand streaming service. As of today, the only thing Apple is missing from that list is the last item.
While the iTunes business–it includes apps, movies, TV shows, and e-books–remains strong, Apple knows the digital music download paradigm won't last forever. I, for one, haven't opened the Music app on my iPhone (or iTunes on my desktop, for that matter) since Spotify launched in the U.S. two years ago. I might start to if iTunes Radio is powered by a decent recommendation engine. And if Apple bolted on a worthwhile Spotify competitor, there would be little reason for iTunes users to even consider leaving the Music app, where the purchase button is always a tap–or fingerprint verification–away.
For Apple, every new gateway into its digital content ecosystem is worth building, especially as devices like the more affordable iPhone 5C help Apple grow in new markets like India, China, and the Middle East. As Tim Cook announced on stage this month, the company is on track to ship its 700 millionth iOS device any day now. With new iPhones launching in China for the first time, don't expect those numbers to slow anytime soon. With each new activation, Apple christens a new iTunes account and gains a new prospective customer for digital content. Before long, there will be 1 billion of them walking around with the storefront in their pocket and free, personalized Internet radio stations ready to lure them in the door.
What's In It For Listeners? (Besides More iTunes Bloat)
For users, the benefits of iTunes Radio are less apparent, especially those familiar with Pandora. It is, as U.K.-based radio futurologist James Cridland describes it, "a surprisingly me-too product from Apple."
iTunes Radio listeners will get a little more control over the variety of each station, an easy way to purchase the songs they like, and if early reviews are any indication, a pretty decent music recommendation engine (presumably based on Apple's proprietary music discovery technology). That's about it.
"Delivering personalized radio is a lot harder than it looks," says Pandora cofounder Tim Westergren. "Part of the appeal of Pandora is that for the consumer it's easy to use. It's deceptively easy compared to the technology that goes into making it work. It's a high bar to cross to let someone type in a single song or a single artist and then to nail it for them for hours and hours. It requires a lot of intellectual property, a lot of data. It's a big machine."
That intellectual property–the algorithm that fuels Pandora–is based on a sophisticated hybrid of human and machine intelligence that the company started building out in 2000 with the advent of the Human Genome Project. It started as an enormous map of musicological metadata hand-coded by professional musicians and has since evolved to include machine learning, collaborative filtering, and complex A/B experiments based on user behavior. For its part, Apple has fine-tuned its Genius recommendation methodology, but the underlying technology still can't match the granular, human-like smarts of what Pandora has built over the last 13 years.
By its very design, the data used to power iTunes Radio will start improving as soon as iOS 7 ships on September 18. That's because, like Pandora and others who borrow the thumbs up/down paradigm, iTunes Radio is going to start collecting new data points in the form of users tapping those thumb buttons, not to mention skipping, or most tellingly of all, purchasing songs and albums. Over time, these insights will strengthen Apple's music recommendation engine, which is presumably already privy to the day-to-day listening habits of hundreds of millions of users. Thankfully for Pandora, Apple's own algorithm will take time to progress.
In the meantime, bet on Pandora continuing to integrate its service into as many devices as possible. That includes not only smartphones and tablets, but cars and household appliances. By contrast, iTunes Radio will exist on desktops and iOS at launch. Since it's layered on top of the iTunes Store, it's hard to imagine Apple launching a version of iTunes Radio for Android or Windows Phone anytime soon. Thus, while its potential reach is inherently massive because it's baked into iOS, iTunes Radio will be invisible to hundreds of millions of Android users. And while those folks have Google Play's Internet radio stations pre-installed on their device, the service is still new and its recommendation technology isn't as thorough as Pandora's.
At launch, it's clear that iTunes Radio does more for Apple than it does for consumers. In time, that may change, but the first iteration doesn't offer anything we haven't seen before.
[Image: Flickr user Ephoz]