Electroencephalogram as furniture blueprint? It's already happened.
Italian designer Lucas Maassen wired his brain to an EEG-measuring device and relaxed as he contemplated the word "comfort." Then he and Belgian Unfold principal Dries Verbruggen translated that brainwave file into instructions for Computer Numerical Control milling machines that carved a block of foam into a biomorphic 3-D couch.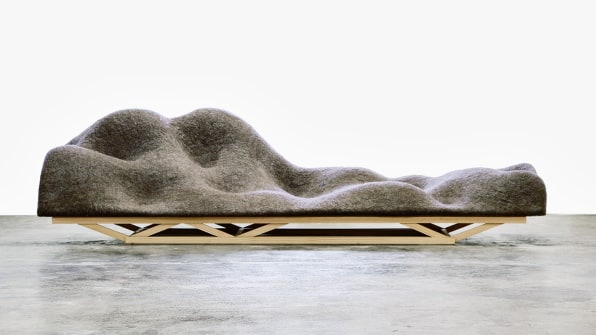 Brain Wave Sofa is just one of 80 high-concept experiments collected for Out of Hand: Materializing the Postdigital at New York's Museum of Arts and Design. Opening October 16, the exhibition surveys an array of precision-tooled objects that would have been literally inconceivable during analog days of yore.

Out of Hand curator Ronald Labaco says "When I started my research and laid out all these images on the floor, it became clear to me that there's been this incredible explosion of creativity starting around 2006. Prior to that time, designers, artists and architects experimented with 3-D printing and CNC milling but the technology was purely at the rapid prototype stage."
Out of Hand encompasses bottom-up 3-D printing, which starts with nothing and extrudes layers of molten plastic to build objects layer by layer; top-down CNC technology, which robotically chips away at a block of material to arrive at a final computer-programmed sculpture; and digital weaving, which deploys software-driven thread controllers to make textile graphics.

Labaco figures digital fabrication caught on big time about two years ago with proliferation of low-cost consumer 3-D printers. MakerBot Industries in 2011 sent a 3-D scanned head sculpture of Stephen Colbert into outer space via weather balloon. DIY projects produced on Shapeways printers became destination viewing for hordes of home-spun "makers." And early this year Barack Obama gave a speech citing 3-D printing as a cornerstone of U.S. industrial recovery early this year.
Many contemporary artisans now embrace 3-D printing and computer-assisted sculpting techniques as a matter of course, according to Labaco. "For people who use digital fabrication methods, it's part of their tool box as much as a chisel or a paint brush might be. The novelty now isn't in the technology itself but what the technology can provide to the artists."
Some highlights from Out of Hand's 21st-century cabinet of curiosities: Baltimore's Chris Bathgate, who hacked his Computer Numerical Control software to design gleaming five-feet wide metal structures that resemble sci-fi jewelry from the future.
German duo Barbara Kotte and Andreas Schulz's Rapid Racer, a functioning automobile, was 3-D printed in 3,600 layers of extruded plastic over the course of 10 non-stop days.
Japanese fashionista SOMARTA showcase the body suit they digitally knitted for Lady Gaga, while Magnus Larsson (see image below) demonstrates how to use microbes from ambient sand to 3-D dwellings in the desert.
François Brument's installation speaks to one of the show's dominant themes by allowing visitors to talk into an on-site microphone and make custom ceramic vases based on their voice prints. Labaco points out "Alot of the work is linked to data visualization that overlaps so many spheres within our contemporary world."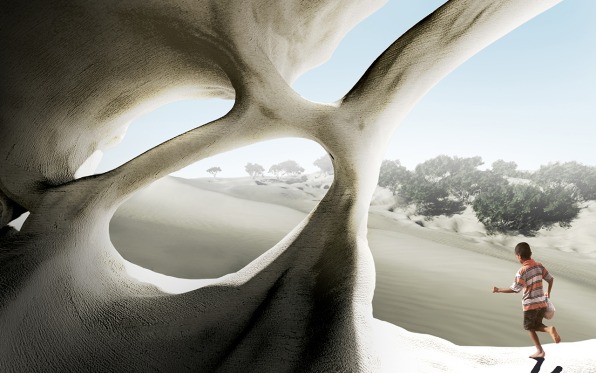 Historical references also abound. Frank Stella, for example devised a polychrome sculpture that gives three-dimensional form to Baroque-era compositions by Domenico Scarlatti. New Yorker Barry X Ball took 3-D digital scans of La Invidia (envy) by Medieval sculptor Giusto le Court, then CNC milled a mirror image structure from translucent golden honeycomb calcite that he believes is "more perfect" than the original bust.
One of Out of Hand's most personal designs come from Leonor Caraballo of . She used MRI scans of her own cancerous tumor to model the 3-D "Object Breast Cancer" for use in necklaces and bracelets. Labaco says "OBC provides a means of coping as well as empowerment. It's interesting to see how the overlap of innovations in engineering and medical industry are informing the arts."
Check out the slide show for a sampling of jewelry, furniture, housing, textiles, and sculpture featured in Out of Hand: Materializing the Postdigital, which runs through July 6.