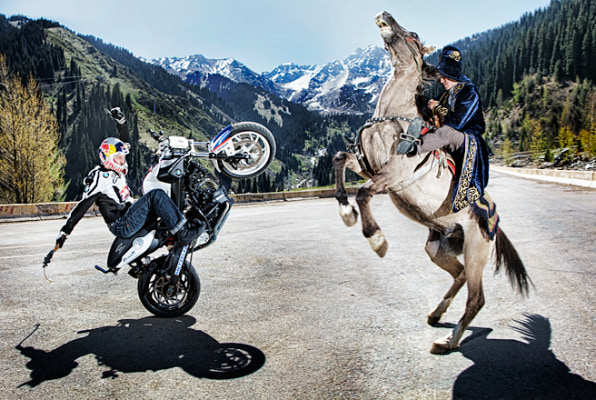 In the feature film, The Art of Flight, snowboard savant Travis Rice is shown soaring, inverted, over a big-mountain copse, casually brushing his hand over the top of a huge pine. Like it was nothing. Like it's a thing that happens on earth.
It's one of hundreds of astonishing, don't-even-try-it-in-your-dreams sequences that gave the film buzz factor even outside of snowboarding circles. Backed by Red Bull and produced by Brain Farm Digital Cinema, TAOF brought together Rice and a team of the best snowboarders in the world to do things that no one else can, in places no one else has, and captured it all with production standards that gave the tricks and the vistas an almost surreal sweep.
But the film features yet another amazing trick.
The 90-minute run-time is peppered with Red Bull branding, most strikingly in the form of ubiquitous logo-emblazoned helicopters that deposit Rice and friends onto ever more gasp-inducing snowscapes. The brand has an unmistakable presence, but there's no sense of it's being "placed." Such is the company's second-skin connection to the sport and the athletes, that Red Bull is more like a character in the film, one that no one else could play. The company's content arm, Red Bull Media House, made the film for a reported $2 million–then directly reaped the benefits when Flight reigned atop iTunes's sports, documentary, and overall movie sales charts for a week, at $10 a pop.
Brands have lately woken up to the fact that their information and entertainment outputs can and should go beyond the paid, interruption-based model known as advertising. Several brands have made moves into content–from one-off blockbusters like Burger King's video games, to ongoing platforms like American Express' Open Forum. And many more pay lip service to the notion that every brand expression is "media." But it's hard to think of a company that's taken that mandate so literally, that has made content such a part of its core mandate. Through its standalone content arm, Red Bull Media House, the company that created a beverage category is now pioneering the new role of brand-as-media-company. It launched Media House in Europe in 2007, and expanded stateside last year. In 2011 alone, it filmed movies, signed a partnership deal with NBC for a show called Red Bull Signature Series, developed reality-TV ideas with big-time producer Bunim/Murray, honed its own web and mobile outlets, and became a partner in YouTube's new plan to publish original content. It also expanded its magazine, Red Bulletin, into the U.S., giving it a global distribution of 4.8 million.
"They are as good an example as exists of a brand pulling off being a media creator," says Noah Brier, cofounder of Percolate, which helps brands create content for their social followers. While serving as head of strategy at digital agency the Barbarian Group, Brier worked on the redesign of Red Bull's brand site. "Actually, they're getting to the point where it's not useful to use them as an example since they're such an exception to the rule," he adds. "Red Bull is a media company that sells drinks instead of ads, and I get the impression they think of themselves that way."
Pushing wakey-wakey juice is still important, of course, and the company did that to the tune of $471 million in U.S. sales in 2011, an increase of 11.9% from 2010, and with a 44% market share of energy drinks, according to SymphonyIRI.
But Red Bull's biggest trick is coming next: Content isn't considered a loss leader, and it expects Media House to turn a profit and be a business unto itself.
Red Bull Media House is located in Red Bull's Santa Monica, California, offices, a 100,000-square-foot space with a mammoth skate ramp soaring across most of it. The blond wood is perforated with holes so that, as far as local regulators are concerned, it's an "art installation"–but that doesn't stop skaters from scaling it, or office workers from taking Aeron chair rides. I stop to admire it with a team of Red Bull execs, each of them drinking their canned caffeine–not for show because I'm around, they insist.
Right. But that's how much this company values an on-message spectacle.
"This is a natural evolution," Media House managing director Werner Brell says between gulps. "[Red Bull founder Dietrich Mateschitz] knew that success would be in how you market the product as much as the product itself."
That's why, since Mateschitz launched the company in his (and Brell's) native Austria in 1987, he's used it to champion extreme sports. Red Bull sponsors athletes (Blake Griffin, Lindsey Vonn) and entire sports (downhill racing on hockey skates, freestyle mountain biking), ensuring that it leads the movement, not just swoops in to profit off of it. "[Red Bull is] all about taking care of their core athletes," says snowboarding phenom Travis Rice.
This is the part Brell says many brands miss: You can show up with some cash and sponsor an event, sure, but audiences won't admire you for one-off hits. "Whenever we did any event, or signed an athlete or executed a project, everything has been put on film or photographed. Stories have been told," says Brell. "It's part of the DNA of the brand."
The result is not just a media library. It's an accumulated body of production and distribution expertise that gives Red Bull a status in the sports world that transcends sponsorship. The brand has engaged its core male 18-to-34 demo and a broader mainstream audience through diverse platforms, third-party media, and, perhaps most important, its own channels.
That secures not just loyalty but a direct link–a symbiosis, really–between brand and subculture. When Outside magazine recently named Mateschitz the most influential person in the outdoors, it wrote, "Without Red Bull, it's unlikely the extreme-sports boom would have happened at all." Not that it needed to be said. Fans already think that.
So what content do extreme-sports lovers want? Red Bull Media House spends a lot of time figuring that out. In five edit suites (and soon expanding to eight), Red Bull production staffers assemble varying types and lengths of video destined for a range of platforms. In one suite during my visit, an editor fine-tunes an edition of Red Bull Moments, a web series featuring snippets of athleticism that were captured with a high-speed digital camera. A few seconds of movement–like a pitch from major leaguer Tim Lincecum–become a minute and a half of mesmerizing slo-mo. Moments appears on RedBull.com, YouTube, and some other third-party media sites.
"We parse out the content. We'll have a specific piece for this audience, and another piece for a more general audience on a 3-D channel," says Scott Bradfield, Media House's head of production. "We make content that [audiences] can consume the way they like." The brand produces content in-house, but also partners with outside production companies. Everything goes in the Red Bull Content Pool–a repository of premium, rights-cleared still and moving images, available to media outlets worldwide. Some are free (like that horse-versus-motorcycle photo it gave Fast Company); some are licensed for a fee.
The company is also moving into new territory, expanding its definition of a Red Bull lifestyle. Its documentary Bouncing Cats, which ran on the Documentary Channel last year, followed efforts to use hip-hop and break dancing to help refugees in Uganda. Another doc tracked the rebirth of the New Orleans music scene. It's even developing scripted programming. And Red Bull makes plenty of its own music: Hidden behind a stealth back door in its offices, a full recording studio has hosted the likes of 50 Cent and M.I.A.
Out in British Columbia, Rice built a course (on Red Bull's dime) for an invite-only contest called Red Bull Supernatural. It debuted in February, and Rice hopes to make it a regular thing. You can expect Red Bull cameras to be there for every part of it. Perhaps it will help propel the spin-offs Red Bull hopes to pursue after The Art of Flight–a slate that includes a TV series about some of the human drama behind the film. "We couldn't have done something like The Art of Flight 20 years ago," says Brell. "But with all the learning and mistakes and successes, we are set up to build this next level of programming."
Audiences are jittery with anticipation.
Photograph by Denis Klero/Red Bull Content Pool