At today's iPhone 5S unveiling, there was just one Apple partner company besides Nike whose work appeared on stage. By now you've probably seen the image of a massive fire-breathing dragon attacking an armor-clad warrior–it was part of a live gameplay demo of Infinity Blade III. It's the latest installment in a franchise that has been downloaded over 40 million times and exceeded $60 million in revenue.
It's also the third time Infinity Blade, created by ChAIR Entertainment of Salt Lake City, has been showcased at an Apple event. And the reason is simple: The game is built to harness the technology inside every new iPhone. "The iPhone 5S allows us to have a huge, extremely detailed Dragon spewing billowing flames that engulf the entire screen, while the hero, clad in armor that reflects the environment, swipes to defeat the beast," Donald Mustard, the cofounder and creative director of ChAIR, told Fast Company.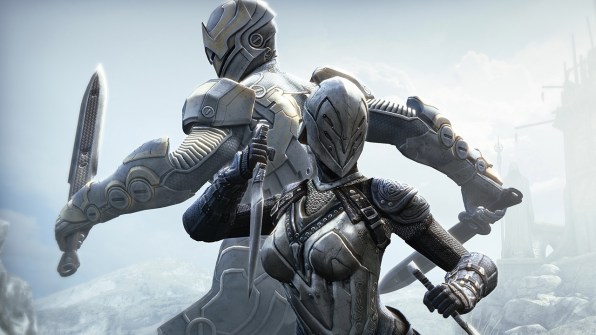 "Our characters have four times the resolution of what you'd see on current console games," he said.
Infinity Blade III expands on the multiplayer experience of the second game. While there's no direct player vs. player swordplay, friends can team up for in-game events called Clash Mobs and take on monsters, enemy knights, and other foes within a set period of time to save the world.
"We can now combine full-screen rendering effects, tons of polygons, and advanced gameplay processing in one smooth package," adds Geremy Mustard, cofounder and technical director. "And we are able to do all that with almost instantaneous load times, keeping gamers immersed in the experience instead of staring at a loading screen."
The Mustard brothers founded ChAIR in 2005, and with their first game, Undertow, caught the attention of Epic Games–they were acquired in 2008. Working closely with Epic's tech team, they created Infinity Blade in 2010 specifically to take advantage of the finger-swipe controls of the first iPad. It was also the first mobile game to use Epic's Unreal Engine technology. The action game blended two of the most popular genres, sci-fi and fantasy, and delivered a gameplay experience that instantly won over critics and early adaptors of the iPad. But the game also impressed Apple, which saw this mainstream game as a way to attract new consumers, while showcasing the HD visuals and console-like experience of its tablets.
That in turn has allowed the team to further close the gap between what can be done on a current-generation console, such as an Xbox 360 or PlayStation 3, and what can be done on an Apple device. "We're rendering a full depth of field blur and bloom pass, a color adjust pass, a vignette pass, and a distortion pass–and then anti-aliasing the whole thing while maintaining a blazing frame rate," said Donald Mustard. "On a device that fits in your pocket."
"Back in 2010, Infinity Blade was most probably the first mobile game that had the graphic quality and a theme that appealed to core gamers," said Peter Warman, founder of video game research firm Newzoo. "On its own it sparked the discussion of how successful more immersive games on smartphones and tablets could become. The term 'mid-core' gaming and gamers started with the success of Infinity Blade, which offered an immersive experience with casual gameplay."
The success of the franchise has given ChAIR the budget to collaborate with more established talent, such as animator Ben Hibon (Harry Potter and the Deathly Hollows: Part 1). And they hired voice actor John Noble (Fringe and The Lord of the Rings) to voice the Worker of Secrets in the newest game.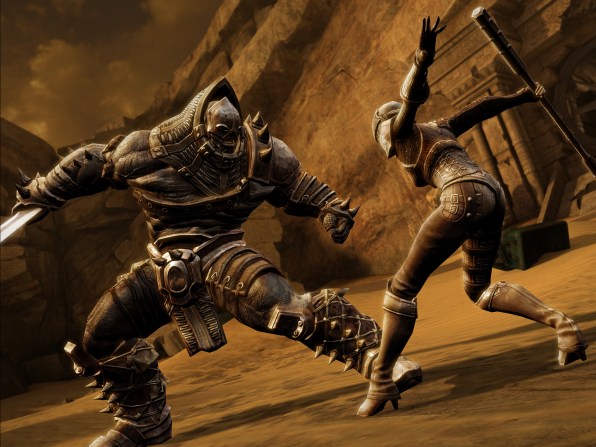 "The first game was a load of fun, but it was very repetitive," said Brandon Sanderson, a New York Times best-selling fantasy author who has written two e-books based on the universe, and helped script the latest game. "With Infinity Blade III, the world has become much more open and players can customize their characters and experience in many different ways."
The latest game is eight times larger than the previous installment. And ChAIR is planning a series of updates that will further expand the universe through additional storylines, new enemies, and boss fights.
Although the game has been in development for about a year, Apple contacted them just a few weeks ago to join the event. The company strategically plans its development cycle around when Apple announces new devices (the first Infinity Blade was announced three years ago this week) and keeps Apple updated about its progress. ChAIR's 20-person dev team is now hunkering down to finish everything in time for the planned September 18 release date.