An internship is a necessity on every undergrad's check list. But I felt a little differently.
Hi, I'm Natalia and I'm a junior at Southwestern University, located in Georgetown, Texas. It's a small liberal arts school where I major in computer science. It was my dream to intern for Fast Company, and with a little bit of creativity, this small town girl from Texas is now in the Big Apple.
How? A simple tweet and a kind of crazy (I'll admit) website. Here's the story.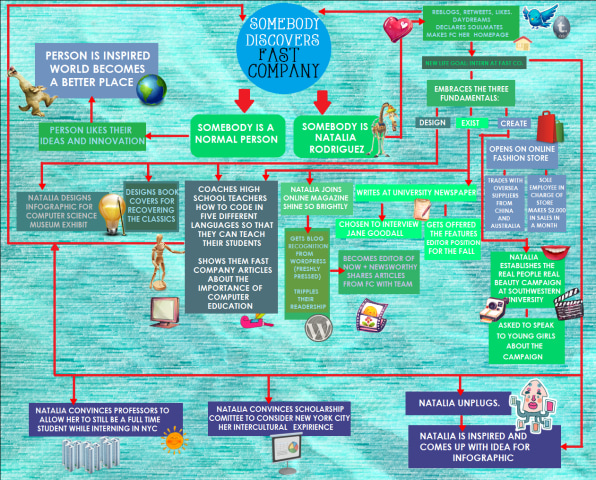 Entering my junior year, I knew I had to get an internship. Everybody does. I probably could have found something journalism-related in Austin, but I wanted to go big. For me, an internship should always fall under one's "wildest dreams" category–if you're going to do it, you might as well shoot for the stars.
So I thought to myself, "Why not Fast Company?"
I told my family that I wanted to work in editorial and they warned of how impossible it would be. I major in computer science. I'm from a small town just north of the Mexican border. I didn't have any connections. I'd never been to New York. Why would anybody be interested in me?
That was my challenge (not to mention the fact that Fast Company was nearly 3,000 miles away and not looking for interns), and one that I'm not alone in facing. When I talk to my friends who are filmmakers, artists, future fashion designers, and even pre-meds and finance majors, they tell me the same. The odds are against us. In fact, according a recent Forbes article, only 34% of all internships are paid–and those paid positions get four times as many applicants as unpaid ones.
I decided to prove the world wrong. In the digital age, "I don't have connections" has topped "the dog ate my homework" on the excuse charts. I turned the "Contact Us" tab into my "connections" that everybody said I'd be nowhere without. Connections are very important, but many people take this to mean connections are an out of reach abstraction, existing in a different universe, independent from your dreams if you don't already have them. Translation: Without them, you're meaningless.
So I started a website called Dear Fast Company, which openly declared my enthusiasm about the publication. For me, "Fast Company–a love story" began about two years earlier, when I was just a college freshman with a tendency to join the school newspaper. From there, it became much more. With career aspirations to become a thriving journalist, Fast Company's content struck me as love at first sight with its diversity of content and voice.
On my laptop, if you type 'fa' in chrome, it is not Facebook that appears as the first option, but the beautiful words "Fast Company."
I figured Fast Company received many standard resumes that they routinely read through. Then, they probably threw them out. I wanted to make something different, something exciting and colorful, something that showed them how much I admired them and who I really was. I put an infographic on the website mapping out why I was the perfect candidate–showing that I had something to add.
I embedded humor, with icons like Syd from Ice Age, explaining how it all connected back to a bigger picture: the world becoming a better place every time someone came across Fast Company. I also included a cover letter, followed by a picture of me Photoshopped in their offices asking them to envision it with me.
Call me crazy, but when the odds are against you, you need to get creative.
After the site went live, I tweeted at editors and writers.
@heyfeifer, the magazine you edit inspired this:
Infographic: Future Intern Maps Brand Inspired Pitch http://t.co/VayISiJYPD

— Natalia Rodriguez (@NataliaRodrgz) June 28, 2013
Two and half hours later, I received an email. I had a phone interview a week later. The rest is history. It turns out you can tweet your way to your dream job (or internship).
When I first introduced myself to my new colleagues, they recognized me as the "Dear Fast Company girl" and declared themselves to have been my cheerleaders. Today, here I am–sitting in the Fast Company offices with my own name tag, next to an upcoming issue's lineup, and with a view of downtown Manhattan. I'm thousands of miles away from home–living my dream–and I can happily say going big paid off.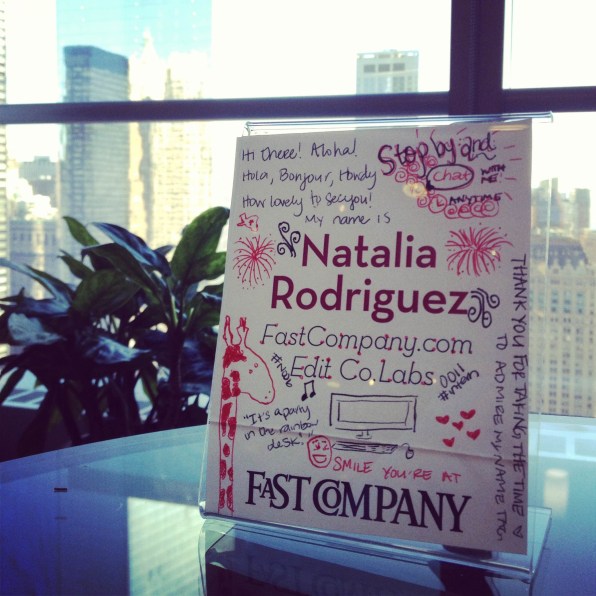 [Image: Flickr user kaysha]