Human zoos and Victorian freak shows provide the inspiration for The Ugly Cards–a pack of playing cards, each featuring a different "character model" captured by photographer Matilda Temperley–which debut September 5 as the star attraction of a new exhibition at London art gallery Cock n Bull.
Dwarves, giants, various kinds of contortionists, transgender and tattooed body modification artists, and more feature in the project–a collaboration between Temperley, sister of fashion designer Alice Temperley, and London-based "character model" agency Ugly.
Each participant was selected from the Ugly roster for both their "originality, expressiveness and strong character–people who are simply comfortable with who they are," Temperley explains.
The result, which she describes as "a voyeuristic celebration" of the unusual and the extreme, is part of an ongoing exploration of circuses–from ethnographic studies from the 15th century to modern-day freaks shows–which will culminate in a book of photographs to be published next year.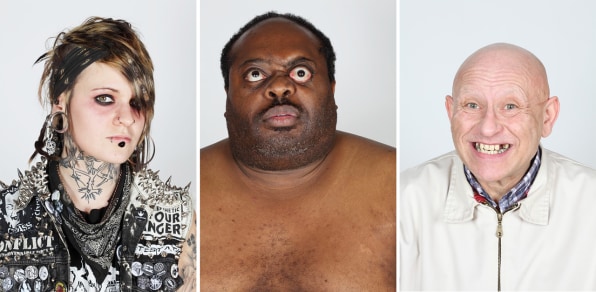 "The idea is to explore today's human circus–people from all walks of life, especially those comfortable to sit outside social norms," Temperley adds. "But it's also as much about the viewer's reaction to the subjects as the subjects themselves."
The collaboration is also an opportunity for Ugly to further showcase its own expertise. It currently represents a few thousand models ranging from old to young, from giants to midgets, and including models with bulging eyes, extreme tattoos, and weird piercings.
"We'd worked with Matilda before so already knew her and loved her work," Ugly Models chairman Marc French explains. "The Ugly Cards were something we just decided to do on our own using our regular stylist and her regular make-up artist.
"Once the first few packs of Ugly Cards caught people's attention, though, the project took on a momentum of its own. A number of other gallery spaces have already expressed an interest and we've also had approaches from potential partners keen to collaborate on other projects."
Ugly was originally set up in 1969 by two photographers disillusioned by the fashion industry when they took out an ad with the message: "If you have an interesting face contact Ugly." Since then, it has never needed to re-advertise for models or clients. Nor has it been out of work. "We've been asked for it all over the years and I can't remember an occasion when we've not been able to provide what's been asked for," French observes. "I once got asked for seven sumo wrestlers. I already had two on the books so it wasn't hard to find five more."
Though the agency regularly sees aspiring models, it runs formal casting sessions just once every 18 months–in the run up to publication of the next edition of its Ugly Book compendium detailing the particulars of 1,000 of the top models it represents. The next Ugly Book is due to be hand-delivered to almost 2,000 clients later this month.
Consider Ugly's track record and you can see French isn't joking about not needing to advertise. Its models work for top fashion brands including Calvin Klein, Italian Vogue, and Marks and Spencer, and in numerous films and commercials including the current Kevin Bacon Conga ad for mobile network EE.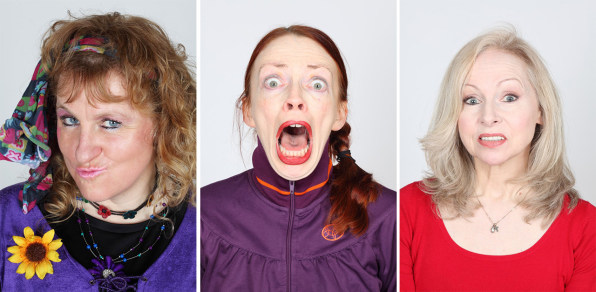 One of its top bankers, a snaggle-toothed, awkward-looking chap called Dell, has modelled jeans for Levis, Diesel, and CK–an achievement many conventional models would surely envy. Another Ugly model, 65-year-old Pam Lucas, is a weekly fixture in The Guardian's weekend fashion pages.
Lucas in particular epitomizes what Ugly is all about, French believes–not because she is ugly (in fact, she is anything but) but because her look is unconventional (older, glamorous, with long grey hair) and she wears it with confidence. "What I always look for is someone confident in their own skin–a person who when they leave a room you remember," he explains. Not lookalikes. Not followers of someone else's look or fashion, either, but people who are happy with just the way they are.
"Ugly is just a word," French adds. "True, some of the people on our books might be described as ugly which gets them work, but many are character-ful. And what's interesting is how, while there's always been a demand for different-looking faces, using models who are not perfect but unconventional is a growing trend."
Recent years have seen a consumer backlash against brand advertisers choosing to peddle unrealistic images of so-called body perfection and the practice of using Photoshop to touch up or even eradicate perceived physical imperfections, he believes. "Goofy geeks and big fat ladies have been incredibly popular now for a number of years." French adds. Yet he believes demand for his clients is being driven by something more basic. It's simple really, he says: "Perfect is boring."
Matilda Temperley – The Human Zoo: The Ugly Cards Exhibition runs from September 5-19 at the Cock n Bull Gallery.