I have a Pebble. I'm wearing it right now, in fact, and am rarely without it.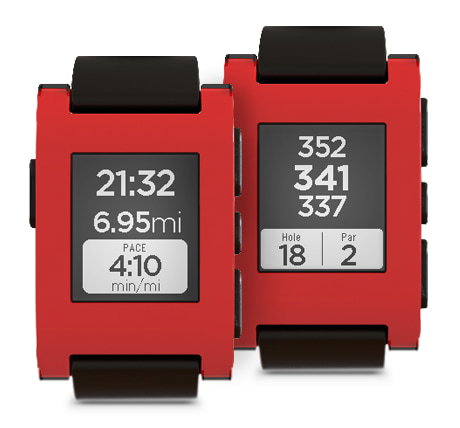 The Pebble is the ur-example of the contemporary "smartwatch," thanks to its splashy, record-breaking, $10-million-plus Kickstarter campaign in 2012, and the seeming market for wrist-wearable computing that campaign portended. But the dirty secret of this "smartwatch" is it's not all that smart. The intelligence is elsewhere–in my nearby iPhone–and the functionality of the Pebble (like other smartwatches on the market) relies on a Bluetooth connection to be anything more than a watch. The Pebble is really a second screen and remote control for my smartphone, and a fairly limited one at that.
Here's what I do with my Pebble:
1)See text messages, calls and emails without taking my phone out.
I don't miss phone calls because I'm walking and can't feel the vibrations; the shock of a vibrating watch is unmissable. I don't pull my phone out, unlock the screen, only to find a text message from Verizon about my data usage. I feel my wrist vibrate, glance at the text, and dismiss it.
2)Control audio without taking my phone out.
I pause a podcast when I need, momentarily, to hear what's going on around me. I skip songs when I'm at the gym or DJing a party and don't like what's playing.
These modest functions are why I wear the Pebble every day. But here's what I can't do:
Respond to text messages, calls, or emails without taking my phone out.

Do anything other than receive alerts from most of my iPhone's apps.

Do anything other than tell the time if my iPhone is dead or out of range or having a Bluetooth connection error.
There is room, in other words, to improve on the rather dumb smartwatch of today. That will be great news for people like me, who are willing to pay for a gadget that lets them keep their smartphone in their pocket, and can–for the moment–impress their friends. But the hoped for smartwatch of the future that is smart enough to let you leave your phone at home? That will take the kind of paradigm-shifting innovation that the iPhone brought to smartphones, that brings smartphone-like functionality to a much smaller screen, operated, not insignificantly, with a single hand (and, perhaps, your voice). Not impossible, but, given what we know about Samsung's Gear, it's not likely to emerge in the next few weeks, either.