Guys who like shopping: Stop reading; this is not a story for you. That is, unless you're a guy who likes to help other people shop, appreciates an extra income stream and happens to be the sort of affable, laid-back person total strangers feel comfortable inviting into their homes and offices. If you're that guy, then okay, this is actually a story for you, too.
San Francisco-based startup Trumaker would like to meet you both. Launched earlier this year with Bonobos alum Mark Lovas at the helm as CEO, second Bonobos employee Adam Sidney as a VP and the blessing of (as well as seed funding from) former employer Andy Dunn, the company is a direct sales-ecommerce hybrid that targets men who want to dress better, but can't be bothered with the hassle of heading to a store or the uncertainty of buying online. Sold initially through sales associates called Outfitters and then, after the initial appointment, available to customers for purchase online, the current selection starts at $98 and consists of made-to-measure button-down shirts designed to appeal to the Bonobos- and J.Crew-wearing crowd. Instead of endless fabric choices or add-on options such as contrast cuffs or collars, Trumaker keeps its selection limited to 50 styles and puts the emphasis on fit.
"You can take any white shirt. If it fits better, it looks better, and fit is a big part of fashion for guys," says Lovas, who Sidney likens to "a legend," in the direct sales industry due to his success climbing the ranks and breaking sales records at Vector Marketing, part of Cutco Cutlery.
Outfitters come to offices, homes, and other locations, ask a quick series of questions and take measurements. They use that information to create an online style profile and recommend suggested items, currently shirts manufactured at a Malaysian factory that also produces clothing for J. Hilburn, Bonobos, and Brooks Brothers Custom. Additional apparel and accessories categories are in development, says Sidney.
It's an approach that may remind you of Avon, Mary Kay, or Stella & Dot, the wildly successful jewelry brand with sales of $175 million in 2011 thanks, in large part, to women who purchase starter kits and sell the company's baubles through trunk shows and private parties. But instead of mimicking Avon or striving to be the Stella & Dot for dudes, Lovas places Trumaker, at least philosophically, in a category that's much closer to ride-sharing startup Lyft.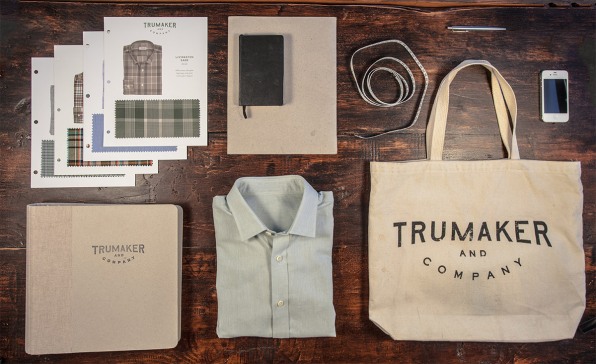 "We're not a traditional direct sales company . . . the idea here is to modernize the model," says Lovas, who is cofounder of the company with Michael Zhang.
Outfitters use a mobile app to collect customer data and measurements that are stored online for future orders. While many companies in the $41.5 billion direct sales industry will let anyone willing to purchase an initial supply of merchandise sell their products, Trumaker asks Outfitters to apply and undergo a selection process.
"We actually go through and look for people who are social and easygoing. We put them in a room with a bunch of other candidates and let them socialize," says Lovas.
The company hires both full- and part-time contract Outfitters and pays them the same commission on initial in-person orders as on any future or online purchases their clients make, opening the door for passive income and setting it up so those who network like crazy and build their own brands within a brand have a chance to be rewarded, just as the savviest Stella & Dot sellers have been.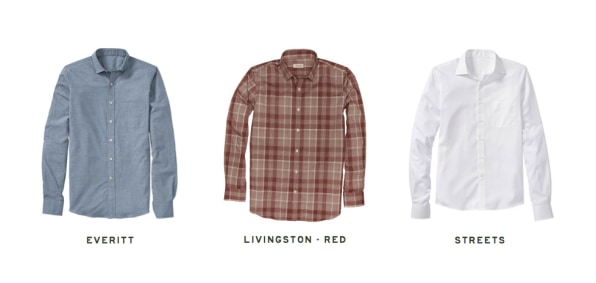 It's a hybrid pairing intended not only to offer solutions to guys seeking better-fitting shirts and fashion-savvy sellers after supplemental incomes, but also as a gamble on a multichannel retail strategy with the potential to be stronger than direct sales, e-commerce or brick-and-mortar alone.
Trumaker's integrated selling gambit comes at a time when the threat of e-commerce to direct sales looms large. Although the direct-sales industry is expected to see modest average annual growth of 1.9% over the next five years, e-commerce is on track to outpace that with an average annual growth rate of 6.2%, according to IBISWorld findings.
"With its range of products and the ability to research and find what you need online, and on top of that, the competitive pricing and often free shipping available through online retailers, it will remain tough for direct-selling companies to compete," says IBISWorld analyst Natalie Everett.
By combining the two, Sidney and Lovas hope to demonstrate a path to market that leverages direct-sales wisdom to combat the fit problems associated with e-commerce-only retail while creating distribution channels with a wider, deeper reach than what's practical for brands with physical store locations.
"If you look at us a few years out, we're going to have markets that the major online players don't have access to. Yakima, Washington, to Seattle, not just Seattle . . . and we'll have the data, we'll have the information that allows us to provide a better service," says Lovas.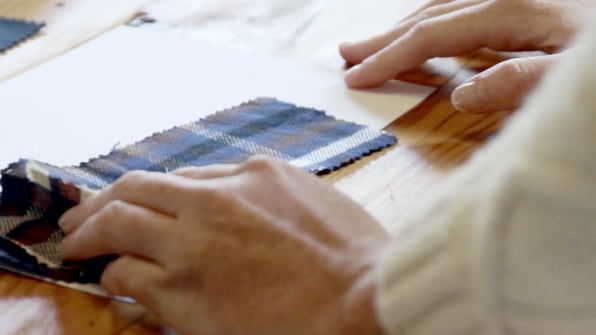 That may sound optimistic in a space cluttered with customizable, direct-to-consumer menswear options, including startups such as Indochino and Blank Label and long-standing companies such as Tom James. But Sidney reports that the company has sold close to 4,000 shirts and is "beating revenue projections."
It also counts a team of industry veterans–with hires from Chloe & Isabel and Levi's, among others–and $1.9 million in seed funding from investors such as Venrock, RRE, David Tisch and Bonobos' Andy Dunn. Along with infiltrating smaller markets with an on-the-ground local sales force, there are much more mundane hopes at play.
"We want to do a solid, edited, cohesive brand . . . so people don't have to do any choosing," says Sidney.
At a time when succeeding in retail requires complicated multichannel strategies and complex maneuvers around distribution, Trumaker is placing a premium on simplicity–at least when it comes to style. The logic goes like this: While it's great to have a lot of choice in how to buy, too much choice of what to buy is just annoying–at least to the Trumaker man.
Sidney puts it like this:
"'What kind of collar do you want?' I don't know? Why would I know?"