When Disney comes out with a new animated series, you figure its very existence is the result of months, even years, of careful strategizing, testing and brand positioning. That's not the case for at least one upcoming series on Disney.com.
Blank: A Vinylmation Love Story, which debuted at D23 and will go live online later this fall, is a low-tech, stop-motion animated series put together by the Disney Interactive group, charged with finding new ways to turn Disney.com into a family entertainment destination. The group is often given directives from above to create content based on particular Disney IP, but about a year ago the team was in between projects and seeking something fun to do.
Someone handed Greg Shewchuk one of these. They're Vinylmation collectibles, 3-inch-tall figurines that look like mini mutant Mickeys, with their oddball colors, themes and markings (think the Disney version of Bearbricks). There's an active world of Vinylmation traders, though who's to say how active since when you Google "Vinylmation craze," the first seven entries are for blogs that are part of the Disney empire, like Disunplugged. Regardless, no one else was using Vinylmations as the basis of new content, so Shewchuk and the team he works with ran with it. No focus grouping, no directive from above. They went ahead and made a pilot.
The series, made up of 12 episodes of roughly three minutes each, is about Blank, a Vinylmation defect who has no colors or markings–no identity. Blank falls in love with another Vinylmation, Bow. They settled on a common Disney theme of identity (blank slate, it's okay to figure out who you are). With that basic outline in place, the 10-person team used a lot of power tools and quite a bit of ingenuity to pull it off. Here's how they went from random side project to corporate-backed debut. Plus, Shewchuk's advice for aspiring corporate imagineers.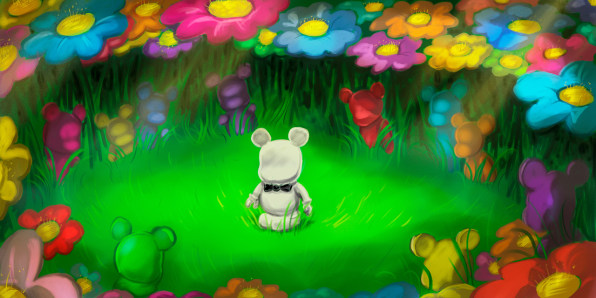 "The way it often works is it comes from the top down," says Shewchuk. "'Here's something that has been deemed appropriate for your division to be working on.' Or 'Here's a commercial that you guys need to make,' often explicitly speaking to a new IP." But there was no directive to do anything with Vinylmation. "We had a producer who used to work here, Merritt Davies, and she came by one day and put a Vinylmation on my desk. She said. 'You should do something with that.' Slowly, over time, when there was downtime, we were like, 'Let's try it, let's try doing a little project.' We did a first test run [of stop-motion animation with a couple Vinylmations] and it was like a joke. We didn't know what we were doing and it looked awful, but we showed our superiors at the time and they were like, 'Oh, that's really cute.' And then we got a budget of [about] $500 to do a pilot, and we did it in three days."
"We didn't score it, we actually used Tchaikovsky. We kind of cut and pasted [the music] to fit, and people really responded to that. I think with filmmaking and creative stuff it's really hard for people to see what's in your mind. You can talk about it all day, but as soon as you show them then it's like, 'Oh, I get it, I get it. Let's do that.'"
Disney Interactive creative director Matt Wyatt shopped the "pilot" around Disney and drummed up the budget to do a series. That's when the real work began.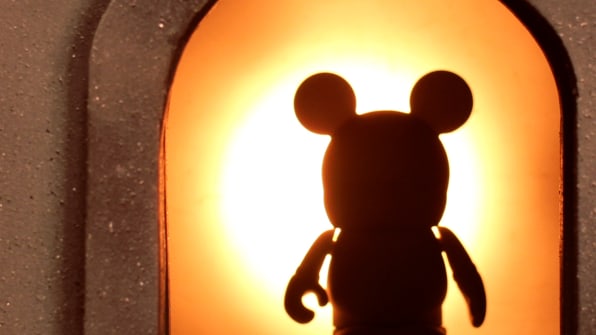 Disney won't say how big the budget was, but clearly it wasn't much or else the team wouldn't have been diving into dumpsters to get cardboard to build the sets and they wouldn't have used Starbucks cups fitted with lightbulbs to illuminate it. "Every shot was a new challenge," says Shewchuk. "It's literally one shot at a time." When they needed to approximate the shimmer of a campfire, they rigged a vacuum to blow in reverse and shoot air onto cellophane.
And then there are the actors, if you will: Those Vinylmation figurines don't stay upright on uneven surfaces, so they had to be glued down for each shot. Plus, the leading man would get scuffed up pretty easily, so they always had a stand-in ready. The team could accomplish about three or four shots of stop-motion every day. "There isn't any problem you can't hot glue your way out of. Binder clips were huge, too," he says before looking up at a mural of Walt Disney. "I think he'd be pretty happy."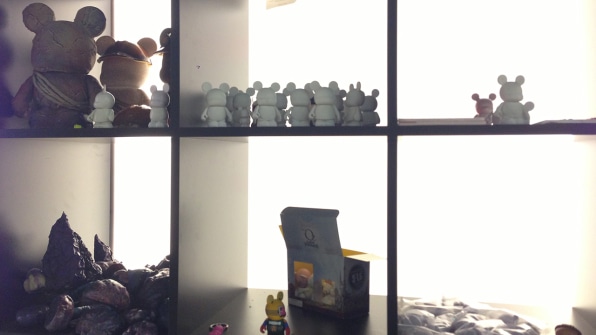 "We're kind of rogue agents," says Shewchuk. It's an identity stoked by location. Disney Interactive is based in its own building a good few miles away from the main Disney Studios lot in Burbank, California. "I think there's a lot of to be said for working in this building and feeling like we're almost like, I'm trying to think of the best way to describe it, but we're in the much larger company, and we're isolated and given this little bit of freedom. We just kind of run wild."
"We didn't sit down and say, Let's make a story about identity." Instead, they built from the character out and considered that in the Vinylmation world a blank figurine is about creativity–draw your own character. "So obviously we're talking at a fundamental level about art and creativity, and then through that it's like what's the opposite of that? What holds you back? For me, in school and growing up in the suburbs (of Washington, D.C.), that meant rebelling against a very systematic and orderly culture." For the creators, the story became a metaphor for artists, outsiders, struggling to forge their own identity.
It's hard not to think about how that resonates today, even within Disney. It's a company known for making family-friendly entertainment that supports its various corporate initiatives. Sure, the interactive group used a Disney IP, but they did so in a way that was outside the usual corporate structure. They're their own Blanks.
"And then the drama of it," Shewchuk says, going on about the story on the screen, "is the courage it takes to do that, because we're all creative and we all aspire to that, but the people who really do it and really go next level with it, you have to be really bold. You have to challenge that system. And the same goes for when you see someone else being held down in such a way and you'll see at the end, when you watch the series, you'll see what they end up doing is changing the whole world."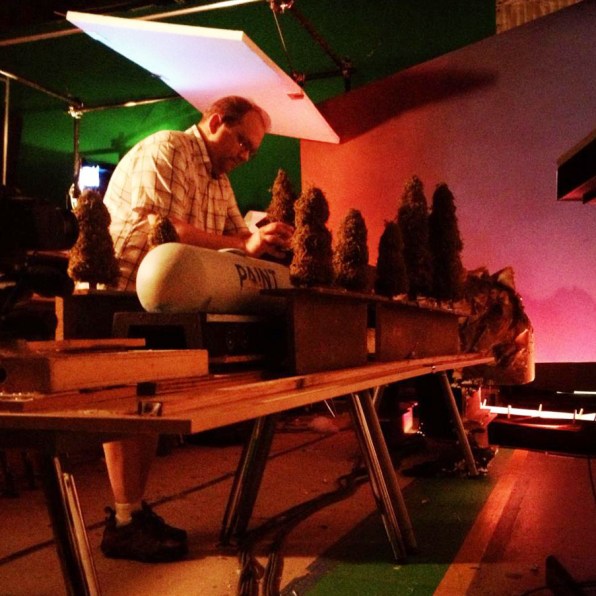 Shewchuk cites the support of his bosses as essential to all of this. "Matt [Wyatt] is our creative director and he's been involved the whole time. He has an eye towards making sure we don't blow it." And then there's Margie Gilmore, VP of online originals for Disney Interactive. "The same thing: When she sees what we're doing and knows that it's good, she's smart enough not to be like 'Here's my thumbprint.' She's like 'Back off. Give these guys space.'" Gilmore and Wyatt worked to get the project recognized by the company, which in turn agreed to turn it into something bigger.
There's none of the pressure of making a mega-budget movie or even a mid-budget TV project associated with any of this. The lack of stakes makes it all a bit easier. But, says Shewchuk, "We're not passive. We're not waiting for people to tell us how to do something interesting. The more challenging it is, the more appealing it is. We could've done something a lot less ambitious, more modest, but it wouldn't have been as fun. I personally am driven by having a good time, and the crew [is] too."
You can see how good a time in this behind-the-scenes video: