Indra Nooyi, CEO
Mauro Porcini, Chief Design Officer
Nooyi: When I first came to PepsiCo, every time we talked about products for women, people would just put it in a pink bag, or put on a pink label. It was puzzling because if you could take any product and put it in a pink bag and it became appealing to women, that says a lot about women's intelligence. And I wondered: Is the idea of catering to a certain cohort just about putting the product in an appropriate color or adding a couple of flowers, or a field, or a farm?
Second, they said the product they were introducing was for women, but I remember thinking: I can't imagine eating this product! Or drinking out of the bottle.
And I thought: Whoa! We have a problem in how we think about innovation, not just in terms of form function–the package it's going to be put into–but how it's going to be used and all the way back to the early stages of the value chain.
After we got through the economic decline of 2008-2010, we knew we needed an in-house design studio, where designers would work side by side with innovators and marketers to reengineer the DNA of this company. That's what led us to Mauro. I didn't look at his shoes. I wanted to know if he shared the same philosophy as I did, or would he say, "I can change all your packaging." I discovered that if I was at a certain level of thinking, Mauro was way ahead of me. I realized he could pull the organization to a place we should have been in the first place.
Porcini: When I heard Indra had already tried to raise the awareness in the company of what design really was, I thought, this is perfect. PepsiCo was already successful, so the potential to take it to the next level through design was there. But every time you try to infuse a new culture into a very successful and efficient organization, it's going to try to reject the new. You need the sponsorship of the CEO.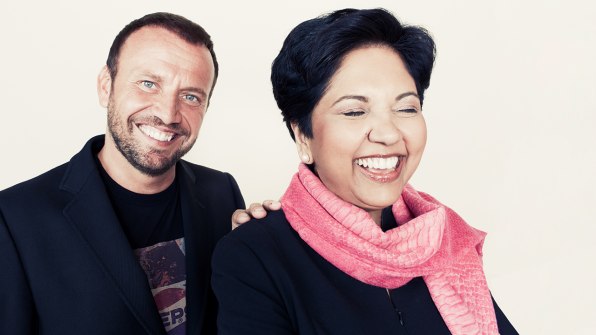 Nooyi: A few months ago, we had a senior management meeting with our top 200 to 300 people, talking about our biggest messages. Mauro spoke about design-led innovation for two hours. Right now, I'd say design is front and center on everybody's minds. When people come in to show me something–a product design or something–I always ask, "Is Mauro's team in the process?" I'm definitely the enforcer, and I was the evangelist, but now there are many more evangelists in the company.
Porcini: It's important to have a culture that doesn't punish you if you make, eventually, a mistake. It's part of the innovation process. I always joke, saying, "What scientists call experiments, marketers call failures or mistakes."
Nooyi: Market growth alone doesn't give you enough tailwind. You have to create your own. The way to do that is by designing products for consumers that wow them. Not just the way they look, but that every aspect of what they buy delights them.
Porcini: Indra and I are really on the same page when it comes to marketing research. In many corporations, marketing research is heavily used to validate rather than to generate insights to drive innovation. You need both, and it's an iterative process. You generate insights, you start to prototype, you validate, you tweak again, you generate more insights, you validate again. This is important to the process.
Nooyi: I believe deep consumer insights are really important. What are the needs consumers have, what their dissatisfactions are with existing products, and what kinds of trade-offs they are willing to make to satisfy each of the needs? Today, with online, you can collect a lot of data, and you can mine the data in so many ways. At Mauro's suggestion, we're trying to embed the design people so early in the process so they're working side by side with cross-functional teams. Innovation's not one person's responsibility.
Porcini: You've heard me say, many times, "Listen to your consumers. Do not believe them." Interpret what they say. It's the fine balance between understanding insights, coming from people in general, then balancing that with leadership and decision-making that is coming from the company. People won't give you the solution. You need to observe them, understand them, then make arbitrary decisions and invent for them. It's that fine balance that is so subjective and qualitative and is difficult to define. That's why you need amazing thinkers in the different functions that together work to drive innovation in the company.
Entrepreneurship and innovation implies risk. Variability is where the magic is, where the unexpected happens, where potential mistakes get transformed in innovation.
Nooyi: I told Mauro: I want to go to the Milan design show. Mauro's an insider. Everybody knows him and he knows everybody. They revere him. I'd never been to the show before. There's design everywhere in the world, but Milan lives and breathes it; design is in every pore. Everywhere you go, there are unique experiences, and you look at something and you think: Why didn't I think of that? There were things there like, God, this is an interesting way to show coffee. Every aspect of what we saw spewed out design cues or design innovation, or design every which way. I was like a sponge soaking it up, saying, "Why didn't I come to this before?"
Porcini: I wanted to show Indra how design can impact brands, products, services, in any category. And it's all about the full experience. When you go to Milan, you breathe it, you just feel it, you don't need any explanation, you just experience it wherever you go and whatever you do. You don't even need to talk.
Nooyi: As a result, I've become even a greater enforcer! [raised voice] Three days in Milan, and I am the design expert, guys! You will NOT do anything until you check with Mauro!
Be one of the design professionals on an intimate, first-peek tour of Pepsi's Design Lab with Mauro Porcini at Fast Company's Innovation By Design Conference on October 2 in New York. For a full schedule of events and speakers, go here.
---
Read more pairings from Fast Company's 10th Annual Innovation By Design issue:
[Photograph by Andy Ryan]