The tale sounds like it's straight out of The Social Network. It was 2011 and two kids from Harvard, Nicholas Krasney and Tuan Ho, were finally ready to unveil their web project to friends on campus. The two had been working for roughly two years on the idea, a service they called Tivli, which would allow students to watch live TV on their laptops with nothing more than web access and a college email address. Tivli had come a long way since Krasney and Ho were plastering the walls of their dorm room with aluminum foil to pick up over-the-air TV signals. Now it was ready for prime time.
On May 1, Tivli launched with six channels. "We emailed a couple of our friends saying, 'Hey, here's this cool project we're working on–you should check it out,'" Ho recalls. The site went viral; its first night, 25% of Harvard's campus tuned in. "We had a little help because that was also the day, coincidentally, that Osama bin Laden was killed," Ho says, acknowledging that the news event serendipitously drove traffic. "But that was when we realized we were onto something: Let's see if we can scale this out and turn it into a business."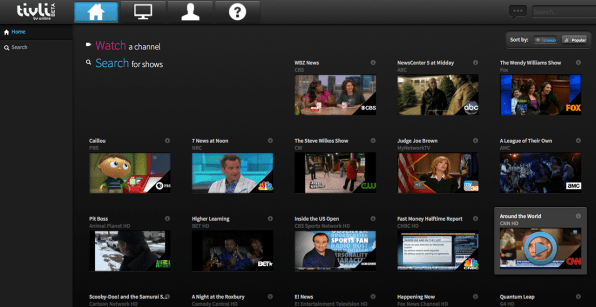 Since then, the Harvard iLab incubated startup has raised $6.3 million from media industry giants HBO and William Morris Endeavor (WME), as well as Silicon Valley investment juggernaut National Enterprise Associates (NEA). It has expanded to around a dozen other campuses, from Yale to the University of Washington, where students average more than two hours a week of viewing time. At Harvard, Tivli's homebase, the service is seeing 90% adoption. And today, the company has rebranded itself as Philo, an apparent reference to television pioneer Philo Farnsworth, a sign of the founders' ambitions.
In an age when Apple and Google are trying to crack the living room, and Netflix and Slingbox are developing new frameworks for content delivery, Philo aims to prove that working with traditional industry players is a viable alternative for disruption. And while it's a slower, often arduous process, the startup is still growing fast. "When we first met with [investor and Facebook cofounder] Andrew McCollum, he was like, 'Wow, the last time I saw something like this . . . ,' " recalls Philo CEO Christopher Thorpe. "Philo's adoption at Harvard was actually faster than Facebook's."
Think of Philo just as you would television. The only difference is that instead of reaching for your remote, you'll be heading to Philo.com. What pops up on your laptop is exactly what you'd see on your flat screen, whether NBC or HBO, streaming live. There's no need for a TV tuner or other hardware peripheral; you can even DVR content with the click of a button. The only catch? You need to be a college student (at a school offering Philo, of course) with access to campus Internet. The campus confines serve as a walled garden, where only those with the appropriate .edu login can watch. "Kids aren't using TVs anymore," Ho says. "They want to be able to watch this stuff online on the devices they're actually using."
Of course, similar solutions exist, such as Comcast's TV Everywhere service, which is often cited as one promising example of web-based TV. But after years of effort, the initiative has failed to get off the ground. Other solutions like Slingbox and Tivo's new Roamio device can connect to your cable box and transmit the video signal to your iPad. But they are not yet mainstream and the required hardware components cost hundreds of dollars.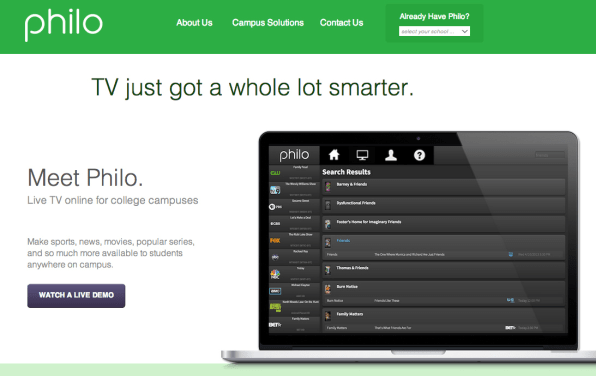 Philo, on the other hand, streamlines that experience by acting as a sort of single, centralized Slingbox on college campuses. The startup takes care of all the wonky back-end details; the students don't need to worry about having a cable box or set-top box or a Slingbox to hook them up to. Their college will purchase or offer a subscription TV package, and then it can offer Philo as an amenity–a way for students to access TV without, well, a TV. And because Philo offloads the streaming burden onto its own servers, campus bandwidth isn't strained as it is for, say, streaming Netflix. That's a welcome relief for college administrations, not least because they are increasingly concerned with online piracy. Several Harvard students told me Game of Thrones, which is said to be the most pirated TV series on the Internet, is now one of the most popular shows to watch (legally) on Philo.
But perhaps the most promising relief comes for traditional television companies. Cable providers have long been at risk of cord cutting, a phrase industry observers use to describe how the ubiquity of online video–in addition to inexpensive web services such as Hulu and Netflix–will make traditional TV subscriptions outmoded. But Philo's cofounders don't believe Philo will be responsible for cord cutting. "It's a complement to the cord," Ho contends.
That's perhaps one reason why networks like HBO have been eager to work with Philo. Jack Abraham, the founder of Milo and an angel investor in Philo, was drawn to the startup because "they wanted to work with the industry instead of against it," arguably a foreign notion in Silicon Valley. He says Philo is taking the opposite approach of YouTube and Aereo, companies that were disruptive but faced an onslaught of lawsuits when first gaining steam. "Every other entrepreneur in this space wants to build a company quickly and focus on extreme growth," Abraham says. "Doing deals with the content owners is a laborious process–it takes a really long time, and from the very first day, [Philo's founders] were cognizant of that."
Box CEO Aaron Levie, also an angel investor in Philo, agrees. "There are a lot of unknown variables in this industry, so much so that even the services that the industry itself creates, like Hulu, end up facing challenges because of the nuances and complexities of the business," he says. "Philo becomes a very compelling platform for them because it actually slows down some of the disruption that's occurring in the media space: It's this really straightforward evolution from your traditional television experience that doesn't disrupt a lot of the basic models that the television providers have."
Critics might say that such thinking makes Philo another part of the problem. Because the company is willing to work with traditional television players, it is potentially bringing the legacy of their system to the Web, along with all its associated costs and headaches: overly expensive subscription rates, hidden fees, windowing, blackouts, and so on. Even the idea of having cable providers seems like an ancient concept in the era of the Internet, when content providers can easily gain direct access to consumers.
But Philo's cofounders argue that cable companies provide value in distribution, doing the painful work of aggregating content from networks to provide customers with various bundles of channel lineups at better rates. "Our goal is not to go out and destroy the industry," Thorpe told me on a recent visit to Philo's office at Harvard's iLab, which is stacked high with boxes of servers ready to be deployed. "We were very patient. We were careful to build relationships with the industry to get permission. I see a lot of companies trying to push the envelope with clever legal strategies to work around the content industry."
Plus, there's a reason Philo might not care so much about wading into the swamp of cable disrupters. By providing a simple way for college kids to access TV, the startup is going after the incredibly valuable 18- to 24-year-old demographic. It's thus able to gather a huge amount of data, not just on what they're viewing but what they're sharing to offer targeted advertising through the Web. "Data and advertising are the business model," Thorpe says. (The company doesn't disclose its financials, but it's also already generating revenue from licensing its technology and servers to universities.) One could imagine an ad for Domino's would be especially relevant to a college sophomore watching Pineapple Express at 2 a.m. And once Philo bakes social into the experience, the team imagines the ads could become more targeted–not to mention more interactive online.
With Philo's first round of funding, it plans to hire more employees and expand to more college campuses. The service is currently available on the Web and on Roku, and it will come to mobile devices in the near future. Down the road, the team sees life for the service beyond college campuses, too. After all, if you're addicted to Philo for four years, it's likely cable providers and networks will want that relationship to continue following graduation–the entertainment equivalent of Citibank offering a free checking account to freshmen. The Philo team even envisions bringing the service to more walled gardens, whether they be military bases, nursing homes, or apartment complexes.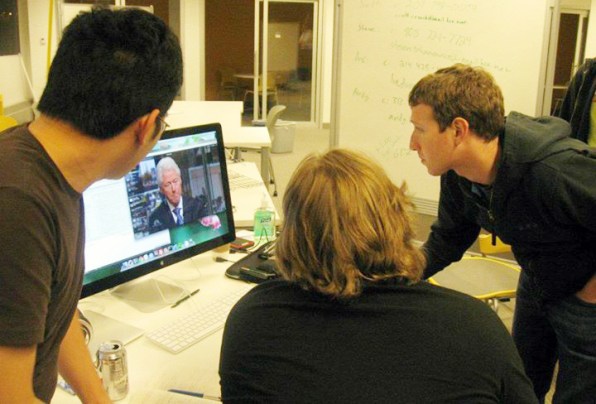 Last year, Facebook CEO Mark Zuckerberg made a trip to the iLab at his (would be) alma mater. As he roamed the space, he stopped at Philo. Leaning over the cofounders' shoulders, he seemed surprised to see live TV streaming right to an iMac. "Wow, this is actually pretty cool," he said.
It must've felt as though he was watching a rerun.