About 40 years ago, as a fresh, young professor and new father, he bought a dilapidated house, then spent afternoons closing holes in the roof, rewiring, and hammering nails into our family home. At 85 years old, he still bicycles to the university, writes research papers until 2 a.m., prepares his own taxes, and, just for fun, designs and installs kitchens for family and friends.
Several hundred years ago his tendency to "do it all" may have seemed unexceptional. People once had to act as hunter, farmer, medicine man and builder to survive. But those days have long given way to specialization within communities.
Corporations have experienced a similar evolution. They started, in ancient Rome and India, simply as collections of individuals (tradesmen, religious followers, citizens) whose cooperation became entities with legal rights. Centuries of specialization sharpened corporations into shareholder-serving organizations in the 1980s and into the increasingly mission-driven firms of today.
Corporations are evolving yet again. If we understand what is happening, we can start getting ahead of history.
Consider CEMEX, the $200 billion company, born in Mexico and now one of the world's leading cement firms. Founded in 1906, CEMEX came to disrupt its market by recognizing it was in the cement delivery business rather than the cement manufacturing business. But even as it specialized in cement delivery, it had to build massive new capabilities to run itself well. It had to build and manage IT infrastructure, build finance, human resources, and accounting support, and develop internal applications. All were "mission critical" functions. None were directly related to CEMEX's purpose.
So, in a radical move last year, CEMEX signed a $1 billion, 10-year contract with IBM to take all of these functions out of CEMEX's hands. Laura Sanders, CTO for Global Technology Services at IBM, walked me through what this deal means. Its lessons could offer exciting opportunities for how you think about your business.
When companies think about "outsourcing," they are usually looking to offshore repeatable activities in order to reduce costs. There are three reasons to rethink this perspective:
"There's not much more [companies can] get from outsourcing; it doesn't create a competitive advantage," because your competitors are outsourcing the same things you are, Sanders says.

New social technology and norms allow you to cooperate with other firms more easily.

There is a shift away from directing business partners on what to do, and one toward "telling them what business outcome you want and both having some skin in the game."
What were once just outsourcing firms are now increasingly able to serve as business partners and collaborators who are able to take entire functions off your hands so you can specialize further on what really gives you an advantage. With the IBM deal, CEMEX is now transitioning all its IT infrastructure, and the running of its finance, accounting, and HR functions to IBM. It is becoming a radically different kind of organization, carving out what does not contribute directly to its competitive advantage, freeing itself to focus more fully on what makes it competitive. Imagine, a $100 billion company that doesn't run a finance department!
As CEMEX's CEO Lorenzo Zambrano said when the IBM deal was announced, "This agreement with IBM will enable CEMEX to focus on its core businesses of cement, ready-mix concrete, and aggregates, improve its financial position, and respond more quickly to changing market needs."
Since joining IBM as the first female engineer in her department, Sanders has been involved in a series of technology breakthroughs for the firm. Whether you're big or small, it's a good idea to see how you can get ahead of the competitive shift she is focused on now. I believe four steps will help you see your advantage:
Create a list of your firm's major activities, such as researching new clients, cultivating relationships, recruiting new talent, and the like.

For each, ask, "Is this something that differentiates us from our competition or is it something at which we want to be as good as our competition?" If it is something that differentiates you, put a check mark next to that activity. For example, all of your competitors want to recruit well so, unless you recruit a different kind of person (for example, Urban Outfitters recruits from design schools rather than business schools), recruitment is not a differentiator.

For each activity answer, "Do we do this well or poorly?"

This will give you four types of activities, each of which you deal with differently (see the matrix below).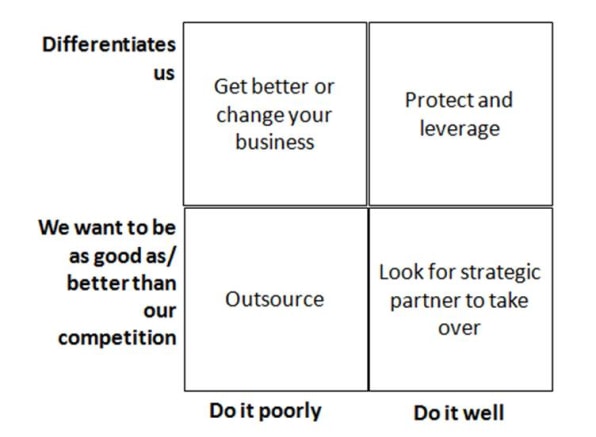 [Image: Flickr user D. Sharon Pruitt]