When Activision Publishing CEO Eric Hirshberg first saw how Skylanders incorporated physical toys through a plastic platform RFID reader, he thought the idea had "nuclear potential." The marketing department quickly dubbed this toy-to-life moment "the boom factor" (in commercials, it is generally accompanied by a dramatic "booooom"). It wasn't long after the release of the franchise's first title, Skylanders: Spyro's Adventure, that the game began living up to its explosive expectations.
During a time when video game spending in the U.S. plummeted by 9% in one year, Skylanders passed $1 billion in sales after just 15 months in stores. Including sales of its toy figures, Activision says the games are the best-selling in the world–bringing in more revenue than even Call of Duty, Lego, or Super Mario. (A spokesperson from NPD, the consumer market research firm that Activision cites, says the Skylanders franchise is "one of the best-selling," but won't confirm the company's claim because combining game and accessory sales "goes against policy.") Seeing Skylander's success, Disney copied the toy-to-life concept in its newly released game, Disney Infinity.
"It is quite magical," Activision Publishing CEO Eric Hirshberg says, employing one of his new competitor's favorite words. "That's what always comes to mind for me with Skylanders, 'magical.' "
But it's not just the magic that is accounting for sales. The game hits on several keys to capturing children's attention in the digital age:
Aisle space: As department stores sell more online, they're scaling down on physical space. Creating a new line of characters for each game, all sold in different packages, takes up more aisle space. And next to rows of boxed discs, Skylanders' toylike boxes stand out.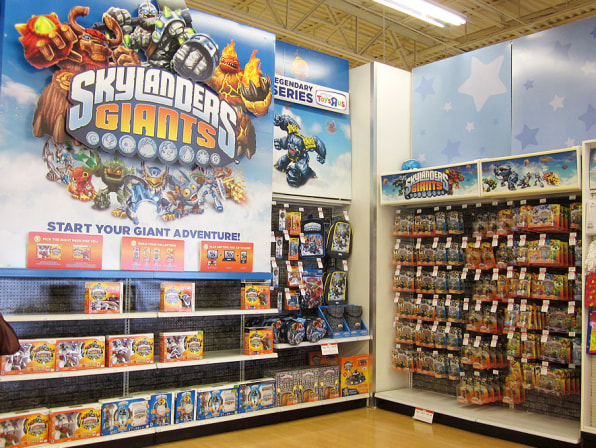 An existing play pattern: Licensing and distribution consultant David Jacobs, who has worked with brands like Nickelodeon, Cartoon Network, and PBS-Sprout, says that one of the most important keys to a character's success is that it fits into an existing play pattern. Take Thomas the Train Engine, which sold to Mattel for $680 million. "It ain't because it's a face on a train," says Jacobs, who worked with the brand. "The most important thing is that it's in a category of play that totally connects with the DNA of, probably, 3- to 6-year-old boys. The first thing we do is roll things, build things."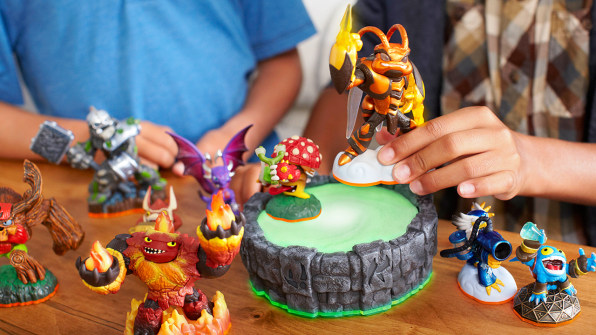 Guitar Hero, Activision's first foray into games with physical components, created a new play pattern and proved to be a fad. Skylanders, meanwhile, uses the way kids already play with their toys in its video games. "We already imbue toys with life using our imaginations," Hirshberg says. "Kids develop voices for their toys, they develop personalities for their toys, they develop abilities and accomplishments. Skylanders brings that a step closer to reality."
Collectability: Like Pokemon, each Skylanders character comes with its own strengths and weaknesses. At different points in the game you might need one or another to complete a task. And if this isn't enough of a prompt for kids to ask for more Skylanders toys, pieces of the game's marketing are "designed to encourage collectibility," says Activision CMO Tim Ellis. The game package itself, for instance, includes a map of all its characters and a command to "collect them all."
Take a stroll through any department store, and you'll find Skylanders everywhere: on bedding, underwear, and paper plates; decorating curtains, bicycles, and Monopoly boards; and, most visibly, throughout the video game department. In one Brooklyn Target video game aisle, disc boxes for games ranging from Call of Duty to Nickelodeon Dance sat crowded on one side while a display for Skylanders once took up the entire length of the other.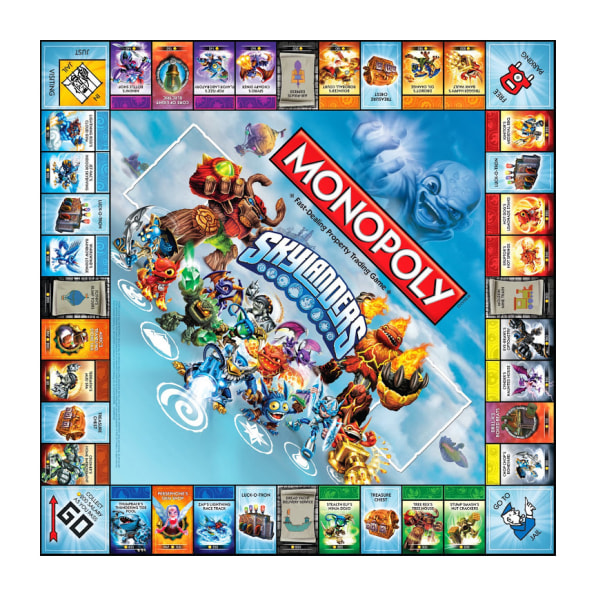 As of Disney Infinity's launch date on Sunday, that side has been split between the two games. Even before Skylanders's first release, the game Disney had in development featured characters that were meant to look like toy versions of their movie counterparts. Disney creatives, especially Chief Creative Officer John Lasseter, also wanted to make action figures to match, but the consumer products division couldn't justify a separate line of toys. That is, until Skylanders became successful. Disney delayed the release of Infinity in part to accommodate the line of interactive toy figures that were eventually released with the game.
Children will have already met Disney's characters through movies and television when they spot them in Infinity—a valuable advantage, the way most licensing experts look at it. How valuable? "There's a four-letter answer to that," says Marty Brochstein, the SVP of Industry Relations and Information for the International Licensing Industry Merchandisers Association. "Very."
But being first has its advantages, too. Skylanders has spent the last two years introducing itself to kids through YouTube shorts, mall tours, commercials, and products in every department. If it hadn't made a big boom in the process, Disney wouldn't be competing with it in the first place.
[Image: Flickr user Aaron | Twitter user @cidman911 | Display Aisle Image via 8 Bit Central]