Disney has treated its video games like accessories for a long time. Piggybacking on the marketing and creativity of its feature films, most have been treated like character lunch boxes and developed on short deadlines in order to match movie release dates.
The company's latest title, Disney Infinity, however, signals a dramatic shift in the way Disney's executives think about gaming. Infinity's budget, the largest the company has ever allotted a game, is on par with a motion picture, and its development timeline–which includes a line of physical toy characters and accompanying mobile games–extended three years.
Disney has realized something important: The more time kids spend with digital screens, the more Disney competes not just with television and movie studios, but also technology companies such as Zynga and Facebook. And to do so effectively, Disney needs games.
Not necessarily console games, but the kind of games packed at the top of every app store's charts, games that dominate time spent on mobile phones and are fueling growth in the gaming industry: the lightweight, free-to-play kind.
Disney Interactive Co-President John Pleasants–who took over at Disney's games division after his social gaming company, Playdom, was acquired in 2010–has made it his mission to adjust the interactive division's strategy accordingly. His goal is the same as his predecessors' at Disney Interactive–to support the company's movies and television characters. But it has two important additions. "While doing that, if we can create new IP [intellectual property], great," he says. "If while doing that, we can build this digital network so that it has the same sort of leverage as a TV network, fantastic."
Beginning with a single login across all Disney games, the "network" Pleasants envisions would include news feeds, profiles, a place to store badges or rewards, and a way to easily play against other fans. It looks more like your Facebook identity, which you can carry with you to multiple apps, than the game center on an iOS phone. "Think of a wrapper around the games that gives you incremental functionality," he says.
Working toward this idea of a network, over the last two years, Pleasants has pulled resources out of console games and put them into mobile games, shutting down three of Disney's five console game studios and shifting the focus of a fourth to mobile.
Meanwhile, the fifth studio has been working on Disney Infinity. That game launched on the Nintendo Wii, Playstation 3, Xbox 360, 3DS, and Nintendo Wii U on August 18, but it has significant mobile components that fit into Pleasant's vision for a Disney digital network. In one Minecraft-like portion, for instance, a child can build her own world using her console game, then later access it in the Disney Infinity mobile app by logging in with her Disney ID.
Though Infinity will for now stick to supporting Disney's movie and television characters, the company's game department has also been doing something under Pleasants that it hadn't done before: creating new characters. It started with Swampy, an adorable alligator who debuted in Disney's hit original game, Where's My Water? and has since appeared on T-shirts, coffee mugs, mousepads, as a character in Disney's theme parks, and on the Disney Channel. Pleasants plans to make two to three new characters like him to star in new mobile games each year.
This is important to Disney. Though the company's media networks, theme parks, and consumer products make the lion's share of its profits, its characters help fuel them. While the Toy Story movies have grossed $1.95 billion, they've also earned Disney much more than through licensing deals, four console games, and an entire theme park in Hong Kong.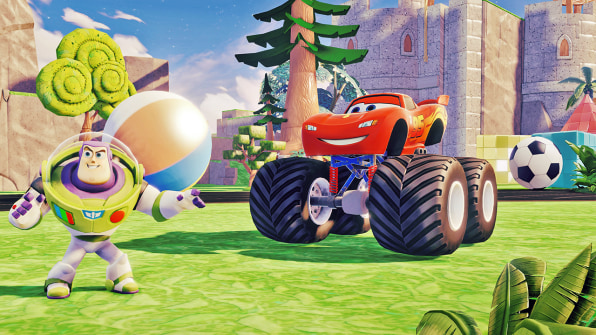 If Disney is hoping to create the next generation of beloved characters like Woody and Buzz Lightyear, digital games are not a bad place to put them–especially abroad. "There's no park in India, but there's more than a billion people," Pleasants says. "So where are most young people in India going to experience the Disney company over the next 10 years? The Disney Channel or free-to-play games. . . . That's it. That's how they're going to learn about this stuff."
Disney has yet to find its magic in digital media. Beginning with a failed Internet portal it launched in the late '90s, its online efforts have often flopped, contributing to its interactive division's dismal track record of losing money for 17 of the last 18 quarters. But Pleasant's digital network of mobile games could, if it succeeds where other strategies have failed, play a similar role to movies in Disney's business by providing the creative fuel that makes the parks, consumer products, and licensing arms of the company run.
"Revenue is not our big thing," Pleasants says about the plan. "It's reach and engagement."