Bryan Goldberg, founder of sports website The Bleacher Report, announced Tuesday that Time Warner Investments and Social+Capital Partnerships have given him $6.5 million in venture capital to fund a new "feminist" content website, Bustle.com.
In the process of making the announcement on tech blog PandoDaily, Goldberg managed to offend just about every woman in new media, with his statements that the market for women readers was "underserved" despite dozens of successful sites in the same category. The piece occasioned one of those delightful pile-ons that happen when a bunch of witty people connect with a story that pushes their buttons.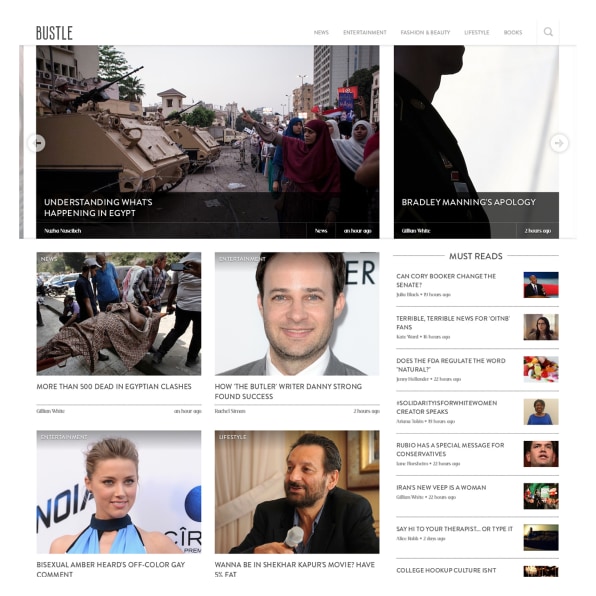 While embarrassing for Bustle, the episode at least provides a useful guide for entrepreneurs. Here are some suggestions for what to do when launching a new business:
Writing on Slate, Amanda Hess pointed out that the field for women's websites is a bit more crowded than Goldberg may have realized.
"When we launched Bleacher Report, we competed with some outstanding websites, including ESPN.com. There is no such titan within the women's publishing landscape. There isn't even a SportsIllustrated or FoxSports." Indeed: Besides Cafemom.com, People.com, UsMagazine.com, BabyCenter.com, WomensForum.com, HollywoodLife.com, StyleBistro.com, EW.com, FanPop.com, Jezebel.com, RealSimple.com, Beauty.com, Oprah.com, YourTango.com, MarthaStewart.com, Celebuzz.com, Prevention.com, and PopSugar.com, no website targeting a primarily female audience pulls more monthly traffic than FoxSports.com."
Elizabeth Spiers, the cofounder of Gawker, put it more bluntly in a piece on Flavorwire:
For fuck's sake, Goldberg, read some goddamned women's sites. Talk to some advertisers who actually target women. Talk to some women!
When I asked Kate Ward, the managing editor of Bustle, what the site had to differentiate itself from the universe of both general interest and women-focused sites out there, she said, "We're a site that's primarily written by women, directed to women or anyone interested in news, entertainment, fashion, lifestyle, politics, all sorts of topics… It's a place you can find almost everything you need: News, politics, what's going on in fashion, what books to read right now. So you know, we offer a ton of different things because women are people with varying interests. We're trying to serve women the best way we can by recognizing that everyone is interested in a variety of things."
So basically, they write about everything, because women like everything.
When Nick Denton, founder of Gawker Media, wanted to start "Girly Gawker" in 2007, he was in a similar position to Bryan Goldberg: recognizing that a market existed, but not necessarily knowing much about it personally. He made a crucial choice: hiring the brilliant, experienced, highly opinionated writer and editor Anna Holmes, and getting out of her way as she shaped Jezebel.com into a site that today has about 5 million unique visitors a month. "I'd worked at a lot of women's magazines and I was very, very tired of the crap they peddled and disgusted by the part I played in that," Holmes told Fast Company. Her personal mandate was to create an alternative, for educated women like herself, with a strong feminist flavor. "I think that Nick Denton, to his credit, just stepped back," she said. "It was very freeing, but also kind of scary."
Goldberg, said Holmes, has made the cardinal mistake of appropriating terms like "feminist" while simultaneously "erasing the contributions of at least three dozen people l know personally in digital media–not to mention the work of magazines like Bust and Bitch. I don't think people should take credit for things they weren't a part of."
Six and a half million dollars is a lot of money, which will need a lot of growth to justify it. This makes it hard to create a website with a clear focus or strong editorial voice. This is an overheated VC environment where entrepreneurs are often getting big bucks on the strength of their last, not their current, idea.
Spiers diagnosed Bustle and its fat first round of funding as a product of two widespread problems in Silicon Valley: "Lazy Entrepreneur Solipsism is a close cousin to Venture Investor Market Viability Irrationality." Holmes says that you can't necessarily pin the criticism on Goldberg directly, but he's "symbolic of disparities," in how young, male, well-connected entrepreneurs tend to get investment compared to everyone else.
[Crowd Of People: Martin Bilek via Shutterstock]