Billy Pilgrim has come unstuck in copyright.
The time-traveling character from Kurt Vonnegut's 1969 novel Slaughterhouse-Five this month became available to would-be writers of Vonnegut fan fiction, through a new Amazon.com program called Kindle Worlds. Earlier this month, Amazon announced it had cut a deal with the Vonnegut Trust to legitimate Vonnegut fan fic published through the program.
For Amazon, which has already scrambled publishing as we know it, this could be seen as a coup upon a coup. The idea of selling fan fic at all is fairly new; the idea of doing so legitimately through licensing is revolutionary; the idea of enlisting literary fiction in this scheme is a revolution upon a revolution. When the Kindle Worlds program launched in May, its partners were largely relegated to pulpy works like Gossip Girl or The Vampire Diaries: the stuff of TV and comic books more than the stuff of New York literary parties.
But with the participation of the Vonnegut Trust, Amazon enters new–and controversial–territory. To learn more, we spoke with Philip Patrick, director of business development and publisher of Kindle Worlds.
FAST COMPANY: Can you give an overview of Kindle Worlds?
PHILIP PATRICK: Kindle Worlds is the first commercial publishing platform that enables any writer to create stories inspired by popular books, shows, films, comics, music, and games–what we call Worlds–and sell them in the Kindle Store. Before Kindle Worlds, due to copyright constraints, it was extremely difficult for the vast majority of writers to publish and earn royalties from this kind of work. At the same time, the original rights holders–we call them World Licensors–misses out on the chance to deeply engage with their enthusiasts and earn new revenue from the Worlds they created. Amazon Publishing has secured the necessary licenses from select World Licensors that permit writers to publish new works inspired by their Worlds. And we think a viable commercial channel will mean more and better works for readers and fans of these Worlds.
How many authors or franchises are on the platform?
We launched just over a month ago with twelve Worlds from Warner Brothers/Alloy, Valiant Entertainment, and several best-selling writers, including Blake Crouch and Hugh Howey.
What does the rise of fan fiction mean?
I think it reflects a couple things: The first is that we, as a culture, seem more creative than ever before. We have all these tools that empower us to tell stories. We also love to respond, to share our enthusiasm, our fandom. When you put all that together I think you get fan fiction. Really it is creating a more complete version of the Worlds we love.
Some authors are bothered that fan fic around their work even exists. What are the good business reasons for an author to embrace or even encourage fan fic around their work?
We consider ourselves a laboratory for writers and World Licensors to find new ways to be creative, engage with readers, and earn revenue. Kindle Worlds is an example of that. It might not be for every writer, and that is fine. For writers or World Licensors that do participate, the benefits include the chance for a new level of engagement with their fans, earn new revenues from the Worlds they created, as well as increased awareness of their underlying IP or canon.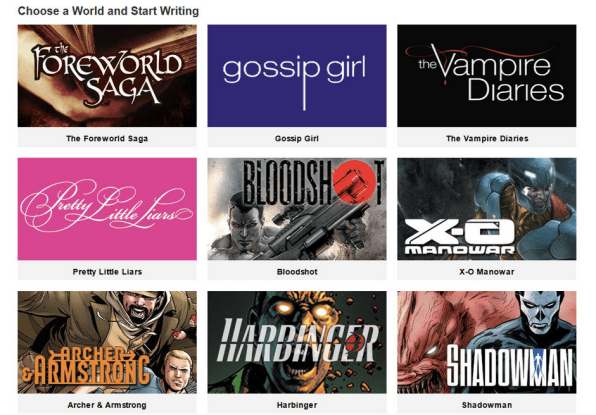 Fan fic is readily associated with more "pulpy" writing often. How did you manage to get the custodians of a more literary legacy–the Kurt Vonnegut Trust–on board? Were the negotiations long? Did it take a lot of convincing?

Not at all. They were excited to be a part of Kindle Worlds and we've gotten lots of positive response from many other World Licensors. Of course, this is a new business and a complex one at that, so we've always expected it would take some time to develop. That said, we are constantly adding new World Licensors and will be announcing new Worlds in the coming weeks and months.
How do you decide which authors or trusts to approach? Do you first look for a vibrant fan fiction community online around a given author or franchise?
We have a good sense of what our customers like to read on Kindle. Those are the types of Worlds we are interested in.
What do you think makes one author's work more "fan fic-able" than another? It seems no coincidence that we see more Harry Potter fan fic than Ulysses fan fic.
Really it comes down to great storytelling, compelling characters, and vibrant geographies that writers are excited to explore. Some Worlds are more current or popular than others, of course, but there are many iconographic works and characters that Kindle Worlds writers are going to love, like Billy Pilgrim.
Not all fan-fic geeks are geeking out about Kindle Worlds. One writes: "What is infuriating about the whole endeavor is the attempt to monetize a creative culture of free exchange. Fan fic has always been a labor of love." Do you think trying to monetize a freewheeling subculture threatens to take away what made it special?
This is a new option and a choice for authors. Kindle Worlds may not be attractive to everyone, but we think it will be quite interesting to many writers and readers. The response so far has been very encouraging. We are thrilled with writers who have been publishing with us and the readers who have been buying their stories.