Walking into the UPS store felt like any other time I'd needed to ship a package. All of the basic machines you'd expect to see in a shipping and printing store were there: Scales for weighing boxes, copy machines, computers, and desktop printers. The only difference between this store and your average print shop, and it didn't even seem particularly out of place, was that on one of the counters, an inkjet or two had been replaced by an imposing Stratasys uPrint SE Plus 3-D printer.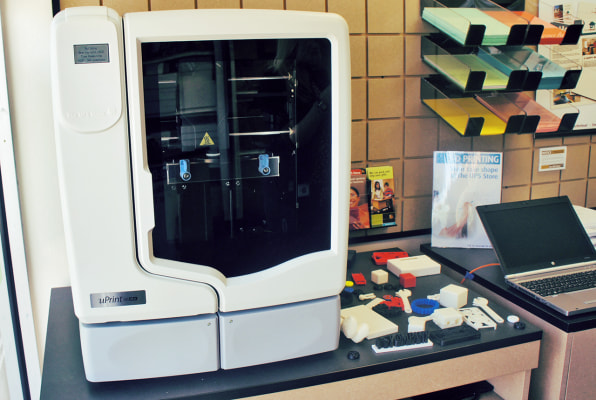 This particular store is in San Diego, where UPS is beginning its national rollout of 3-D printers. Burke Jones, owner of the store, says he has received hundreds of questions and comments over the last week and a half about the new 3-D printer, the first UPS retail store to in the U.S. to install one.
"Big companies, small companies, and companies that aren't even companies yet, have been coming in and calling," Jones told San Diego's Fox affiliate.
Strewn around the printer, I found what looked like miscellaneous toys scattered around, unimpressive plastic objects like a wrench, bike chain, and mesh ball. Unimpressive, that is, until you realize that the roughly two and a half foot by three foot machine, in a store filled with paper copiers, had printed all those three dimensional objects.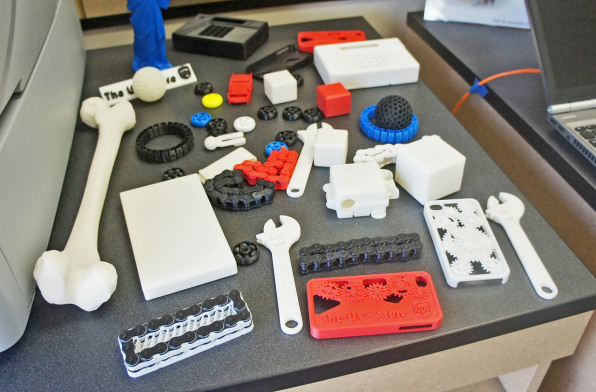 It's telling that Daniel Remba, the small business technology leader for UPS, is the champion of the 3-D printer experiment. Remba believes that the demand for retail 3-D printers will come mostly from startups and individual inventors in the area who can't afford a printer of their own. Besides being UPS's hometown, San Diego, with its multiple innovation districts and tech scene built on a solid base of government-funded defense research, seems like an ideal place to test the market. Remba says that area businesses have already started using the machine.
"We have had a prototype electronic component from a major electronics manufacturer, a prosthetic hand from some medical students, an invention prototype for a heat sealing device, prototype pipes and valves, and prototypes of consumer grocery food containers," he explains.
To assist would-be inventors with their designs, each store that has a 3-D printer will also partner with a designer in the area to help customers make their designs print-ready. The idea is to make sure that technical ability is not a barrier to printing at the store. UPS also wants to make sure that the objects are as high-quality as possible, so that startups can walk away with a detailed, prototype-ready printout.
"The Stratasys uPrint SE Printer allows our customers to print detailed objects more accurately than a typical home 3-D printer could," says Remba, explaining why UPS chose to buy the expensive Stratasys model over something like the MakerBot.
When you hold the objects that come out of the Stratasys, you start to understand why UPS decided to splurge for these printers, which can cost as much as $15,000 each. Remba shows me several printed pieces, like the bike chain, which is rigid and strong, but still moves as fluidly as a metal one. You simply don't see this degree of precision from lower -cost, at-home 3-D printers. To make these more detailed objects, the Stratasys prints a filler compound alongside the plastic to support the weight of unsupported layers until the object is finished. Once completed, the compound is washed off and dissolved, leaving behind a complex 3-D object.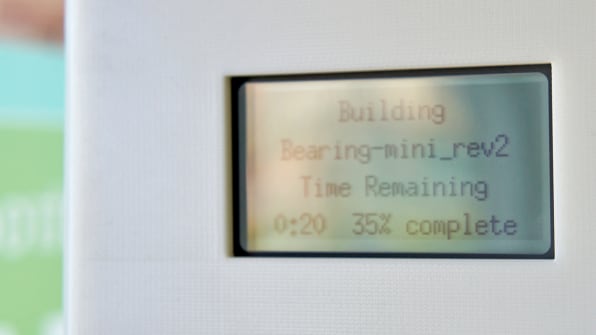 While I was there, the store printed a premade ball-bearing design for me. The Stratasys started almost as soon as I hit the print button, layering the insert tray with a base of filler compound and then slowly chugging away. The ball bearing printed in about 30 minutes. I was able to hold it in my hands just moments after it finished.
Even the folks at UPS acknowledged that retail 3-D printing is likely to be a specialized niche for the foreseeable future. They believe that by jumping on the trend early, they'll be able to tap into the growing market for 3-D printers among people who don't want to or can't buy their own: Early-stage startups, schools, hobbyists, and even professional prototypers in under-resourced labs who don't want to wait for printer time.
If the retail market takes off, we'll look back on this experiment as the one that proved it could work. If not, well, I'm glad I got a chance to experience it: I'm still trying to shake the giddy feeling of walking into a store with nothing and walking out with a tangible object printed out of thin air.