Further proof that traditional broadcasters should learn to embrace streaming video to capture more eyeballs, Americans will consume more digital media than TV for the first time ever in 2013. The news comes from new numbers released by eMarketer.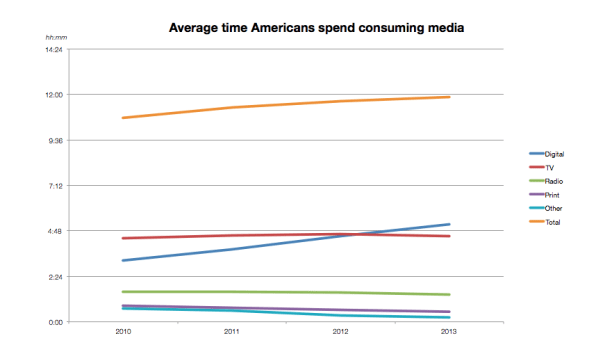 TV has traditionally had a stronghold on American households, comprising more than four-and-a-half hours of the average viewer's time each day, according to Nielsen's Cross-Platform report released in June. But digital is posing a big threat. Among eMarketer's findings are:
Daily TV viewing will fall to 4 hours and 31 minutes this year, down from 4 hours and 38 minutes in 2012.

Digital media, meanwhile, is expected to consume more of Americans' time than ever with a daily intake of 5 hours and 9 minutes, up from 4 hours and 31 minutes last year.

Print and radio will see slight declines as well. eMarketer predicts radio time will drop to 1 hour and 26 minutes from 1 hour and 32 minutes, while print is forecast to further tumble to 32 minutes from 38 minutes in 2012.

Overall, the amount of time people are spending with media is increasing with more multitasking across devices. Total media time is predicted to make up 11 hours and 52 minutes per day this year, an increase from 11 hours and 39 minutes in 2012.
[Image: Flickr user Luis Hernandez]