On August 18, Disney will release Disney Infinity, its largest-ever video game effort. Infinity does something unheard of in the Disney universe: It brings well-known characters from different Disney and Pixar properties–Pirates of the Caribbean, Cars, Monsters University, etc.–into a single environment.
As Disney and Pixar's chief creative officer, John Lasseter is the gatekeeper to many of the company's most beloved characters, and he was deeply involved in Infinity's development. Lasseter helped pioneer computer animation at Lucasfilm, and after Steve Jobs bought the studio's computer graphics division in 1986, he worked closely with the Apple CEO to establish an independent company called Pixar. When Disney acquired Pixar in 2006, he returned as the company's head creative executive. He has been a producer for 60 films and directed 16 more, including Toy Story and Cars.
Fast Company recently spoke with Lasseter for a story in the upcoming September issue.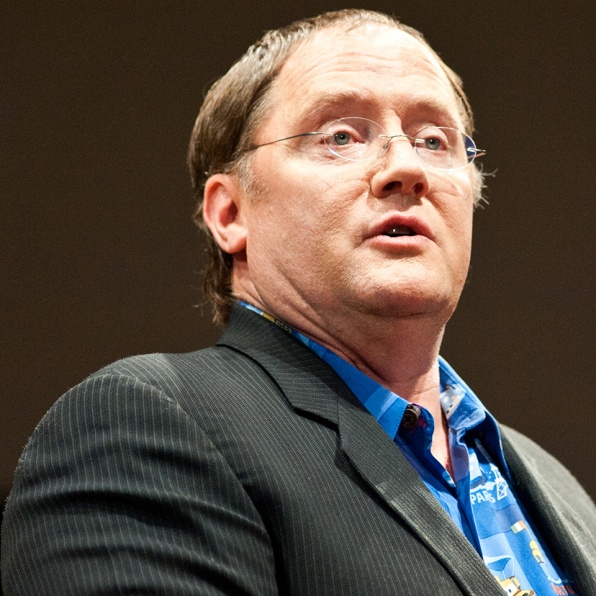 How Steve Jobs Influenced Pixar:
When Jobs bought Lucasfilm's computer graphics division in 1986, establishing it as an independent company called Pixar, Lasseter became his creative partner. "We were so close he became like a brother to me," says Lasseter.
Both men admired the other's work. Jobs liked the idea that stories, unlike technology, didn't necessarily have a shelf life. "I'll never forget," Lasseter says, "Steve Jobs was kind of waxing poetically about things and he said, 'You know, at Apple when we make a computer, what's the lifespan of it? Maybe three years. In five years it's a doorstop. Technology moves so fast. If you do your job right with Toy Story, this thing could last forever.'"
Lasseter, meanwhile, tried to instill his movies with the same quality that Apple built into its products. "Everything I do and everything Pixar does is based on a simple rule: Quality is the best business plan, period. With Steve Jobs, this is what we had driven the company to be all these years."
Why Creativity Is Important:
Lasseter's mother was a high school art teacher, a fact he says contributed to his commitment to the creative process. "She always believed that a career in the arts was a noble profession," he says. "And that was a very rare point of view. When I look at the success I have, it's because of my creative-thinking skills. And I would extend that out to anybody in any field who is immensely successful, like Steve Jobs. What breaks my heart is that it's the first thing [to go when] public school budgets get cut. Art, music, theater, shop–anywhere where kids learn to do things with their hands and be creative goes away. And in my mind, it should be the last thing."
Why At First He Didn't Like The Idea Behind Infinity:
When Disney's console game studio, Avalanche, presented the idea for Infinity to Lasseter, his first thought was "no." The idea conflicted with his creative instincts. "They wanted to combine all the Pixar characters together in one game and one world," he says. "That's always been taboo for us. Because, look, every Pixar movie we create is a unique world and our characters live in it. They have their own rules and all that. Mr. Incredible cannot go over into the Cars world, because there are no humans in that world. He cannot walk into Andy's room, because it is a different style and look and just a different world."
How Infinity Promotes Creativity:
Lasseter thinks Steve Jobs would like the clean interface of Infinity. "It's so simple," he says. "It reminds me in a way of how hard…everybody on [Jobs's] teams at Apple worked to make the interfaces of Apple products simple and beautiful."
But he also thinks of it as more than just a game. "It's not just fun–it's important for us to do, because for kids to spend hours playing the video game, a lot of people look at it as a mindless waste of time for kids. How exciting is it to have this really fun, inventive platform where the most fun thing in the game is for kids to be creative and to build and to think about it and to try things and experiment and to iterate and to try it and get excited? To be able to give that to kids in a form they love–video games–I thought: This is noble. This is something to fight for. This is something to get out there."
[Image: Flickr user MMG]