At ShipWorks, corporate strategy and architectural design are elegantly aligned.
The company connects online sellers directly with shipping companies. They aim to make virtual retail transparent and seamless. Step into their new headquarters and you're immediately greeted by an expanse of glass and white walls that disappears into views of iconic St. Louis landmarks: the Arch, Busch Stadium, the Mississippi. Friendly bursts of color take the form of an orange Saarinen womb chair or a bright pink wall. A door created by local steel artist John Beck displays pieces of ShipWorks' source code handwritten on its wooden handle.
"Our new space brings everyone together in a single open-office environment that supports instant communication and improved collaboration across teams," ShipWorks' co-CEO Wes Clayton tells us. "We're able to resolve technical issues more quickly, drive innovation much faster, and serve our customers in ways that simply were not possible before."
ShipWorks is a good part of the reason why when you order a coffee maker on Amazon you can have a fresh pot the next day. Previously, someone had to process the address you entered online and send it to UPS. ShipWorks eliminates both those steps so the address goes immediately to the shipping label. The strategy appears to be working–ShipWorks has had 40% revenue growth over the past four years and has reduced their customers' shipping time by 30-50% per day.
Originally the company was split in half–an office in Springfield, Illinois for engineering, the other in Manchester, Missouri for customer support. CEOs Wes Clayton and Brian Nottingham realized they needed a central location to bring their two teams together and make their business more competitive.
"We immediately thought of St. Louis," said Nottingham. "An office isn't just four walls and a lease. It's a perception of you. Location, surroundings, and community all play into the company culture."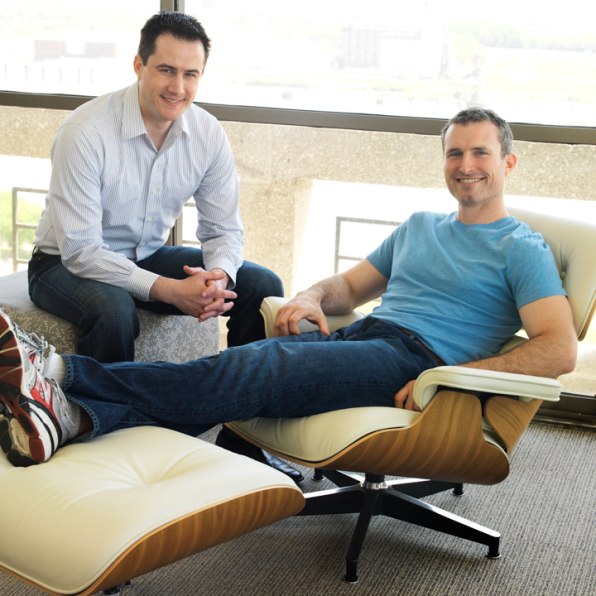 Clayton and Nottingham started ShipWorks after graduating from St. Louis University, where they first met, so they've always thought of it as a St. Louis company. The pair knew that St. Louis had the advantages of a big city with a small town's strong sense of community. As their first goal was to make their employees feel like a united team, it seemed a natural fit.
The pair met with architect Alan Nehring and his company Nehring Design to form an ambitious plan: design a new space that would unify their employees and emphasis creativity.
"It's our goal to help clients capture the essence of their ideology within their three-dimensional surroundings," says Nehring. "We work with companies that are ready to 'live' their brand by creating architecture that reflects the overall mantra and values of their business."
Nehring has a gift for finding concrete ways to bring the abstract into reality. When Clayton and Nottingham told him about their desire to create a collaborative environment that encouraged innovation, he constructed a layout that literally brings people together.
The main work spaces flow into a central hangout room so that people run into each other and share ideas. The interiors were designed to create a low, minimalistic plane, establishing a sense of connectivity and allowing the view to function as artwork. Classic pieces of mid-century furniture such as a George Nelson Marshmallow Sofa have been reimagined in bold, modern colors to spark innovation.
"We wanted to meld various spaces into one large environment yet maintain rooms with their own character and function," Nehring says. "The glass partitions not only created boundaries but also provided another method to brainstorm by using the glass as marker board."
In the few closed offices, these glass walls are the only writable surfaces available, forcing even private collaborations out into the public where everyone can consider and add to them. The walls have become a point of connection and innovation. (We can relate.)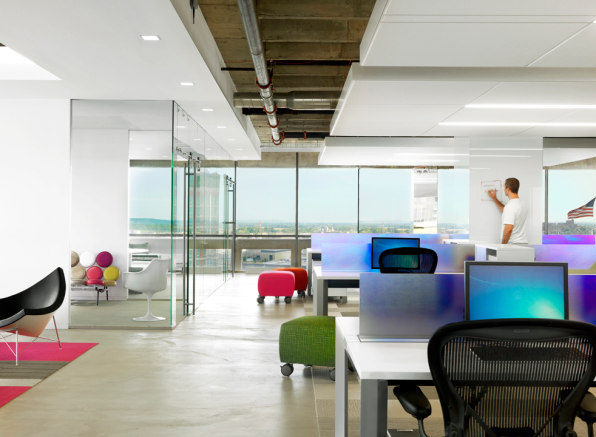 "Our support team regularly makes use of the writable surfaces to jot down customer testimonials and feature requests," said Clayton. "These notations are visible to our entire team as we pass by throughout the day. It's an easy way for everyone in the company to understand what's going well for our customers, and where we may need to make some adjustments to improve the customer experience."
Some features of the new space are more playful than others. As is fitting for a company known to wage spontaneous Nerf wars and offer free beer every Friday, there's an extensive game room. Throughout the day you might hear the muffled beeps of arcade games (there's a giant bowl of gold ShipWorks tokens by the flat screen), the slap of air hockey pucks, or cheers enhancing the view of Busch Stadium if the Cardinals are winning.
"This office was never just a dream to us," said Nottingham. "It's the vision we had when we first started working out of our separate homes. And it has everything we wanted–except for a retractable roof."
More than anything, the office has what Clayton and Nottingham wanted most–the ability to make ShipWorks a more innovative, collaborative, and competitive company.
[All photos by Alise O'Brien of Alise O'Brien Photography]