Yesterday Steve Ballmer sent out a lengthy memo to Microsoft staff announcing a reorganization of one of the world's biggest tech companies (we do mean huge: Ballmer's memo rocks in at just under 2.8 kilowords). Ballmer's memo is a complex, deep, structured recipe for future success…sieved through the corporate-speak dictionary and delivered up in single serving of cold hard email. No garnish.
But back in 1997 Steve Jobs re-took the reins at Apple, which had become unfocused, bloated, and had lost its cutting-edge mentality. He emailed frequently and spoke to staff in group meetings, instigated serious executive changes, reorganized the company structure, ditched teams and projects, and slashed spending on frilly company benefits like business-class flying.
For some onlookers Microsoft's new moves are suggestive of Apple in 1997. It's all there, from the realignment of the company structure toward functions not products, the executive reshuffles, and the urgency of getting staff reinvested.
With that in mind, it's worth comparing the two Steves. They are, as yesterday's memo underscores, quite different in their leadership approaches and communicating styles.
A good place to start is with the part of Ballmer's note that implores Microsoft staff to think under five new core values.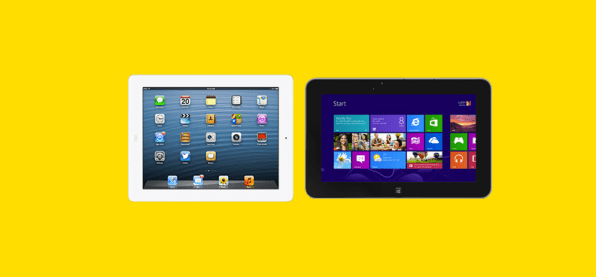 Ballmer: "In a world of continuous services, the timeframe for product releases, customer interaction and competitive response is dramatically shorter. As a company, we need to make the right decisions, and make them more quickly, balancing all the customer and business imperatives. Each employee must be able to solve problems more quickly and with more real-time data than in the past."
Jobs: "Today we are taking a few more steps which will begin to take Apple back to its roots as a more egalitarian, entrepreneurial company…Apple needs all hands on deck for the foreseeable future as we turn our company's fortunes around."
Winner: Jobs. Where Ballmer is vague, Jobs makes a direct call to his staff.
Ballmer: "Going forward, our strategy will focus on creating a family of devices and services for individuals and businesses that empower people around the globe at home, at work and on the go, for the activities they value most."
Jobs, in a private company meeting when asked about the potential sale of then-ailing Apple to Dell in 1997: "Fuck Michael Dell."
Winner: Jobs. Ballmer dances around his Apple lust without saying as much; Jobs' loathing of a competitor is, well, clear.
Ballmer: "Collaborative doesn't just mean "easy to get along with." Collaboration means the ability to coordinate effectively, within and among teams, to get results, build better products faster, and drive customer and shareholder value."
Jobs: "You cannot mandate productivity, you must provide the tools to let people become their best."
Winner: Tie. Both execs fall back on banal corp-speak.
Ballmer: "As a global company with literally billions of diverse customers in an accelerating business environment, we must have a clear strategic direction but also empower employees closest to the customer to make decisions in service of the larger mission."
Jobs, at the same 1997 meeting as above: "If you want to make Apple great again, let's get going. If not, get the hell out."
Winner: Jobs. Hard to miss his message.
Ballmer: "Our leadership team has discussed these cultural aspects a lot and is committed. In my own staff meetings, we are modeling these new characteristics yet also find ourselves occasionally slipping back. One strategy, united together, with great communication, decisiveness and positive energy is the only way to fly."
Jobs at his famous Stanford commencement speech: "You've got to find what you love. And that is as true for your work as it is for your lovers. Your work is going to fill a large part of your life, and the only way to be truly satisfied is to do what you believe is great work. And the only way to do great work is to love what you do. If you haven't found it yet, keep looking. Don't settle."
Winner: Jobs. While it's not exactly fair to compare these two texts, we are anyway. Because life isn't fair. Now get motivated!
Final analysis: Hmmm.
[Base Image: Getty Images]