There's always something that can be done to increase happiness around the workplace. Right?
Maybe it's something serious, like supervisors showing more respect for their employees, or a bit more lighthearted–like here at Fast Company where we're still pining for an office puppy to keep us company.
As usual, we asked you guys your opinion on the matter, and compiled a few of your best answers. If we've missed anything, please, share it with us in the comments!
What could your company do to increase happiness among employees?
Create a culture of shared success

It echoes some standardly excellent sage advice: "Choose a job you love, and you'll never work a day in your life."
And speaking of sages, Confucius says something similar about managing your career (and your workplace).

If employees are happy–and invested–they'll not only love coming in to work (see above), but they'll become advocates for your company. Famous chair designer Herman Miller is an excellent example of the culture your workplace should strive to create.

Chances are, you worked more than eight hours yesterday, and that's not okay. Even bees are overworked–and insanely stressed–these days, so what can we do? You can start by to creating a schedule that keeps you calm.
Be sincere, and subscribe to our magazine . . .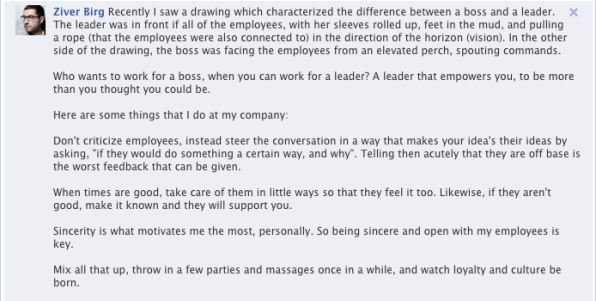 Ziver, it sounds like you've got things really figured out. For the rest of you, here's how leaders build trust, and properly navigate connectedness and relationships in the office.

Hey, we see what you did there!
Funny, but you actually raise a good point: get over yourself and take some time off. It's not the end of the world if you leave the office for a few days.
Convinced? Here's how to truly "vacate" into vacation.

And last but not least, probably the most important of the bunch! If you missed any part of our #unplug issue, check it out.
That's all for now folks.
If you have other thoughts on how your or any company can increase happiness, share it with us below in the comments!