Farewell Books is more than just a bookstore, it's a one-stop hipster shop. To walk through the East Austin retailer is to be passed down an assembly line of irony, with distinct companies hawking wares that can transform even the most mainstream square into a thick-rimmed cool kid who emerges quoting Nietzsche and sipping cold-pressed coffee.
Such a melting pot of merchants isn't unique to Farewell: it may be the secret ingredient behind a quiet resurgence of indie bookstores, which were presumed dead after Amazon's arrival and given toe tags when e-books exploded, but have defiantly survived. How? By expanding their offerings.
"People come by to browse the books and end up leaving with a dress or a vegan reuben," says Travis Kent, cofounder of Farewell.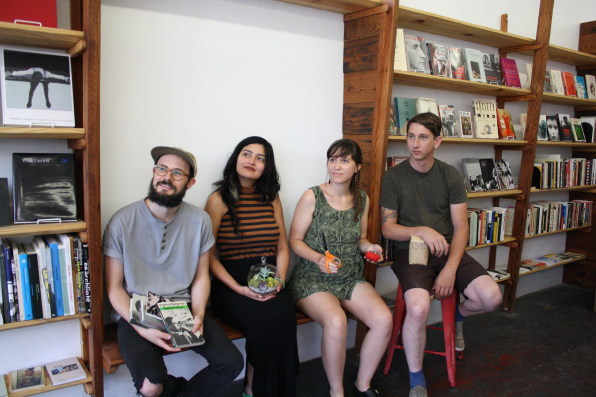 Just a few months ago, Farewell, then called Domy Books, was going under, crushed by Austin's skyrocketing rent. So two of its employees–Kent, 27, and Mikaylah Bowman, a 22-year-old intern at the time–told their then-boss that they would take over the lease. The pair invited four other fledgling businesses in to share the roof and split the costs.
The collective of companies that now call Farewell's 1,800 square-foot space on Cesar Chavez Street home includes a tailor, an artisan coffee shop, a vintage clothing store, and a vegetarian Jewish sandwich trailer called Schmaltz. Each pay their share of the $2,700 per month rent, but otherwise operate independently.
Kent and his cohort still hold down side jobs like waiting tables or baby-sitting, but the arrangement at Farewell appears to be working. As of last month, the shop is breaking even, and on a sunny Saturday afternoon in June, business showed no signs of slowing.
Farewell is just one of a number of indie bookstores in the city that have seen similarly scrappy moves pay off. BookPeople, an Austin-based bookseller that has been around since 1970, hired a camp director in 2006 and launched a children's day camp. "We had the best year in store history in 2012," owner Steve Bercu told the Christian Science Monitor in March. "It was the third best year in a row," he said, adding that "people are loyal to us as customers because their children are loyal to us as campers."
Kent similarly credits the community surrounding Farewell for its survival. After turning to Kickstarter for funds to renovate the bookstore's building, nearby business owners agreed to offer discounts to people who donated to Farewell's crowdfunding campaign, which generated more than $16,000.
Though Amazon and Barnes & Noble still dominate the book industry–respectively commanding 29% and 20% of sales over indie bookstores' 10%, the total sales at indies are rising and their ranks are growing, according to the American Booksellers Association.
The new booksellers bring a modern approach to the business: In place of dusty stacks are day camps, vegan bites, and Twitter feeds blasting the word out to locals.
Asked how Farewell Books, which has an online store in the works, got its name, Bowman, the intern turned overnight owner, says, "It just felt like it was really fitting with the closing of Domy, a farewell to the old style of bookshop."
"We're acknowledging that people don't really read books anymore," she notes, "but we're one of the stragglers keeping it going."
—Nate Hindman and Joe Epstein are "On the Road With Free Enterprise" this summer, visiting small businesses and entrepreneurs, checking out the local flavor, and telling the stories of free enterprise in more than 20 communities across the U.S. This story originally appeared on the U.S. Chamber of Commerce's site. Follow their travels on Facebook, Twitter and Instagram.
[Image: Flickr user Adam Tinworth]