One company placing major bets on health is Dell. With more than 13,000 employees devoted to the industry, they are not simply spinning up glossy brochures featuring happy patients in hospital beds with caring doctors, but are driving deep innovation into their products and services to enable personalized medicine, faster genomics, and other life-saving advancements.
Dell's interest in health comes from the top and it's not just about profits. Michael and Susan Dell have their own non-profit foundation that has funded children's health-related causes worldwide and they have supported initiatives such as Dell Children's Medical Center of Central Texas.
Dell Corporation has had a long track-record serving the health industry, so when they realized that big data could be applied to emerging areas such as genomics can make a real impact on patient outcomes, they dived in deeper. For example, for children afflicted with cancer, Dell has been able to partner with the industry to apply big data, high performance computing, and the cloud to help doctors derive treatment cocktails in days rather than weeks or months. The data needed to devise the optimal cocktail for one patient is 30 terabytes—a massive amount of data that must be processed to understand how to treat each patient.
The notion of personalized medicine is not new. What is new is that Big Data and Big Science are now enabling real-world applications. Personalized medicine relies on genomics, high-performance computing technology, pharmaceuticals, and the willingness of the FDA to grant specialized clinical trials to treat patients. Let's look at an actual example of how Dell is diving deeper.
Imagine learning that your child is diagnosed with cancer but your doctor has no idea what drugs will work best to combat the cancer that is ravaging your child? And, as a result, imagine learning it can take several months to figure this out while your child gets sicker and sicker increasing the risk of dying?
This was the situation faced by parents and children diagnosed with certain cancers–until now. According to Jessica Hester, Brooke's mother, an energetic girl diagnosed with neuroblastoma, "There was a time if your child was diagnosed with cancer, they'd say, 'I'm sorry, there is nothing that we can do, so go home and enjoy your time.' That is not the case now.'"
Personalized medicine involves aligning the appropriate drug substances and dosages to combat an individual's cancer based on her genetic profile as well as the genetic profile of the cancer. Dell decided to get involved in pediatric cancer because the small patient base generated scant commercially or federally funded research. Parents and pediatric oncologists have relied largely on "trial and error" in their search for a treatment. Dell believed its solutions, people and funding can address an unmet need and could have a real and lasting impact.
The following video tells how this new technique has helped Brooke:
Jessica Hester offers, "It is critical for people to understand childhood cancers, because doctors are finding more breakthroughs, and children are surviving…. Thanks to technology, doctors can look at Brooke's DNA sequencing and study her genomics and within 10 days say, 'Here are her top five drugs that we believe will turn her cancer off.'"
The partners deeply involved in this collaboration are the Neuroblastoma and Medulloblastoma Translational Research Consortium supported by the Translational Genomic Research Institute and Dell.
To participate, patients must enroll an NMTRC study. Once the analysis is completed for a patient, the NMTRC tumor board of pediatric oncologists decide on a treatment plan for the patient based on the genetics. The treatment plan is then sent to the FDA for approval of a clinical trial for that patient. Once the FDA approves, the patient starts the treatment protocol.
The outcome is a faster solution with greater efficacy for children. Here is an infographic describing the process
Dell's efforts in health globally are described in the following infographic.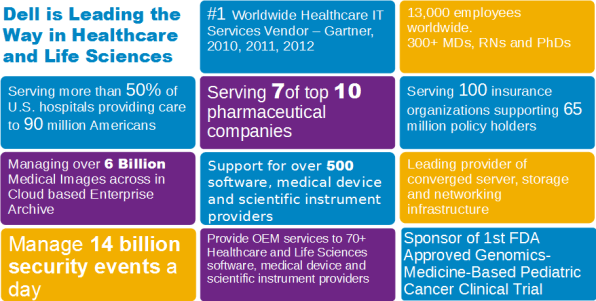 What has Dell learned about applying Dell's technology to big data and personalized medicine like pediatric cancer? According to Dell:
Longitudinal data from electronic medical records will help pharmaceutical companies develop more targeted treatments for the one-third of patients who don't respond to today's conventional blockbuster drugs due to individual genetic differences.

By analyzing genetic information in electronic medical records, physicians can develop lifetime wellness plans for patients with genetic predisposition to certain diseases and health conditions.

Information technology solutions like cloud computing will continue to play an important role in the transition from episodic care to prevention, wellness management, and personalized medicine.
Leveraging their pioneering work with Translational Genomic Research Institute for pediatric cancer, Dell has recently announced a platform for low cost, faster genome sequencing systems and software that supports personalized medicine for a myriad of disease area.
By moving away from the traditional corporate foundation model, Dell opens the ability to work with strategic-giving partners in a manner similar to how Dell works with our customers–providing them tools, technology and funding tailored to their needs offers Trisa Thompson, Dell's VP of Corporate Social Responsibility
Personalized medicine is key to treating diseases that have no established treatment protocols. We are at the front door of a whole new era in medicine thanks to Big Data and Big Science.
–This article was co-authored by Dave Gardner and Adrian Ott. Adrian Ott, award-winning author, speaker, and CEO of Exponential Edge Inc., was called "one of Silicon Valley's most respected strategists" by Consulting Magazine. She helps relentless visionary executives to foresee disruptive opportunities and accelerate market leadership. Her bestselling book, THE 24-HOUR CUSTOMER, was named a Best Business Book of the Year by USA Book News (2011) and Library Journal (2010). Follow her @ExponentialEdge. Dave Gardner can be reached on Twitter at @Gardner_Dave and via his website at Gardner & Associates Consulting. Check out his video describing why he's in business. Dave Gardner is a consultant to Dell and part of Dell's Customer Advisory Panel. Dell invited Dave and Adrian to Dell World 2012 in Austin at Dell's expense to research this article.