On Wednesday, the Supreme Court ruled that the Defense of Marriage Act, which prevents legally married gay couples from receiving benefits, is unconstitutional. Shortly thereafter, it declined to uphold Prop 8, meaning that same sex marriage is now legal in California.
After the news broke, supporters and non-supporters took to social media with their reactions. Here's how it's playing out:
Kudos to Charles Blow for giving us the idea for the GIF above.
Intern hands the opinion to Pete Williams: https://t.co/iimYQ8xWlU by @danielwein

— Stefan Becket (@stefanjbecket) June 26, 2013
Here's what just happened pic.twitter.com/FTRv7aHCMu

— Silvia Killingsworth (@silviakillings) June 26, 2013
Today's DOMA ruling is a historic step forward for #MarriageEquality. #LoveIsLove

— Barack Obama (@BarackObama) June 26, 2013
Edith Windsor, who challenged the Defense of Marriage Act, celebrated:
Edith Windsor FTW. #DOMA #SCOTUS (via @GettyImages) pic.twitter.com/4Nz8NgHwL8

— Ellie Hall (@ellievhall) June 26, 2013
#Prop8 plaintiffs on the steps of the Supreme Court following ruling (pic: @msnbc) pic.twitter.com/jM4CQHxxPy

— BuzzFeed News (@BuzzFeedNews) June 26, 2013
Google changed its search box to display a rainbow when users search for terms relating to gay marriage:
What happens when you Google the word "gay" right now pic.twitter.com/EJb5v74OWu

— BuzzFeed (@BuzzFeed) June 26, 2013
Some opponents of the decision:
Whether you agree/disagree w/gay marriage, in Ca voting is now dependent of the decision of the lower courts not the majority of voters #SAD

— Karen S (@ksdvm86) June 26, 2013
The constitution was written to protect human dignity. Gay Marriage attacks human dignity and hurts individuals. Sad day for Americans.

— Dave Sterrett (@davesterrett) June 26, 2013
San Francisco celebrates:
San Francisco celebrates the demise of #PROP8 https://t.co/EzEk747P2T

— Tracy Garza (@tracygarza) June 26, 2013
[PIC from @jaredpolis] View from the steps of #SCOTUS right now: pic.twitter.com/ALYk2lNjkx #Party #Prop8 #DOMA

— NowThis News (@nowthisnews) June 26, 2013
Human Rights don't discriminate and neither should the US! #DOMA #Prop8 pic.twitter.com/8UAiGBv1vY

— AmnestyInternational (@amnesty) June 26, 2013
And with #Prop8 decision, California joins 12 states and D.C. in recognizing that all Americans are equal pic.twitter.com/49uCYsUPB6

— Eeante (@E_mac001) June 26, 2013
SCOTUS puts a ring on it... #DOMA #prop8

— Charles M. Blow (@CharlesMBlow) June 26, 2013
"But I don't want to kiss," says Scalia. "Sorry, we have to now," says Alito. "It's the law." They embrace.

— lanyard (@lanyardtwerk) June 26, 2013
@mcmoynihan @BenjySarlin It is ironic that I waited 8 years for this decision, and now that it happened, I have that other small matter.

— Glenn Greenwald (@ggreenwald) June 26, 2013
Here are some more SCOTUS GIFs, for your viewing pleasure:
DOMA is done for:
Gay marriage FTW:
And then Twitter was all like:
And, because you can never have too many Neil Patrick Harris GIFs:
Gov. Mike Huckabee's reaction to the SCOTUS ruling: "Jesus wept."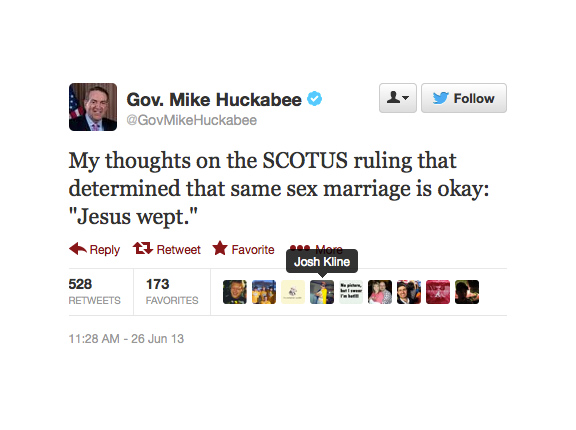 Meanwhile, Batman and Robin are high-kicking:
[Image: Flickr user TexasGOPVote.com]