Nelson Mandela, former President of South Africa, Nobel Peace Prize recipient, and the transformational civil rights leader largely responsible for the dismantling of apartheid, died today at the age of 95.
Mandela was one of the world's most celebrated moral authorities, with his 27 years behind bars bringing the anti-apartheid movement to the international stage, before reemerging to lead South Africa as the country's first black president.
To celebrate his life, we've compiled just a handful of the most memorable moments from Mandela's more than 70-year career highlighting the courage, tenacity, and unrelenting dedication to civil rights that will define his legacy forever.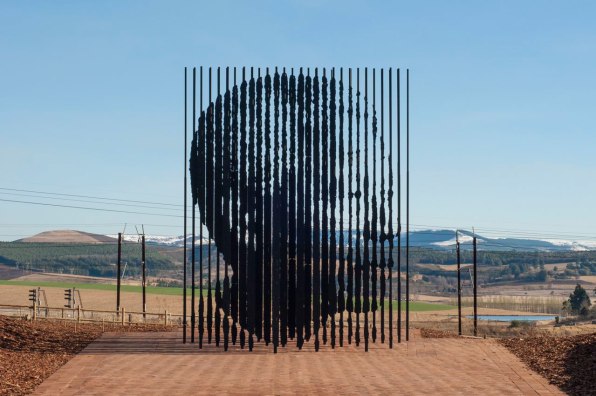 On August 5, 1962, Mandela was jailed by South Africa's Nationalist government and later convicted of inciting strikes and leaving the country without permission. Just one year earlier, he had given his first television interview emerging as a leader of the country's growing anti-apartheid movement. While still in prison for his first arrest, Mandela was indicted as part of the Rivonia Trial, where 10 opposition leaders–including himself–were charged with sabotage. Mandela initially faced the death penalty, to which he gave a chilling statement, expressing his willingness to die for the movement if necessary.
While he avoided the death penalty, Mandela was sentenced to life in prison. For the next 27 years, little was heard from him, though outside the prison walls, a global anti-apartheid movement was gaining steam.
On November 30, 1973, the International Convention on the Suppression and Punishment of the Crime of Apartheid was adopted by the United Nations General Assembly, defining apartheid as "inhuman acts committed for the purpose of establishing and maintaining domination by one racial group of persons over any other racial group of persons and systematically oppressing them." The United States, one of only four nations that voted against the UN convention over a decade prior, would enact the Comprehensive Anti-Apartheid Act in 1986, with Congress overriding a veto from then president Ronald Reagan.
Mandela's 70th birthday was celebrated with a star-studded concert at London's Wembley Stadium in 1988.
Then, at the age of 71 in 1990, Mandela was finally released from prison.
Just two months after his release, Mandela himself would deliver a speech at London's Wembley Stadium to a crowd of over 70,000 in person, and an unprecedented over 1 billion by broadcast. After a deafening eight minutes of applause, he called for international sanctions against South Africa, and urged the world to continue to fight against apartheid. Mandela also famously declined to meet with British Prime Minister Margaret Thatcher during the trip, due to her questionable stance toward apartheid and international sanctions.
On May 10, 1994, Mandela was inaugurated as the first black President of South Africa, in the nation's first democratic election.
South Africa hosted the Rugby World Cup in 1995–the first major sporting event in the country since the end of apartheid. Rugby was considered a white sport in South Africa, but when the national team, known as the Springboks, won the tournament against New Zealand, Mandela succeeded in uniting the country. After his presentation of the trophy, Mandela bore witness to the entire stadium–filled with whites and blacks–singing in unison, "Nelson! Nelson!"
In 1999, at the age of 80, Mandela officially retired after just one term in office. He would go on to found the Nelson Mandela Foundation, and continue humanitarian work across the globe.
A concert in the honor of his 90th birthday at London's Hyde Park, was one of the most widely televised events of all time, took place in 2008. More recently, South African artist Marco Cianfanelli created a monument to recognize the 50th anniversary of Mandela's arrest (seen at top).
The monument consists of 50 steel columns, and is located at the exact spot Mandela was taken into custody on August 5, 1962.
"Our nation has lost his greatest son," said South African President Jacob Zuma of Mandela's death.
"Wherever we are in the country, wherever we are in the world, let us reaffirm his vision of a society… in which none is exploited, oppressed or dispossessed by another."