Everyone appreciates a good listener.
With the latest version of Dragon Mobile Assist for Android, that's what the company that (almost certainly) powers the iPhone's Siri voice assistant is aiming to give to Android: a productivity tool that's really good at listening.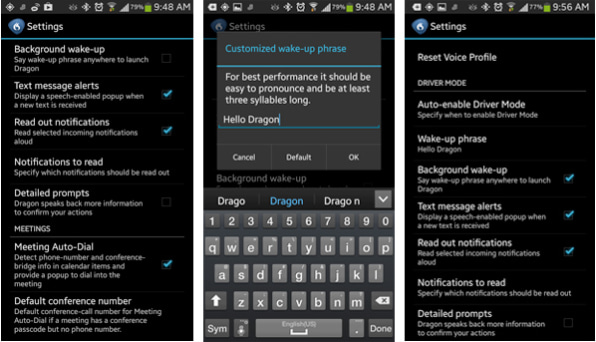 Nuance Communications, the corporate parent of the Dragon line of speech and productivity tools, is out with a new 4.0 version of Dragon Mobile Assistant. As with previous versions, and like many of its voice-assistant competitors, Dragon Assistant can make calls, send and read back texts, launch apps and music, and pull up directions or web searches. It can also keep up with where other Assistant users are located, if they're sharing that data.
Where Dragon stands out is in two areas: its voice recognition powers, and the way it knows when to listen for your input.
When you think about it, knowing when to expect your command is a pretty important skill for any assistant. With that in mind, Dragon Assistant adds two intriguing features: a customizable wake-up word, and automatic detection of Driver Mode. That is, if you're moving fast enough to be in a car, Dragon Assistant starts listening for commands and starts reading you your texts and notifications. It can even read your Facebook notifications while you're driving.
Well, sort of.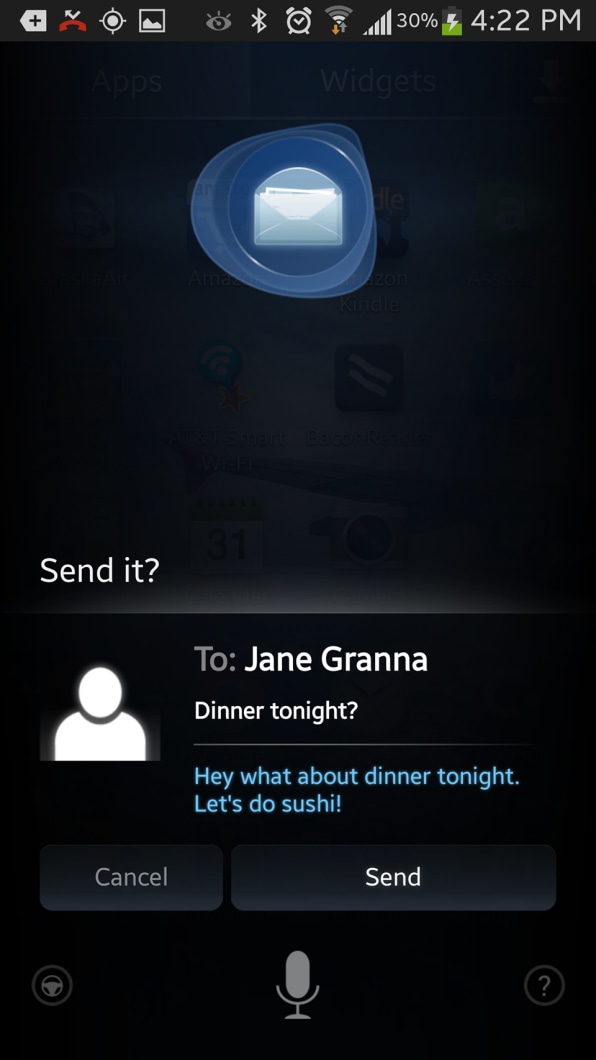 "We don't do it in real time," Josh Lipe, director of consumer mobile products at Nuance, said in an interview. Lipe noted that Dragon Assistant spaces out updates from Facebook and other sources while in Driver Mode, and that Facebook read-outs are not enabled by default. And Lipe has been using it himself, to check in with friends after a day at work. "It's been delightful on the ride home," he said.
And while most voice-based helper apps require a certain button tap (Siri) or specific phrase ("Goo-Guhl"), Dragon Assistant can adapt to listen for anything that is three syllables or more. You can even have your phone listen all the time, whether the app is launched or not, though there's a stern warning about a hit on battery life.
When you install Dragon Assistant on your Android device, your device will prompt you the next time swipe up for what is typically a Google Now launching action (or tap the "Search" button on older phones). That means Dragon is positioning its Assistant as your one true source for asking and doing things on your phone. Assistant is choosing from more than 200 actions and data sources when you talk to it. "Restaurants nearby" throws you to a tabbed Yelp list, "Book a table" searches OpenTable, and most other far-ranging queries go to Wikipedia, Answers.com, or other big targets.
It's a big goal, overtaking Google's own Google Now product as the place people turn to for answers and function. But Nuance and its Dragon unit are looking to get ahead by listening really well.
"We have to perform exceptionally well in all areas: the tuning of the voice, the personalized extension of the user's question, answering all sorts of questions," Lipe said. And their app has to impress with long-term utility, not oh-neat-it-knew-that first impressions. "Differentiating our product is important, but our user base are people using this application in their work, their driving, at home. We think we're on to something here."
It's not clear yet what Siri thinks.
[Image: Flickr user Aztlek]