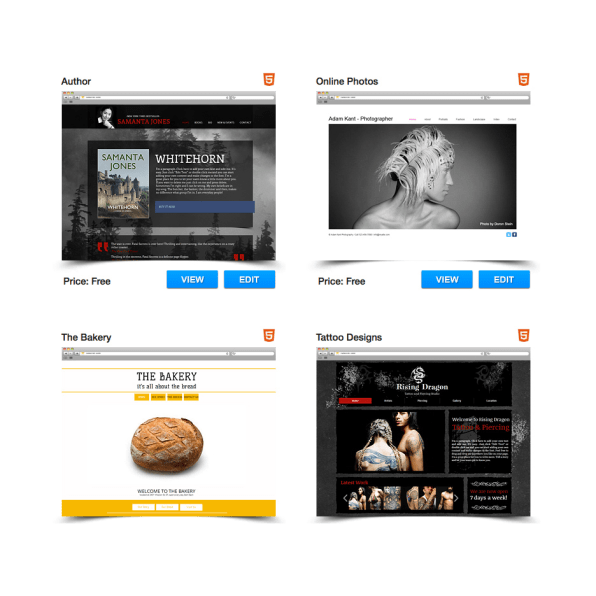 Thirty-four million users have created an online presence through this freemium web publishing platform, which employs a drag-and-drop editor that Internet experts and novices alike can operate. Users are offered hundreds of designer-made templates and can boost their site's functionality with Wix-developed and third-party applications.
Founded in Tel Aviv in 2006 by graduates of the Israeli military's elite intelligence unit "8200," Wix has offices in San Francisco and New York City and has raised $61 million from VC funds. It is reportedly planning to raise $75 million in an IPO on Wall Street.
"Everyone knows that a standalone, professional website is still the Internet Gold Standard," says CEO and cofounder Avishai Abrahami. "With Wix, you don't need lots of cash and technical knowledge to create an awesome site."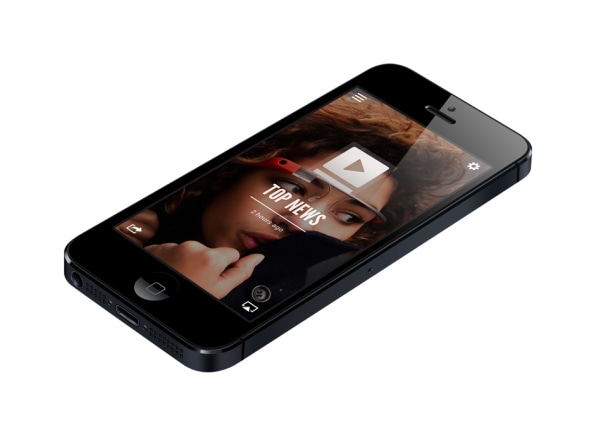 Wibbitz's text-to-video platform uses advanced language processing to allow anything published online to be instantly turned into a video clip. Its publisher solution–which boasts a clientele of 50,000 websites and 17 million monthly viewers–will soon be available for iPhone.
Last year Wibbitz closed a $2.3 million round of funding headed by Horizon Ventures, the Hong Kong investment company which has previously put money into Facebook and Waze.
"The Internet is about enabling personalization, yet to this point content has largely come in a 'one-size-fits-all' text format," says the startup's CEO and cofounder, Zohar Dayan. "Wibbitz is about making content accessible through a rich new experience that makes more sense when getting information on-the-go and on a small screen."

Battery drainage is one of the biggest problems faced by consumers as they increase their reliance on smartphones. Enter Powermat, whose wireless power solutions help millions charge their devices between home, car, and office.
"After all," says CEO Ran Poliakine, "if our devices are wireless then why should we still be tethered to an outlet for power?"
Powermat sells a wide range of retail products through a joint venture with Duracell and has placed its technology at 1,500 locations in the U.S. including Starbucks outlets, Madison Square Garden, and Jay-Z's 40/40 nightclub. In May 2013 it acquired Finnish rival PowerKiss for an undisclosed sum, settling a conflict over wireless power standards in the process.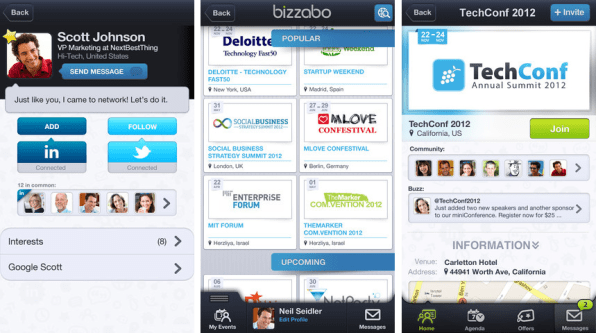 This mobile networking platform uses LinkedIn, Facebook, and other social media to build interactive communities around business events. It enables organizers, sponsors, and exhibitors to network directly with guests and seek out new business opportunities.
Launched in July 2011, Bizzabo's platform has been used in thousands of events worldwide, including Qualcomm Uplinq 2012, ad:tech London, and TEDx conferences. It is available on iOS and Android devices.
"Navigating an event of thousands and trying to locate the handful of people who are relevant to your business is a challenge," says CMO and cofounder Alon Alroy. "Bizzabo is on a mission to maximize event experiences by becoming the standard mobile-social app for business events."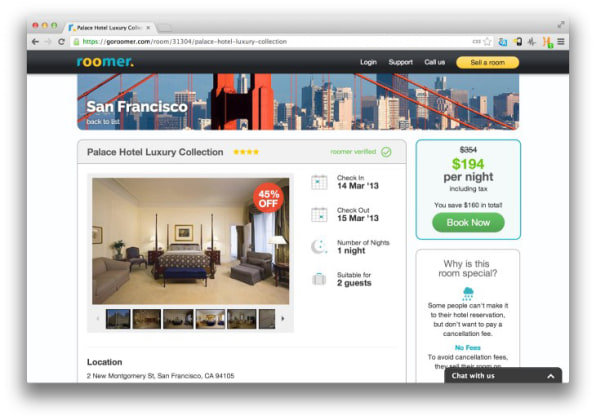 Roomer is an online marketplace that offers to connect the tens of millions of people who cancel their hotel reservations annually with travelers searching for a good deal. For example, if you have a $500 non-refundable hotel reservation in New York and can't make it, you can recoup part of the cost by selling it on Roomer.
"It's not only about getting the best value for your next cool hotel reservation, it's about helping other travelers by doing so," says cofounder Gon Ben-David.
The early-stage startup has launched in New York, Las Vegas, and San Francisco, and recently secured $2 million in funding from Israeli venture capital fund BRM.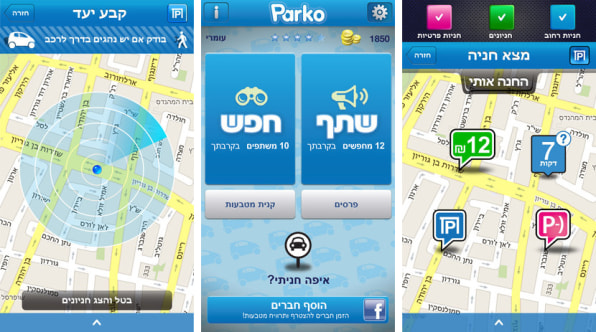 Recent studies show that city drivers spend at least 20 minutes on average searching for a parking spot. Parko has developed a crowdsourcing solution for parking in a similar vein to Waze's solution for traffic: It connects motorists looking for a spot with others about to leave one, while its algorithm identifies parking spots without users needing to remove their phones from their pockets.
Parko's app has been downloaded by over 65,000 users since its pilot launch in Tel Aviv just over three months ago, "putting us on track in our mission to revolutionize the inefficient way that drivers find parking," says CEO Tomer Neu-Ner.
The company is in talks with a number of potential partners including the city of Paris and private American firms.