Fast Company officially celebrated our 100 Most Creative People in Business last week at the jam-packed, high-energy C2-MTL conference in Montreal. You should be kicking yourself if you missed it.
The conference, which brings together creative and businesspeople from around the globe, was orchestrated in part by the producers of Cirque du Soleil, and it had the showmanship and drama to match: fabulous lights and costumes, much music and many parties. It also had a great slate of speakers, many of whom have been profiled in Fast Company: designer Phillippe Starck; MIT Media Labs expert Neri Oxman (who graced our first Most Creative People cover in 2009); Whole Foods CEO John Mackey; fashion icon Diane Von Furstenberg (who also appeared at Fast Company's Innovation Uncensored event in New York in April); Toms Shoes founder Blake Mycoskie (who will be profiled in our upcoming July/August issue).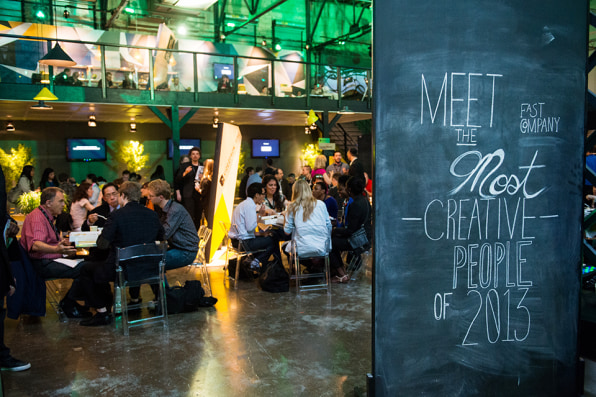 I had the privilege of presenting this year's Most Creative People honorees to the 1,400 exuberant attendees. More than 30 honorees traveled from as far away as Argentina and Amsterdam to attend and share their experiences and insights. I got to meet Starbucks designer Liz Muller–who brought her mom along; how cute!–and PepsiCo social marketer Bozoma St. John (who regaled us with tales of growing up in Colorado Springs). I got to share with the crowd a trailer for the "social film" The Beauty Inside, via honoree Jamie Robinson of Pereira & O'Dell, plus a selection of catchy Oreo Daily Twists produced by Jill Applebaum and Meghan Sheehan. And there was no one more egergetic about being on hand than Disney scientist–yes, it turns out that Disney has scientists!–Ivan Poupyrev.
The Most Creative People in Business list is my favorite editorial project of the year. We set stringent requirements (including no repeats from previous years; indeed, no one who has been profiled in our magazine at all previously). Yet each time, we manage to find dazzling people doing inspiring work. It is not unlike what has become my annual spring pilgrimage to Montreal, where I am once again reminded of the power of mixing creativity and commerce, and how important that pairing is in generating the businesses of the future and the kind of progress that will lead our world to a better place.
[Photos by Agnieszka S | Allen McEachern | Jimmy Hamelin]