What is Hangouts now? It's hard to believe that technology that has only been around for a couple of years already has such a rich history. Google launched its original version of Hangouts in June 2011. Historically, the tool has lived inside Google+, the company's answer to Facebook, as an easy way for a bunch of people to video chat together (up to 10 friends at a time). Like many new Google products, they launched with collaborative functionality to do things such as screen-sharing and YouTube viewing. A mobile version of the technology was eventually made possible for Android users and built into the Gmail product.
Video Hangouts are private or public, depending on your settings. To go public, enable the On Air feature so anyone online can watch your broadcast live (even if they're not on Google+). When you connect to your YouTube account, Video Hangouts are saved there so they're easy to access at a later time.
Last week at I/O 2013, Google overhauled its messaging products, collecting the most popular of these tools within Hangouts. This cross-platform approach means that Google Talk (GChat) and Google+ Messenger are now living inside Hangouts, along with the classic multi-person video chat function. This means you can chat, send photos, or video call someone all within Hangouts.
Today, Hangouts is a well-oiled cross-platform solution. When you see a message alert on your computer device, it will disappear on your Android phone. If you're using Hangouts on your laptop, you can switch to the app on your iPhone or Android phone to continue the conversation. Yes, it's like messaging on steroids.
While it might take some users a little time to understand Hangouts 2.0, Google smartly consolidated its messaging products into one powerful tool, potentially exposing even more people to its multi-person video technology and keeping its messaging members happy.
Why would I want to host a video Hangout?
Alex Lindsay uses video Hangouts in a number of ways. The founder of Pixel Corps, a digital media training and production group, depends on this technology to teach classes hosted in the U.S. to students in Rwanda. Lindsay also uses video Hangouts to record his weekly podcast, "This Week in Photography," and to provide personal training services to clients.
"On an organizational level, they are great for meetings," says Lindsay. "On a sales level, it's very useful to see your clients. On a marketing level, you have the technology to produce round-table discussions, training, and experiences from your home and broadcast them for free to YouTube with nothing more than a webcam."
Multi-camera video conversations were once the bread and butter of television professionals, requiring expensive equipment and advanced technical training. Video Hangouts make it a cinch for anyone to be his or her own broadcaster without knowing too much about broadcasting.
"Just getting 10 people together is one thing but the instant editing–based on sound–can be very seamless and adds an energy of its own," says Lindsay. "When people laugh or argue, the technology reacts faster than an editor could. Sometimes this is distracting but often it adds energy to the experience."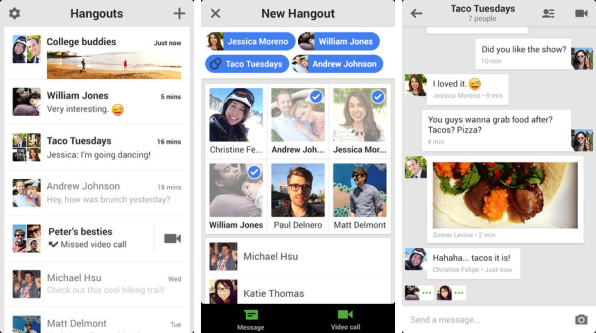 There are a number of ways that Hangouts can help make you more productive, from collaborating with a small team working remotely to learning a new skill, such as cooking, without ever leaving your couch. As Lindsay says, the technology is smarter than you might expect, bringing us closer than ever to having TV broadcast studio controls in our laps.
How do I host a good video Hangout?
Watching public Hangouts On Air is the best way to hone your Hangout skills. From well-known brands such as GMC answering questions about its hottest new vehicle, to big-name politicians scheduling Q&A sessions with voters, to Penguin pushing a video-based book club, there is no shortage of creative programming taking place around the clock.
To get the best video quality, the same rules that apply to good-looking Skype conversations apply to video Hangouts. Invest in an HD webcam, consider buying an external USB-powered microphone, and, if you want to get fancier still, pick up a small portable LED light. Once you've acquired the technology, planning great content is key if you're using the tool for sales or marketing purposes. For some companies, just hanging out with internal staff in private meetings is the only goal, but even so, video quality still matters.
"I think Hangouts are part of a movement to devolve from the 'physical' conference into a 'virtual' one," says Lindsay. "We are getting more and more requests to use Hangouts to tie whole locations together, not just individuals. For these events, the experts are everywhere and they are having a conversation with an audience that is everywhere too."
Related Story: How To Make Google Hangouts Your Singular Communications Hub