Google's gone headlong into the music streaming business. We've only just begun to play with it. But the most likely feature to set Google Play Music All Access apart from the other popular services is a functionality that's distinctly Google. It starts with a search then suggests batches of results. You can craft what comes up next. Sound familiar?
To understand where All Access fits in, you have to understand the two ways users currently get their streaming music. There's the so-called lean-forward experience, like the one on Spotify–you open up the service when you have a song, artist, album, or specific genre in mind. You find what you want from a massive catalog, and you either stream it or drag it to an offline playlist. All Access does that.
Then there's the lean-back experience, like the one Pandora provides. You pick an artist or a genre and Pandora picks the next song for you–its secret sauce, it says, is being able to know what you like based on very limited input. Music All Access claims to get recommendations right, too.
That leaves Google to wallow in the in-between area.
"We believe that the typical user wants both, and it depends on the situation and their mood," says Paul Joyce, group product manager of Google Music. "We want to make sure they have the best available tools for both activities."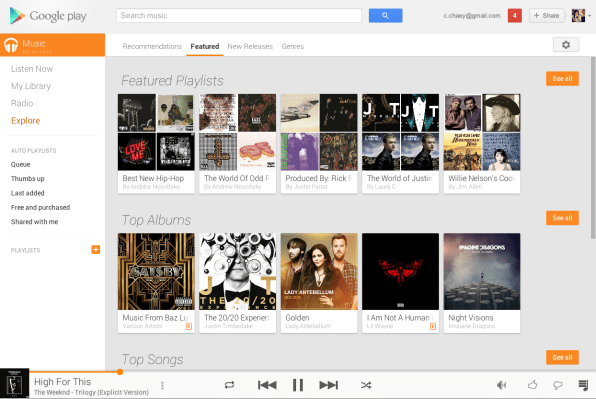 What Google does that neither service really does is let you precisely play with what will be playing next. On All Access, you search for a radio station, then get a depth chart of upcoming songs that goes deep–you can look in batches of 25 for up to 1,000 songs out. Keep what you like or delete and rearrange until you are happy with the rock block. It's curation and prediction all bundled up in a way that learns from your particular jam style, too. "Based on your listening habits we are able to make suggestions for you," Joyce says.
Pandora does that, but Google might have an edge in several ways: First, it knows the play counts of your own purchased music, which can be imported into the player. Second, by giving you more options of how to set up your queue, it gathers tons more data than just thumbs-ups or thumbs-downs–it's about how the nuance of what you like is arranged into a crescendo. Instead of just building a radio station, you are also building a playlist, one you can decide to keep and pin offline for future listening. That's something that was once Spotify's greatest hit. The only limit is device storage capacity–meaning you can carry hundreds if not thousands of songs on the subway–and that you stay active monthly.
The service, which was announced at Google I/O earlier this week, has quickly been dubbed "radio without rules" by company executives. But that's not quite true. It is far more customizable than Pandora–the publicly traded company is licensed as a non-interactive music radio service, which means it doesn't allow you to queue up specific songs on on-demand, nor can you skip too many songs in a row or repeat tracks in a certain timeframe.
But Music All Access is actually a lot like Spotify in the way it's legally structured. Google has deals with music labels themselves. So you can search by song, put it on repeat indefinitely, and skip upcoming songs that might seem blah. Spotify stopped there, lacking the abilty to rearrange things. Perhaps most surprising is that Music All Access doesn't have that many surprising search options. You can look for tunes via artist name, song name, or album, but typing in genres, say "chill wave," won't return songs by Washed Out or anything. You can, however, browse pre-existing stations via genre (there are 22) and subgenre (there are more than 140). "I think the deal is just to make it all fun again," Joyce says. "You can just dive in and explore."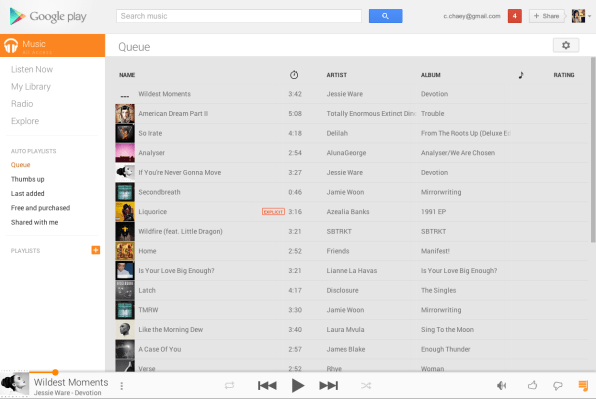 Currently, All Access (app icon: a gleaming pair of yellow headphones) costs $7.99 per month after a 30-day free trial. That's an introductory rate–the price jumps up to $9.99 per month, more in line with Spotify, after June 30. For an encore, it all comes with the not-so secret ingredient of a cloud locker. You can store up to 20,000 of your own songs for free, letting those become the basis of their own personalized radio stations, which will let Google pull similar tracks from its own library. That's a great way to let people upload music that's never been digitally released (or from old CDs that are long discontinued) and, especially because new releases will still be available in the Play store, it lets the company still cash in on times that musicians might offer up music for virtual purchase but withhold it from streamers to boost debut sales. Figuring out how to let artists keep that core revenue stream flowing is important for the life of the industry–and likely something being given strong consideration by Daisy, the long awaited streaming project that will likely emerge as another space challenger, too, and is being cooked up by Beats cofounders Dr. Dre and Jimmy Iovine, who acquired upstart music service MOG last year.
Google's service also wants groupies. They are hoping to build a more vocal fan base by allowing playlists to be shared among subscribers on Google Plus, their "hangout" area that remains a bit of an uncool place to gather. Overall, it's a Google tune we've heard before. "For those times when you don't know what you want, we can make it better," Joyce says.