To help understand the radical change coming to Google Maps announced at this week's Google I/O conference in San Francisco, the product team says you should think about beer. Specifically, they want you to look for a bar in San Francisco that has a great beer list. . That's a familiar Maps thing: Search for "Belgian beer" near your location.
But now the map around Monk's Kettle looks different, at least when you're signed in to the new Maps. You see bicycle shops around the bar, because that's something you searched out recently. Maps knows your prime home and work locations, too, so the roads you might take from there are highlighted. Zooming out brings up little dots, which are other bars that your friends recommend along the lines of drinks.
If there's a bar offering a new drink list, or holding an event, you would see that, too. And if you're on an Android or iPhone, you've can tap "Explore" to bring up a list of nearby destinations and activities that tie into your beer and bicycling interests. You started with a beer search, but look around and, as one Google engineer put it, your entire world is now about beer–and all this happens before you took one step toward an actual location where beer is sold.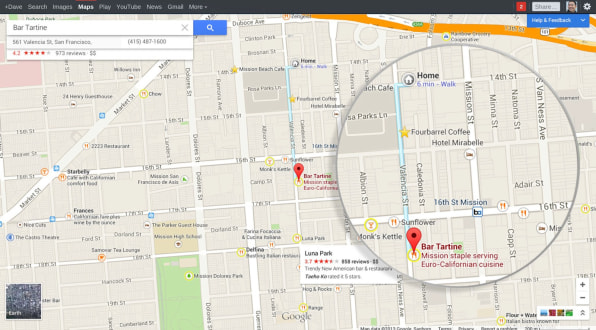 "I think the intent and search-based change is something Google, overall, has been pushing on," says Brian McClendon, a Google vice president who oversees Google Maps, when asked how the Maps team arrived at these changes. "We've discovered that geo-located maps data is at the center of so many of your walking-around, carrying-a-phone intentions."
In other words, your maps app is the first move whenever you decide you want to go somewhere. Google uses search and social data to chart you a course and show you stops along the way. That's different from Foursquare, a presumed competitor to Google's new Maps, whose main use has been checking in once you'd arrived at destinations. Later that check-in data becomes a reliable and valuable indicator of your intent, since you or your friends have actually been to many of the places Foursquare recommends. "Understanding your context and what's going on around you, who your friends are, and what they like and dislike has always been at the core of how we do search," says Foursquare's head of data Andrew Hogue. Foursquare's April redesign prioritized discovery and suggesting destinations before you actually get up to go–it'll suggest lunch spots at 11:30 a.m., for example, if you've checked in to lunch spots around noon before. And a prominent search bar now tops the interface so you can use Foursquare from the moment you decide to go somewhere, too. Google's bet is that its Maps app is a much more familiar behavior for that kind of discovery, though.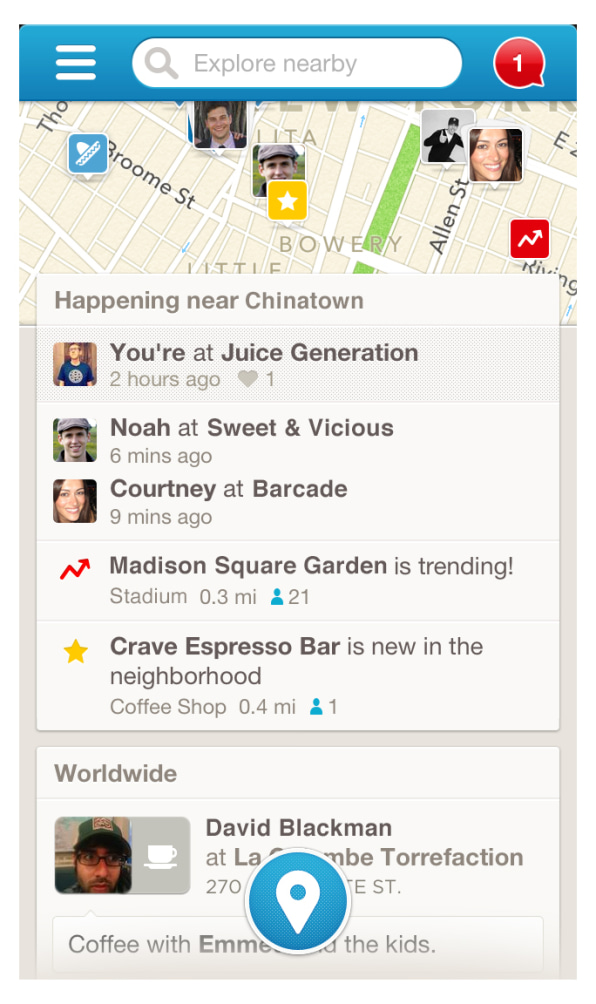 As a bonus, Maps now incorporates Google Offers, another way of recommending locations that's both a potential revenue stream for Google and an incursion into Foursquare's territory.
There are reviews, too, not only from friends but from Zagat, which Google bought in Sept. 2011. That amounts to a push into Yelp's territory. Yelp declined to comment for this story, but a spokesperson pointed to an integration with Apple maps the company announced last year. What makes the Google Maps update a potential threat to Yelp's recommendation businesses is that it actually changes the results users see on their maps when they search. Instead of showing all options, if you choose, it shows only what your friends or experts have recommended, and it does so on a map customized to match your habits. Not to mention that, as we learned when Apple launched its own Apple maps product, Google's maps are better.
And not to be overlooked is social data-driven traffic data that's part of Google's new Maps–it's a potential blow to Waze, an app whose primary value proposition is crowdsourced traffic and incident data. Waze, which is said to be in talks with Facebook for an acquisition, declined to comment for this story. (Read more about what Google Maps could mean for that rumored deal here.)
Handling all of this information is not a matter of simply layering or varying icons. Bernhard Seefeld, a product director for Maps, and Jonah Jones, user experience director for Maps, said in an interview with Fast Company that the inspiration was the kind of map you might draw for a friend if they asked you to, say, map out the best restaurants in a city. So that's what the Maps team did: They drew each other physical maps, with points of interest noted, of their favorite and hometown areas. "Every map should look as if it had been drawn and designed specifically for you," Seefeld says. "You could think of the search box as a title, more than a keyword."
Jones said the hand-drawn map exercise guided the team toward reducing the amount of information Maps overlays on your screen. Friends wouldn't dump every known fact about traffic and possible meal options onto a friend's map, and so neither does Maps. It adds complements, not just alternatives. If you search for fitness clubs, Maps should also show you healthy eating spots, running paths, and other related activities, instead of only showing all the possible fitness clubs.
"When I look at my map, that's what I should see. But if I look at Jonah's map, it looks really, really wrong," Seefeld said. "Everything should be a suggestion, but only a suggestion that makes sense for me."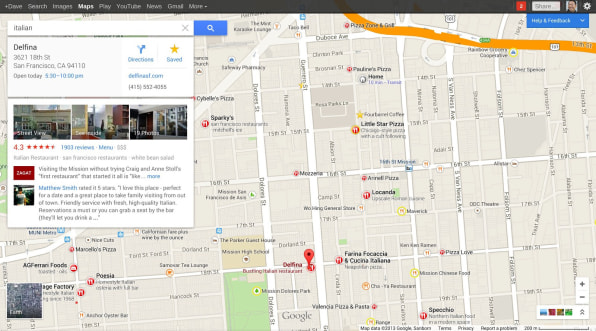 So Maps is no longer a tool that tells everyone the same way to drive somewhere. Google+, Google Now-like personal context, card-style recommendations, your deep Google browser and search history–this is what Google Maps is using now. Could Maps use Google Glass information in the future? Could self-driving cars know what kind of things you like to stop for and where you prefer to drive? The Maps team at a panel at the Google I/O 2013 conference won't talk about any future features. Two Maps team members interviewed by Fast Company exchanged glances and chuckles, and offered only a "we don't know."
But one can plainly see the Maps is no longer a simple convenience, but an inconceivably large-scale social and contextual signal generator for Google. You used to tell Maps little things you were looking for; now Maps wants to draw you small stories about the place you're looking at.
Maps is also adding more graphical views of buildings in cities, 3-D photo tours of indoor spaces generated from user-submitted photos, and a few more navigational tricks and features, including zooming out all the way to the real-time planet level. But what Maps is now is what Google wants to be now: not more information, but more friendly and personalized information. A world of beer instead of a list of beer.
Christina Chaey and Sarah Kessler contributed to this report.