A new section of Google Play specifically dedicated to education will launch this fall, organized by subject matter and grade level, to help educators quickly pinpoint which apps to use with their students. Teachers will be able to push the apps they'd like to use to all of their students' tablets through a Google Groups integration.
Google has finally launched a subscription music service it's calling Google Music All Access. Like Spotify, Rdio, and others, All Access features several entry points to the music, but Android and Google Play's engineering director Chris Yerga really focused on playing up the "Explore" tab, which gives you personalized recommendations based on your listening history.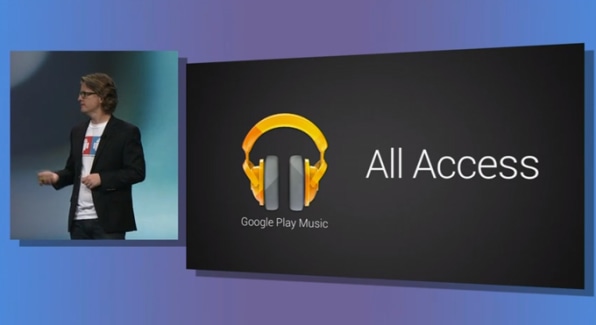 A couple of All Access's features:
Radio playlist previews – Unlike on-demand services such as Pandora, which won't let you see which track is up next, Google Music will let you see al the tracks queued up in a particular playlist. You can then re-order tracks or swipe them away entirely if they're not to your liking. "This is radio without rules," Yerga says.

Listen Now – Designed for moments when you don't want to spend a lot of time deciding what to listen to. Yerga describes Listen Now as "bringing the power of Google to surface music we know you're going to love."
Pricing: All Access will cost $9.99 a month, plus a 30-day free trial, which is the standard as far as music subscription services go. If you start a trial by June 30, you'll pay $7.99 a month. Here's the catch: It's only available in the U.S. for now.
Google has updated its Google+ sign-in API with a powerful new feature for new app installs and automated sign-ins. Essentially, it requires that you're signed in to Google+ and are visiting a website. Now the site can now offer to install a mobile app on your device, and if you agree to this you're automatically logged in to it, once it downloads, via Google+.
The idea is to make it simpler and easier for users to access and become engaged with the content in apps by removing barriers to immediate use–those irritating demands that many apps thrust at you, insisting you select a username and password and so on, or sign in with your pre-existing Google+ ID.
The move leverages Google+ as a back-channel login service something like OpenID, rather than highlighting Google+'s social networking features–which is an interesting move by the company.
Google is adding three location APIs to its Google Play services, which essentially gives Android developers access to Google's own APIs, which it uses for apps such as Maps and Now. Here's a brief look at what they'll do:
Fused Location Provider – One of the big problems with location APIs is the toll they take on smartphones' battery life. FLP promises to pinpoint location faster and more accurately while using less than 1% of battery per hour. (Or, thinking of it another way, that's almost a quarter of your battery life per day.)

Geofencing – Geofencing allows apps to trigger when users enter or exit particular areas. The Google Play geofencing service will allow developers to have up to 100 simultaneously active geofences per app.

Activity Recognition – Apps with activity recognition will be able to tell whether you're walking, driving, or cycling at any given time, using accelerometer data.
As we suspected, Google has launched a new API specifically for games that includes several of the features we anticipated. VP of Android product management Hugo Barra runs through the features:
Cloud Save – A cloud-syncing feature allows players to pick up a game where they left off, even when they switch devices.

Achievements and Leaderboards – Game Services features in-game achievements that are designed to boost player engagement, as well as a leaderboard system that taps into your friend circles on Google Plus.

Multiplayer Functionality
We've already been warned not to expect much in the way of shiny new hardware or a brand new version of Android at this year's Google I/O developers conference, which kicks off at noon today.
Android head Sundar Pichai tells Wired this year, I/O will be about focusing on "all of the kinds of things we're doing for developers, so that they can write better things."
That means lots of news is in store today for Google Play, the Android user's marketplace for apps and games, books, music, and movies.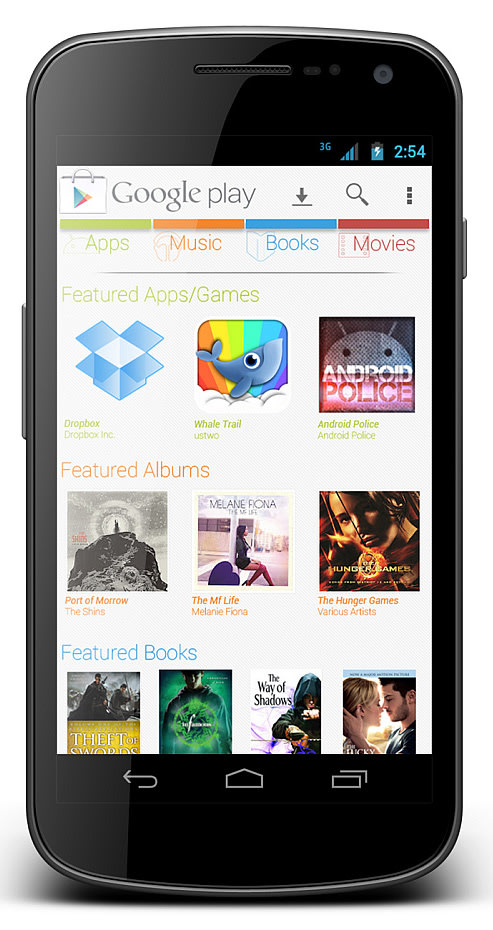 So what can we expect? At last year's I/O, Google Play's focus was on adding a lot of new magazine, TV, and film content from publishers and studios.
This year, however, early leaks indicate we could see some major news specifically in music and games.
The Verge reports Google will be unveiling a subscription-based music service today, after striking licensing deals with Universal Music Group and Sony Music Entertainment for YouTube and Google Play. (Google struck a deal with Warner Music Group earlier this year.) Should we see a music-related news announcement at I/O today, Google will have a head start on Apple, which has reportedly been working on its own radio service.
As for games, we're likely to see news about Ingress, the massive multiplayer augmented reality game that Google's Niantic Labs launched last November.
Check back for updates–we'll be covering all things Google Play right here.