When Jason Sosa started work on a webcam technology that detects, in real time, the age, gender, attention time, and glances of the people looking at it, he thought he was solving an advertising problem. It's turned out to be much more.
His startup's first product was a digital billboard that changes the ads it displays depending on who looks at them–showing, for instance, an ad for a toy to a child and an ad for aftershave to a man.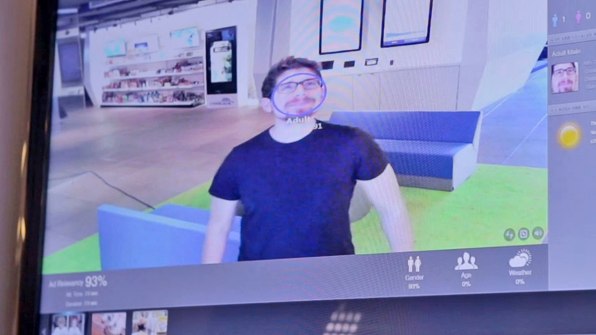 It wasn't long, however, before requests started pouring in from other industries eager to use the technology:
In a car, one request proposed, real-time facial detection could monitor a driver's attention, alerting him if he falls asleep.
In a fast-food restaurant, it could track how many people are standing in line.
In a house, it could help control the temperature based on who is home.
In a bar, it could keep tabs on the gender ratio (though startup SceneTap already does so using a similar technology).
It could even make a toy smile back.
"This was a much bigger task than what we could do alone," Sosa says he quickly realized. So for the past two years, he and his team at IMRSV (previously Immersive Labs) have been developing software that allows developers to turn any webcam into a real-time video analytics sensor. They call it Cara, which means "face" in Spanish.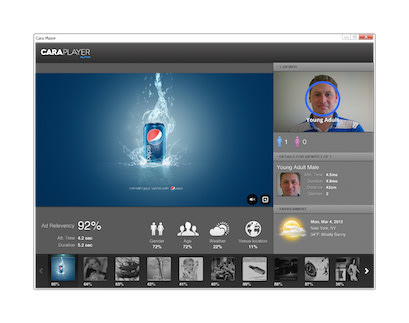 Cara is different than face recognition technology such as that of Face.com, which helps identify individuals in photos and was recently acquired by Facebook. Because Cara runs locally, it is instantaneous, allowing for real-time analysis of video that can be used to trigger a reaction in real time. It's also designed for a different purpose, which Sosa argues makes it less of a privacy risk. "The goal isn't to identify people individually," he says. "Our software doesn't record images, it doesn't save video, it doesn't collect any personal information. It's simply gathering stats."
What separates Cara from IMRSV's previous billboard technology and others like it–and makes it a potential game changer–is that any developer with any webcam can use it for $39.99 per month.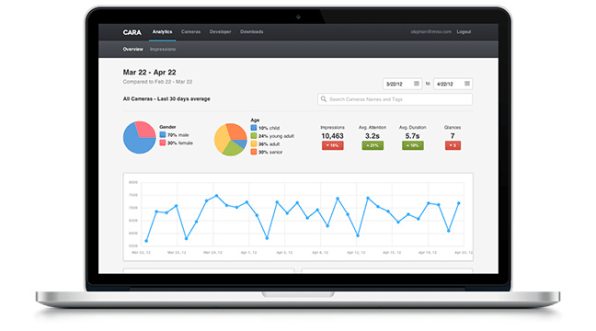 Most who have signed up so far are working on solutions for advertising, retail analytics, and enterprise systems, but the possibilities extend as far as developers take them. The Internet of Things has sensors for moisture, motion, temperature, humidity, light, pressure, and other qualities. Cara gives it something that could potentially be more interesting: a sense of who is in the room.
"It can be that my living room is telling my kitchen that I'm coming," Sosa says.