Nothing lets you share an emotional moment like a song. But how do you actually show someone a song?
Twitter #Music has tried to crack that one. So has Spotify, the new Myspace, and plenty of others who slapped videos or visualizations on top of music and made them shareable. (SoundCloud's solution is particularly powerful.)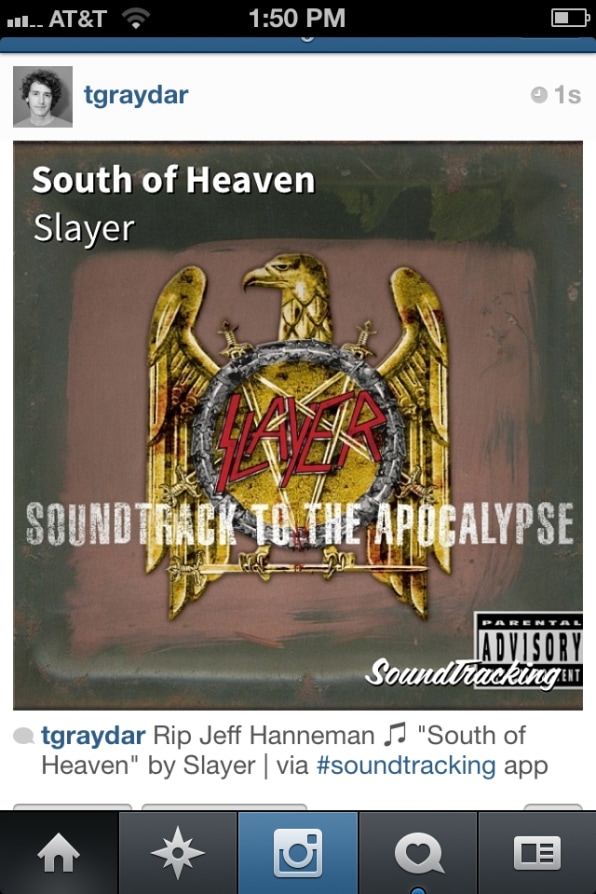 SoundTracking founder Steve Jang has figured out a way to tap into the music discovery potential of a wildly popular social service that doesn't have anything to do with music: Instagram.
The social music discovery app quietly released an update a couple of weeks ago and started experimenting with letting users put postcards and sonic breadcrumbs into their Instagram feeds. Today, SoundTracking is officially announcing the release of a new comprehensive integration with Instagram, on both iOS and Android. Now SoundTracking users can share musical moments to their Instagram feed and followers as a musical photo. And they can easily share Instagram photos in their SoundTracking feeds.
"We were inspired by our music fan community to make this set of Instagram photo features happen," Jang says, adding that they got a ton of feedback from users who wanted to use Instagram pics in their musical moments on SoundTracking. "We saw our users screen-capturing their SoundTracking posts and manually sharing them into Instagram. Another key indicator we noticed was that many of our users would post their Instagram username in their SoundTracking bio and would often request an integration of our features."
Now you can see musical moments through the eyes–and filters–of Instagram users then hear those moments, too, on SoundTracking. The only rub is that you can't open up the SoundTracking song directly from Instagram.
"Instagram has really quickly evolved from a popular photo sharing app into an extremely active social network that focuses on non-verbal, visual communication as the core expression. We're interested to see how our music-minded community uses this set of features," Jang says.
"It's really about opening up a musical world, and connecting all of these musical worlds together," he tells Fast Company.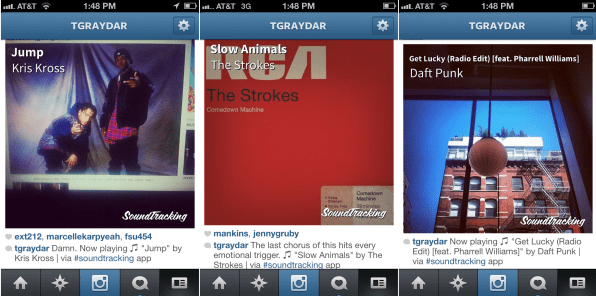 SoundTracking recently launched a "Smart Play" button, which let users play YouTube, Spotify, and Rdio tracks with a single touch. The app has since grown to boast more than 2 million monthly active mobile device users who create over 1.75 million daily social actions around music inside the SoundTracking app–that includes views, plays, likes, loves, comments, and follows, Jang says.
Along the way he and SoundTracking are gathering a treasure trove of (possibly valuable) data about the level of passion someone has for an artist, where their fan bases reside, how locations compare over time for different artists, how listening trends look over time, and which radio stations have the most popular playlists in those locations.
Hinting at how all this might translate to value, Jang says, "We want to figure out how to get the most fun insights to our community, and the most useful and actionable data to artists, music labels, and brands."
He says next steps for SoundTracking include improving the Smart Play experience to make it more seamless. But it's pretty clear there is no bottom to his well of geekiness when it comes to sound and music, especially as it pertains to the emotions it triggers.
"All those billions of musical, emotional moments–we want to connect them through our networks," Jang says. "The more we go down the road, we realize how much road there is."