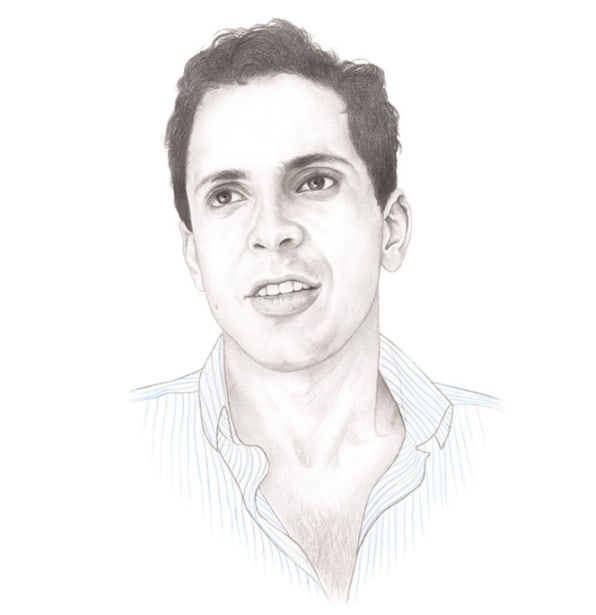 Mahbod Moghadam started Rap Genius (1) in 2009 as a way to solve a dispute with his friend and cofounder, Tom Lehman, over a lyric on rapper Cam'ron's album Purple Haze. (2) Then Moghadam had a vision: "I kid you not, Jesus came down and told me that Rap Genius is going to be the biggest website in the world," he says. The 30-year-old Stanford Law grad plans to build out subsites focusing on literature (Poetry Genius), law (Law Genius), and art (Art Genius(3)). Since securing $15 million from Andreessen Horowitz (4) in October 2012, Rap Genius has grown to 20 million users and 17 full-time employees at offices in Brooklyn (5) and Malibu, California. Moghadam now spends most of his time hiring, preaching the Rap Genius gospel, annotating his own rap verses (6), and searching for the right chunk of the Bible (7) to dissect. "My favorite gospel is John, just because, you know, he's the one always trying to start some shit," he says. "I guess that's who I really am. I'm the John of Rap Genius." Hallelujah.
1. From the site's "What Is Rap Genius?" post: "You can listen to songs, read their lyrics, and click the lines that interest you for pop-up explanations." Users also contribute explanations and comment on others'.
2. The line in question: "80 holes in your shirt, there: your own Jamaican clothes."
3. "You could put any canvas up, circle a part of the canvas, and explain," Moghadam says, copyright issues notwithstanding.
4. Partner Ben Horowitz, in particular, is a noted rap enthusiast.
5. The office is in the penthouse of the landmark Austin, Nichols & Co. warehouse, once a major hub of groceries (and later, booze).

6. He rhymes under the name Maboo.

7. Rap Genius posted the whole King James Bible in February.
[Portrait illustration by Denise Nestor]
[Ed. Note: The name of Rap Genius's poetry-focused vertical has changed since it was first reported for the print edition of this article. It is now called Poetry Genius, not "Poetry Brain.")