I met a really pissed-off doctor last week. And, wow, was it inspiring!
Dr. Jonathan Bertman launched his own practice in the late 1990s. Like so many others at the time, he got excited about the prospect of going paperless. No forms to fill out. No files to file.
He bought a software program that promised to streamline the management of his practice. But that experience just frustrated him further. A patient would step into his office with a simple rash on his cheek, and Dr. Bertman would step through a maze of clicks–head section, face, cheek, left cheek… rash. The program was filled with bells and whistles that doctors really didn't need.
And when he found out most vendors wanted $25,000 for a license to use all the unusable bells and whistles, he said, "I went through the roof!"
What do you do when you grow frustrated? Most of us will look for an alternative and, if we don't find one, will just accept the situation. But a few of us decide to do something. The technology that created Xerox, for example, was invented by a lawyer who grew sick of messy carbon copies so he rented a room to experiment with alternatives.
Similarly, it was Anita Roddick's burning concern for the world around her that propelled her to launch The Body Shop. It was the conflict between Russell Simmons's love of rap music and an inability to rap that propelled him to launch Def Jam records. It was Dhirubhai Ambani's parents' inability to afford him a college education that launched him toward building Reliance Industries, today the 99th-largest company in the world.
As Thomas Edison once said, "Discontent is the first necessity of progress."
Dr. Bertman's discontent drove him. "My practice was just starting and I had extra time on my hands, so I bought a book called Visual Basic for Dummies," he told me, and he taught himself to program. He built a simple program that enabled him to take notes on patients and open the notes up quickly when patients visited again. Before long, "It ran my office."
He decided then to make his program available to other frustrated doctors. He "avoided all the things that pissed me off." Other programs sold for $20,000. So he sold his for about $200. Other programs made you pay before getting to try it. So he adopted a rule that "you can try it, and if you like it, you pay for it."
He built a website where doctors could purchase and download his program. A little bell rang on his computer whenever he made a sale. "At first it rang once a month, then once a week, then multiple times a day."
The momentum gave him the confidence to make a bold step and shift his entire business behind the software. Without getting VC funding, he hired developers, continually improving the program. Just as water always seeks the lowest point, his team tirelessly sought to find ways to relieve doctors' frustrations, freeing doctors to do what they got into medicine for in the first place: helping patients.
Today his company, Amazing Charts, is used by over 5,900 medical practices, serving over 25,000 clinicians and staff and is racking up an impressive list of awards like the No. 1 Rated EHR in a Medscape/WebMD EHR survey of more than 20,000 clinicians and No. 1 Rated for User Satisfaction & Customer Loyalty in a Family Practice Management survey of AAFP Physicians. His company has doubled in size in the last three years and was recently purchased by the continuing medical education company Pri-Med.
The lesson here is to look at how you respond to your frustrations. Ask yourself two questions:
Do you get frustrated when you see something is unfair?

If you get frustrated, do you just complain about it or do you do something?
These questions will put you into one of four boxes: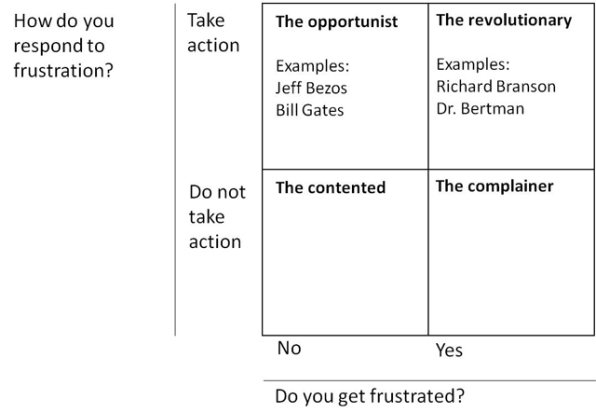 The truth is we can't take on every cause and we don't need to be frustrated to change the world. For example, Jeff Bezos, founder of Amazon, had no particular love for books but rather saw an opportunity to leverage the growth of the Internet to change how retailing was done. But if you find something that frustrates you, your choices are clear: Do something about it or stop complaining.
[Image: Flickr user Liz West]