Actress Olivia Wilde once described the music app Songza as "your much cooler friend who always has the perfect song for every moment."
That "cool" factor is what powers Songza's musical brain, also known as its signature "concierge" service. Songza matches listeners to a few of the hundreds of expert-curated playlists in its catalog, based on what it thinks you'll enjoy most. It determines what you might want to listen to based on criteria such as the time of day, what you tell it you're up to, and what device you're using. Quitting your job? Songza might suggest you check out some "Office Space" Rap. Working in the office? Try some safe-for-work '90s crowd-pleasers.
The newest version of Songza's mobile app, which goes live today, amplifies concierge's ability to connect you to what it says is just the right song for almost any moment.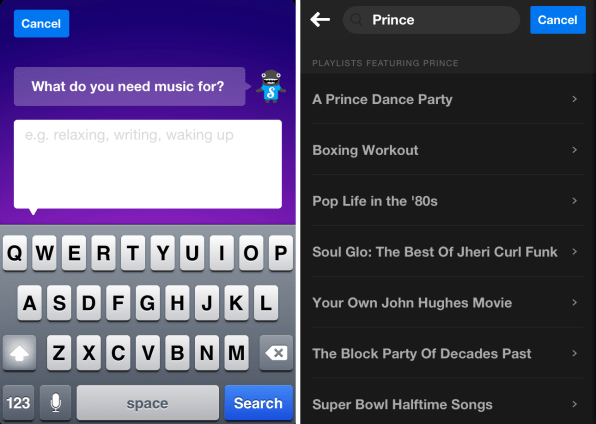 "If you're doing something weird, like throwing a cocktail party at 6:30 a.m. on a Tuesday, we want to make it easier for you to immediately have a better cocktail party," CEO Elias Roman tells Fast Company.
The idea of getting 4.7 million monthly active listeners in and out of the Songza experience as quickly as possible so they can go back to what they're doing in real life fits neatly with Roman's greater mission for Songza: to soundtrack each of your small life moments, not just your cocktail parties or workouts. In other words, Songza's core product isn't music–it's what he calls "lifestyle enhancement."
Which is why half of Songza's existing features didn't make the cut for the new app. "You should not have to check the Wikipedia article to know where things are in the app," Roman says. He felt many of the existing features were making it harder rather than easier for the listener to get in and out of the app quickly. Now, the concierge service takes up the app's main real estate, while a fly-out menu houses what Roman says are the most powerful ways for users to browse music: by activity (such as a barbecue), moods (energetic, earthy), genres, and decades.
Another neat new feature acts as a replacement of sorts for your car radio, for those times when you might not want to put a lot of effort into picking your music. Press and hold any activity Songza presents you with for two seconds and it'll automatically glean information about your preferences from your listening history to serve up the one playlist it thinks you want to listen to.
Meanwhile, the all-important concierge service has gotten a bit smarter. On a weekday afternoon, Songza might suggest options such as "Working to Background Beats," "Boosting Your Energy," or "Working in an Office." If you decided to blow off work and throw a daytime rager instead, you'd still be able to find appropriate music on Songza–you'd just have to dig a bit to find it. So Songza added a "shake to chat" feature: If you don't see what you're up to on the home screen, shake your mobile device and the concierge will prompt you to tell it what you need music for.
Similarly, there are little notifications and pro tips that only pop up in the app "as they're relevant to you," Roman says. For example, if you skip a lot of songs in a particular playlist, Songza will register that, and a little tip will pop up on the screen suggesting you might want to check out some related playlists it's already queued up for you. Sure, it'd be useful to know about this feature before you even begin using the app, but putting the instructions within the context of how you're using the app is a very intentional decision on Songza's part. Again, Roman emphasizes that it's all about freeing you up so you can go back to what you're doing, enhanced by the music.
But Songza will have to make life a lot better for a lot more people if it wants a bigger slice of the market Pandora currently corners with its 69.5 million active monthly users, who listen to nearly 1.5 billion hours of music each month.
[Images courtesy of Songza]