"Many people already consider [LinkedIn] a professional Rolodex," Sachin Rekhi, the head of a new product called LinkedIn Contacts, told a group of reporters on Wednesday.
But that's not the only thing LinkedIn wants to be. Users live across multiple services, not just on one platform like LinkedIn's. It's not great for LinkedIn's business or ability to scale if users only visit the LinkedIn platform when they meet someone new or are looking for a job.
The company's new standalone app, LinkedIn Contacts, is the company's latest attempt to take a bite out of both of these issues.
Rolling out to a small group of invitation-only U.S. users today, the new app aggregates contact information from Gmail, Outlook, Yahoo Mail, Evernote, iPhone's address book, and other accounts to which users can choose to give LinkedIn access. The tool is based on Connected, a startup that Rekhi founded and that LinkedIn acquired in 2011.
The LinkedIn Contacts app enables users to search for their connections across multiple services, compiling a snapshot of your relationship history with each person that includes past emails and meetings. It allows users to sort contacts with customizable tags such as "investors" or "stay in touch". Under a tab called "To Do," the app highlights people to whom it makes sense to reach out, either because they have recently changed jobs, it's their birthday, or they live in an area your calendar says you'll soon be visiting. However, contacts sourced from other services do not automatically become LinkedIn connections.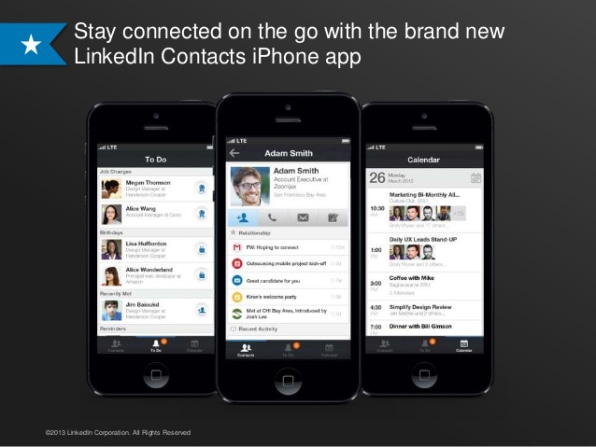 On the LinkedIn website, "To Do" prompts sit on top of a revamped "Contacts" tab, and are also sent to users in a daily email.
LinkedIn will also use information it collects from other sources to enhance web profiles with a "relationship" module. Like the app, this module shows users their relationship history with the person whose profile they are visiting–but also allows them to leave notes for themselves on that profile or set reminders to stay in touch.
One significant chunk of relationship information LinkedIn's product lacks is data from social networks like Facebook. Rekhi dismissed the lack of integration with other social networks, telling reporters that Contacts launched with professional context in mind and that integrating social networks was "not something we're looking at at this time." LinkedIn syndicated Tweets inside its activity stream until Twitter shut down the relationship in June.
Other features LinkedIn has recently launched–including a new mobile app, notifications, contributed content, endorsements, and the ability to mention other users–give users more reasons to visit the network more regularly (like, say, Facebook). LinkedIn member pageviews increased about 67% last quarter, which suggests the company's users are indeed becoming more active on the site.
Contacts provides another reason to engage with LinkedIn, and to that end, the standalone app makes sense. As LinkedIn CEO Jeffrey Weiner noted during a call with investors in February, mobile products are "central to delivering value every day."
That's what Rekhi has in mind. After pointing out during a demo that one of his connections, Reddit cofounder Alexis Ohanian, was having a birthday, he described the small chunks of free time most of us have throughout the day.
"Instead of reading news," he said, "why not use [spare moments] as an opportunity to wish Alexis a happy birthday."
[Rolodex Image: Alan Bailey via Shutterstock | Screenshots via LinkedIn]